If you are using a laptop for your daily needs and you travel along with your laptop and connect to different Networks daily, which might become confusing for you in the Networks and Sharing center while you are diagnosing some issue with your network devices. Networking is one of the toughest parts especially since you are dealing with a number of devices and connections which might have the same SSID's. Most of the time Windows just names the connections as Local Area Network 1, or just Network 1, Network 5, Network 6 which might be difficult to figure out which is of your Office, which is of your Home, your friend's home, etc.
Today we will show you how to change or rename the network profile names in Windows 10/8/7; there are two methods to do the same. The first one happens to be via Registry Editor and the second one happens to be via Local Security Policy Editor.
First, you will need to know the name of the Network!
Open Windows 11 Settings
Open Network & Internet
Open the Ethernet or Wi-Fi connection whose name you want to change
You will see its name displayed at the top
Note it down.
Rename or Change Active Network Profile Name
Via Registry Editor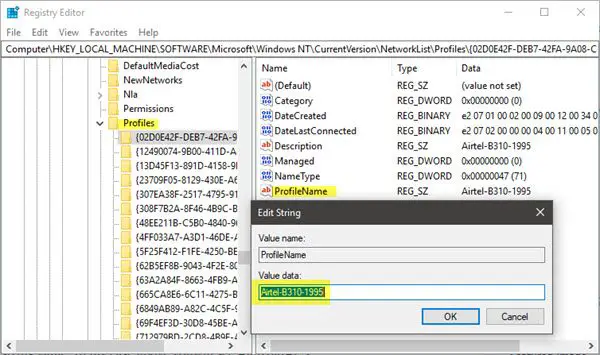 Run regedit to launch the Registry Editor.
Head to the following location in the Registry Editor:
HKEY_LOCAL_MACHINE\SOFTWARE\Microsoft\Windows NT\CurrentVersion\NetworkList\Profiles
If you see several different GUIDs then you will have to click on each one of them and select the ProfileName string value. In my case above you will see AndroidAP 2.
To change the Profile Name with the one you want to double-click on the ProfileName string value and change its value to the one you want.
Once you follow all the above steps, the Network name will be changed to the one you needed.
Via Local Security Policy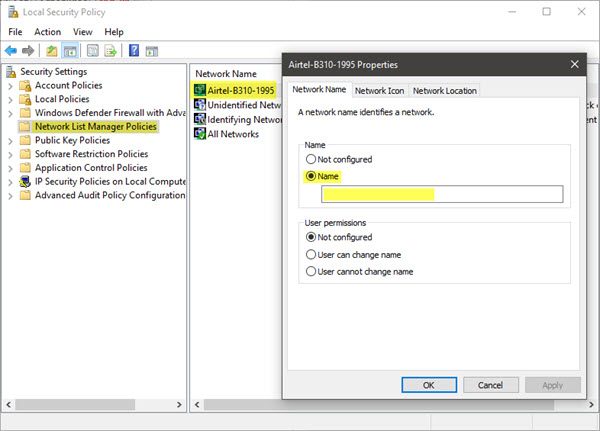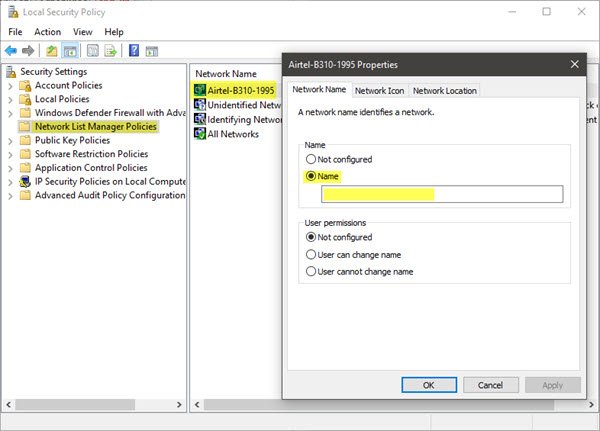 If your Windows version ships with the Local Group or Security Policy Editor, then you may Run secpol.msc to launch the Local Security Policy Editor.
Click on the Network List Manager Policies in the left panel.
You will get all the different Network Names in the right pane. Double-click on the one whose name you want to change.
In the Properties window that opens, select Name and write the name you want.
Close the Local Security Policy once you are done.
Changing the Network name might include changing the network name to one with a simple meaning like, College WiFi, Coaching Wifi, Home Wifi, Mobile Wifi, Café Wifi, Bus Wifi which will make it simple for you to connect with them.
Read next: How to manually delete WiFi Network Profile in Windows.