Using the in-built utilities Charmap and Eudcedit, Windows allows you to insert Unicode and special characters in Notepad and your other documents. But the process is not easy and takes a bit of time. If you want to insert Unicode and special characters quickly in your documents via your right-click context menu, you should check out freeware CatchChar.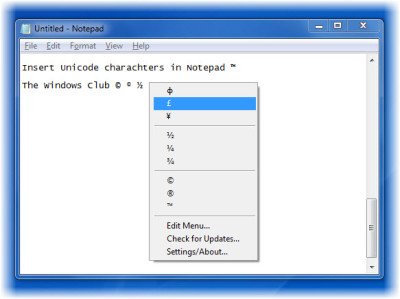 Insert Unicode and Special Characters in documents
With CatchChar, you will be able to enter your Unicode characters in any edit box or documents quickly, with the help of its popup menu. You can also customize it and include your often used special characters. This is faster than using the inbuilt Windows utility, which requires an additional copy, paste operation.
Once you have downloaded and installed the freeware, set a hot-key to bring up the menu. The default is Alt-Shift-C, but you can change it to any other combination.
Now whenever you are typing in a document, simply click on the hotkey combination to bring up the special menu. You can now select and insert the special character quickly. If you wish, you can also create special ALT characters and add them to your special menu.
CatchCar download
If you are one who needs to insert Unicode and special characters in your text frequently, you want to download CatchCar from Softpedia.
PS: You may want to also check out similar tools – WinCompose and WizKey.