Microsoft Edge is the go-to web browser for Windows 10 users. Now, one of the cool things we like about Edge is its ability to Cast Media from the computer to a receiving device. Microsoft Edge browser supports video, audio and picture casting to any Miracast and DLNA enabled devices. Microsoft has provided a few scenarios to try out such as cast a video from YouTube, a Facebook photo album or music from Pandora.
It's a great feature to have, but what happens when its no longer working? You've been trying to cast your media for quite some time now, but for some unknown reason, nothing is happening. For many people, they are attempting to cast to Chromecast or some other platform.
Cast Media to device is not working on Edge
Casting media from one device to the other via Microsoft Edge (Chromium) is something we love to do, so if it's not working, please follow this procedure to fix the issue:
Launch Edge browser
Open edge://flags/
Locate Cast Media Route Provider
Restart Edge,
The first step to take here is to launch Edge and then visit the flags section where you will find a ton of options to customize Edge to your liking.
To get to this section, please type edge://flags/ into the URL bar, and hit the Enter key on the keyboard to move forward.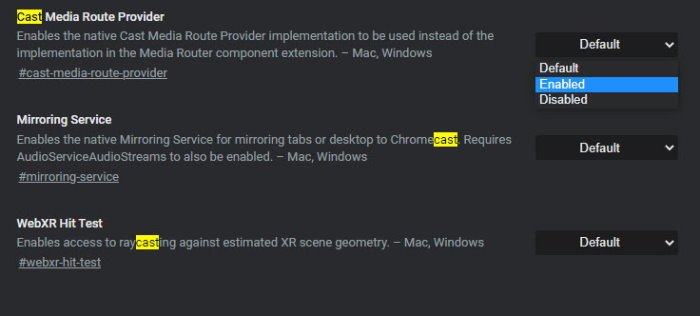 Moving along, we must now find what is called Cast Media Route Provider. This is easily done; therefore, the user should have little to worry about unless we're wrong, which we aren't.
Now, right beside Cast Media Route Provider, you should see Default.
Please click on it and select Enabled from the drop-down menu.
Now, if you've been wondering what the route provider does, well, enables the native Cast Media Route Provider implementation to be used instead of the implementation in the Media Router component extension.
After selecting Enabled, you should now see a big blue button that says Restart. You will want to click on it to restart the web browser.
Once the Microsoft Edge web browser is up and running again, please go on ahead and attempt to cast your media to your preferred device.
Related: Cast to Device not working in Windows 10.