Cookies are small files that websites put on your computer's hard disk drive when you visit them. They store your personal preferences and user names, register products and services, and personalize pages for the particular website. WebCookiesSniffer is a Windows utility, a new application by Nirsoft that captures all cookies saved on your computer by websites via browsers and applications, and then provides you with all information about the saved cookie.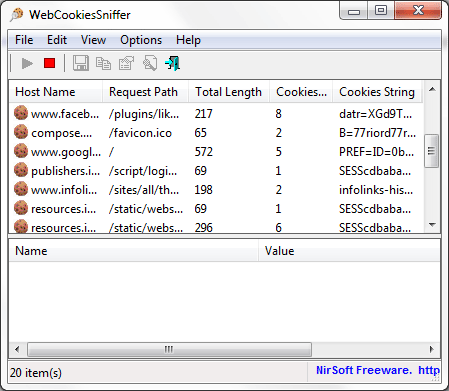 WebCookiesSniffer for Windows PC
Except for a capture driver required for capturing network packets the application does not require any installation process or additional DLL files. Besides, WebCookiesSniffer provides a complete view of the cookies saved, sites from which they have originated, and where they have been saved.
The utility just requires WinPcap Capture Driver or Network Monitor Driver from Microsoft to capture cookies in real time.
To start the application simply download and run the executable file WebCookiesSniffer.exe. After running WebCookiesSniffer for the first time, a 'Capture Options' window will appear on the screen. The user will be requested to pick a capture method and desired network adapter. If one wishes to change 'Capture Options', one is free to do so by simply using the F9 key function.
After the network adapter and a capture method is selected, WebCookiesSniffer will capture and display every cookie found in the data sent between your Web browser and the remote Web server. The program will even pick up the new cookies that are created on your system.
Each cookie is displayed with its hostname, length, path, count, and string, and once the user selects a cookie all of its values are displayed in the lower half of the screen. The user can create HTML reports or save selected cookies as text, CSV or XML files.
The only downside of WebCookiesSniffer is that it has no options to edit or delete a cookie since it is unable to link a cookie to the website that triggered its creation.
WebCookiesSniffer is distributed as freeware, compatible with Windows 10, and works on both 32-bit and 64-bit editions of the Windows operating system.
You can download WebCookiesSniffer from here.
These links may also interest you: