Snap camera lets you add AR filters to live streams and video chats on a PC but the real problem occurs while trying to remove it from the Desktop webcam. If you can't uninstall Snap Camera in Windows 11/10, then this post will be able to help you.
How to completely uninstall Snap Camera from Windows 11/10
Some users complain, no matter how hard they try, they simply can't remove the Snap Camera from Windows 11/10 completely. The issue typically occurs when Snap Camera continues to run in the background. So, you will need to disable the running process before uninstalling it.
Locate the Snap Camera icon under Taskbar.
Right-click the entry.
Choose Quit option.
Alternatively, open Task Manager.
Switch to the Details tab.
Check the running process.
Right-Click Snap Camera entry.
Select the End Task option.
Try uninstalling Snap Camera again.
Let's cover the above steps in a bit more detail!
On your Windows 10 Taskbar, click the Show hidden icons button.
Choose the Snap Camera entry from the options.
Now, right-click the entry and select the Quit option to stop the application from running in the background.
Alternatively, you can open the Task Manager by right-clicking the Taskbar and selecting Task Manager.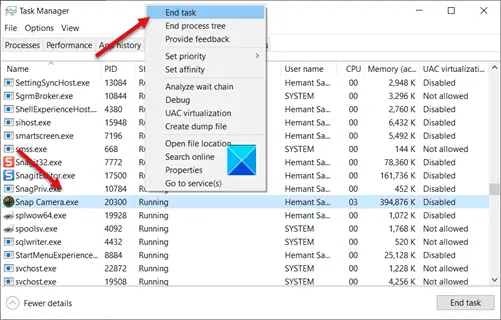 When the Window opens, switch to the Details tab and look for the Snap Camera entry under it. You'll find it still running. To stop it, right-click the entry and choose the End Task option.
Once, done you'll successfully stop the Snap Camera application from running in the background.
Now, to uninstall the app from Windows 10 completely, click the Start button and choose Settings.
Next, select the Apps tile and choose the Apps & features tab.
On the right, scroll down to locate the Snap Camera option.
When found, click it and hit the Uninstall button.
When prompted to confirm, hit the Uninstall button again to remove Snap Camera from Windows PC.
That's all there is to it!