Recently some Windows 11 users with dual monitor setups have been complaining about an issue regarding setting different wallpapers for each monitor. Whenever they attempt to set different wallpapers for each monitor, the same image is accepted and shown by both monitors. This is not the ideal situation, so what should users do? Well, there are ways to get things moving in the right direction. And as you might have expected, we are going to explain how to set different wallpapers on dual monitor system.
Can't set different wallpaper on a dual monitor setup
If you can't set different backgrounds for dual monitors on Windows 11/10 use this workaround or free tool to set different wallpapers.
1] Delete all Windows 11 desktops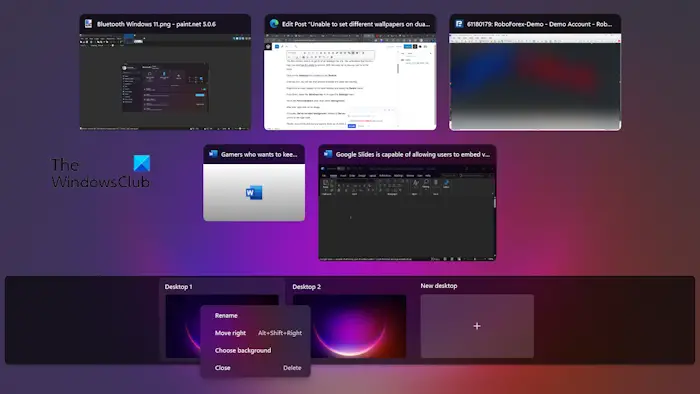 The first solution here is to get rid of all desktops barring one. We understand that this is a bug, one that has the ability to reoccur. With that said, let us discuss how to fix the issue.
Click on the Desktop icon located on the Taskbar.
Chances are, you will see that several desktops are open and running.
Right-click on each instead of the main desktop and select the Delete button.
From there, press the Windows key + I to open the Settings menu.
Go to the Personalization area, then select Background.
After that, right-click on an image.
If it reads, Set as monitor background, instead of Set as desktop background, then you're on the right track.
Finally, click on the pictures you want to show up on each monitor, and that's it, you're good to go.
READ: How to set different Wallpaper on different Desktops on Windows
2] Use a third-party app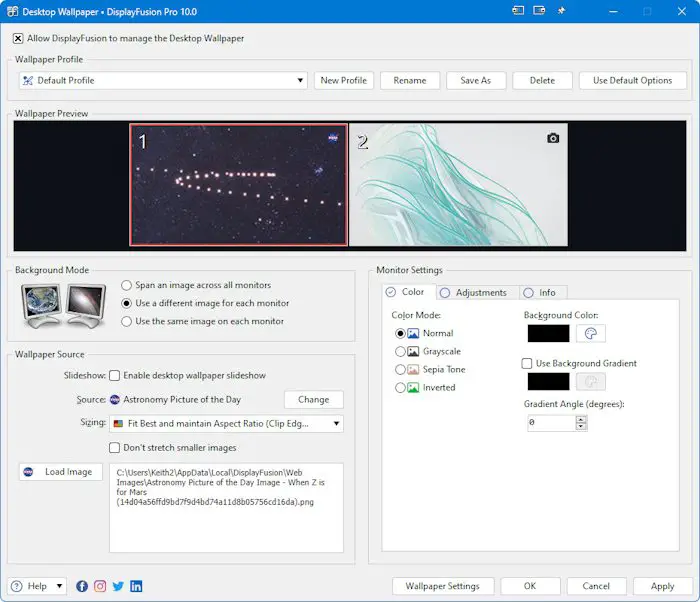 If the above method does not work, then we suggest taking advantage of third-party applications. One of the best right now is a tool known as DisplayFusion. When this tool is opened, it will request the user to disable the multi-monitor taskbar.
Once up and running, all features will be accessible from the Taskbar. All you have to do is right-click on the Taskbar to gain access to all features DisplayFusion has to offer. For example, you can choose which monitor functionality you wish to configure.
READ: Dual Monitor Wallpapers for Windows desktop
Can I have 2 different wallpapers on 2 monitors?
It is possible to have different wallpapers on each monitor if you have a dual-monitor setup at home. Microsoft has made this possible in Windows 11/10, so folks should not have a lot of problems getting it to work.
How do I fix different screen resolutions on dual monitors?
First, you must right-click on the desktop and select Display Settings. From there, click on the numbered box you wish to adjust. Scroll down to Display Resolution and choose your desired resolution via the dropdown box. Complete by clicking on Keep Changes, and that's it.