Why can't I see myself on a Skype video call? If you have this issue, then this post is sure to help you.
Windows users use Skype for making voice and video calls quite often, and that is much we can understand because it's a quality tool. One of the problems some users have been facing for some time now has much to do with their inability to see themselves when making a Skype video call. You see, the other party can see just fine, but the user is unable to see themselves in that little box situated in the corner. It's a bit frustrating knowing that the other party has a view, but you're unable to tell if you are sitting in the right spot in front of the camera.
Can't see yourself on video during Skype calls
Before we dive in, we'd like to ask you to turn off and turn on the video by using the buttons on the screen.
1] Check if the webcam is operational
To do this, click on the button with three dots close to your profile photo in Skype. The next step is then to click on Audio & Video Settings, and from there, the webcam light should turn on, and that's when you should look to see if your face is showing.
If nothing shows up, then it means Skype is not recognizing your camera properly.
2] Update the driver for your webcam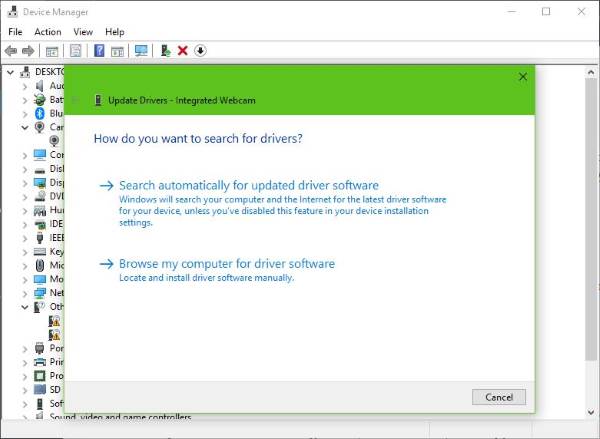 Go on ahead and press the Windows Key + X, and then select Device Manager from the menu. Now, click on Imagine Devices or Cameras from the list of hardware, then keep an eye out for your webcam.
The final step is to click on Update Driver Software, and then Search automatically for updated driver software.
3] Reset the Skype app
Logout from the Skype app and restart your computer right away. Once your system is back up, click on the Windows Key + I to launch the Settings menu, and from there, select Apps.
From the list of applications, scroll until you've come across Skype. Click on it, select Advanced Option, and finally, choose the option that says Reset.
Restart Skype, log-in again, then attempt to make another video call to your friends and families.
We're quite confident at least one of these options will fix most video call problems.
Read next: No Video, Audio or Sound in Skype calls.