If you're reading this, then certainly you have used the archiver tool 7-Zip. It is free and open source, and from our point of view, it is also the best of all the free options. Not only that, but it also competes quite strongly with several paid archiving apps as well. Now, we've come to understand that several users of the 7-Zip tool have been complaining as of late about problems they face whenever they uninstall the tool from their computers. Apparently, leaves behind a file known as 7-Zip.dll inside of the Program Files\7-Zip folder.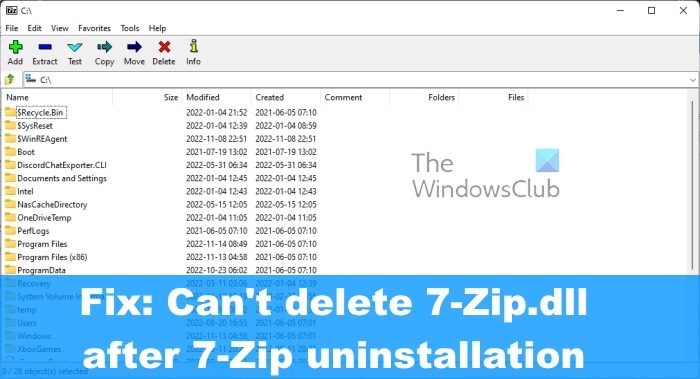 Can't delete 7-Zip.dll after 7-Zip uninstallation
Even after uninstalling 7-Zip from your computer you find that the 7-Zip.dll file is still present inside the Program Files\7-Zip folder, and you are unable to delete this file, then you can use the following workarounds to delete the 7-Zip.dll file.
Whenever you try to delete the file, you may see the following message appear:
This action can't be completed because the file is currently in use by (or open in) File Explorer.
Furthermore, the 7-Zip shell extension is still appearing in the context menu, and it is the 7-Zip.dll file is the reason for this.
How to delete 7-Zip.dll file
Learning how to delete the 7-Zip.dll file is important if you want to get rid of 7-Zip from the context menu. One of these suggestions is sure to help you:
Restart the PC and try again
Delete in Safe Mode
Use file unlocker software and delete
Use free file deleter software
1] Restart the PC and try again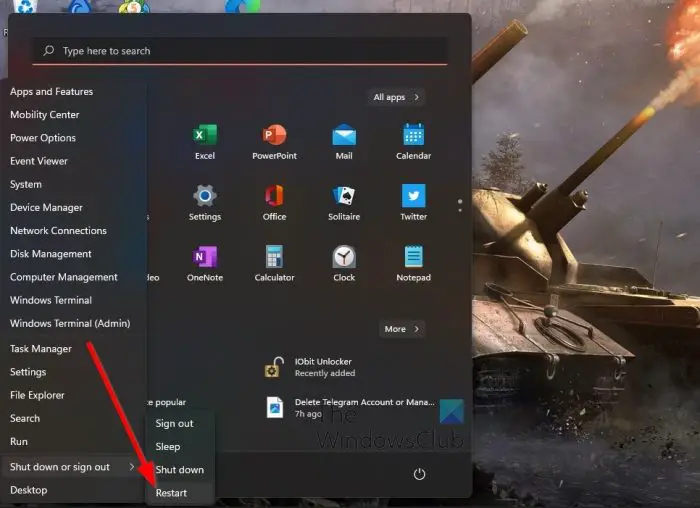 The first thing we suggest doing here is to restart your Windows 11 computer and try to delete 7-Zip.dll again.
Get this done by right-clicking on the Start menu button.
From there, hover the mouse cursor over Shutdown and Sign out.
Select the Restart option.
After the system reboots, you can make attempts to delete the 7-Zip.dll file.
2] Delete in Safe Mode
If the above fails to work, then the next best solution here is to delete 7-Zip.dll via Safe Mode in Windows 11. Directly reboot in Safe Mode and once you have booted Windows into Safe Mode, you can attempt to delete the file.
3] Use File Unlocker software and delete
In some situations, the reason why the 7-Zip.dll file is giving problems could be down to it being in use by another application. The best cause of action here is to find the application in question and uninstall it. If you're not sure which application it is, then download and use File Locksmith PowerToy Using this free tool from Microsoft, you can know which processes or programs are currently using a particular file. Terminate that process via the Task Manager and then try to delete the file. In all likelihood, it will be the explorer.exe process.
4] Use free file deleter software
If everything above fails to work as you'd like, the next that is known to work, is the use of a file deleter software. There are many file deleter tools out there, and you can use any one of them to force delete the 7-Zip.dll file.
Is 7-Zip free to download and use?
Yes, the 7-Zip archiver program is 100 percent free to download and use, and that is due to its open-source nature. As long as nothing changes, folks should be able to use this program for multiple years to come without issues or without having to pay.
What is the difference between ZIP and 7-Zip?
Both ZIP and 7-Zip are lossless file compression formats. Since the 7z format is newer, it delivers a better compression ratio but is not as widely used when compared to .zip. Furthermore, we should note that 7-Zip compresses to 7z format 30–70% better than to zip format, and 7-Zip compresses to zip format 2–10% better than most other zip-compatible programs.