Those, who have less Hard Drive space on their System Drive often move their User folders like Documents, Pictures, Music, Video, Downloads, etc. to another drive. Now let's assume that you have more than one partition apart from the C drive or System drive, where Windows is currently installed, and you have changed the Documents folder location to the other drive, say the D Drive.
Now if you want to move back the Documents folder location to the default location on your System Drive, you need to open the Properties box of Documents folder > Location tab and press on the Restore Default button, Click Apply, and exit.
But what if this does not work and you fail to move back Documents folder to the C Drive in Windows 11/10? If you are unable to move back the Documents folder to the default location which is the C Drive in Windows 11/10/8/7, then this fix may help you.
Cannot restore Documents folder to Default Location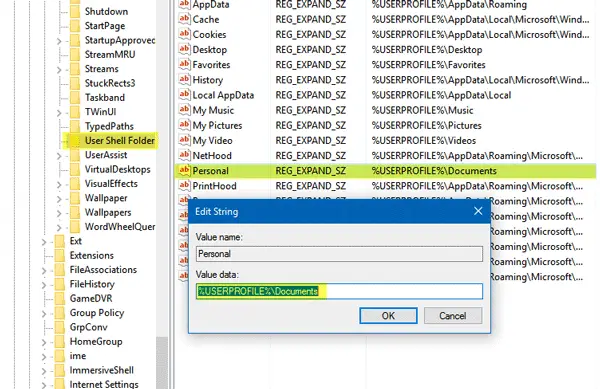 Some people do face a problem after changing the Documents or Pictures folder location in Windows 11/10. It may occur if you had changed the location in an older version of Windows and then upgraded your machine to the latest Windows 11/10.
If you try to use the native method to move back Documents or Pictures folder to C drive, you might get an Access Denied error. So to resolve this issue you need to change a Registry setting. Before opting for any step, you should back up your Registry files and create a system restore point so that you can be on the safe side all the time.
Press Win+R keys to open the Run box. Now type regedit and hit Enter to open the Registry Editor. Next, navigate to the following path:
HKEY_CURRENT_USER\SOFTWARE\Microsoft\Windows\CurrentVersion\Explorer\User Shell Folders
On the right-hand side, you will a key called Personal. If you are facing the problem with the Documents folder, you need to work on Personal. If the problem is with the Video folder, you need to use the Video. Similarly, there are Pictures for Pictures folder, Music for Music folder.
So double-click on the concerned key, and enter the value according to your folder:
Documents: %USERPROFILE%\Documents
Music: %USERPROFILE%\Music
Pictures: %USERPROFILE%\Pictures
Video: %USERPROFILE%\Videos
Having done this, exit the Registry Editor, restart your computer, and check.
The location of Documents or any other folder should have been reset to the default.
Hope this solution works for you.