Sometimes Windows 11/10 Update does not go as planned, and you may end up waiting to sign-in to your account. You may see login in progress or a blank screen waiting for something to finish. It can happen even after you have entered your username and password correctly. In this post, we will discuss what you can do if you cannot log into Windows 11/10 after an Update.

Cannot log into Windows 11/10 after Update
At such times, you may find that the Update is taking too much time to finish off or get stuck before the login screen. So we would strongly suggest you to wait for some time to let the Update finish before following any of these suggestions.
Boot to Safe Mode or Advanced Startup options
Uninstall recent Windows Update
Hide the problematic Update
Repair Windows 10 using the Media Creation Tool.
You will need not only technical skills but also an admin account to get through this. It would be wise to have someone around you to help fix this problem.
1] Boot to Safe Mode or Advanced Startup options
When you are set to auto-login to Windows 10 after the Update, the process to complete may get hampered. You can choose to disable auto-login after Update by boot into Safe Mode or Advanced Startup option, and then choose to disable the auto-login. It will allow the process to complete the update process without any interruption.
Restart your computer normally, and wait for the update to complete.
You can also check out these general tips if you cannot log in to Windows 11/10.
2] Uninstall recent Windows Update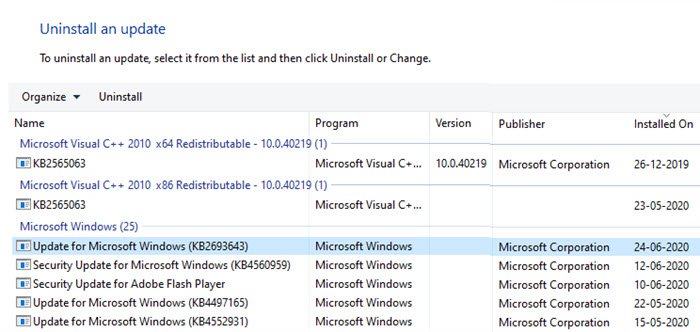 Again boot into Safe Mode using an admin account. If a recent update has caused the problem, then its best to remove it once in Safe Mode.
Boot into Safe Mode
Open Windows Settings (Win + I)
Navigate to Update and Security > View Update History and click on Uninstall Updates link
Select the recent Update based on the Installed on the column, and then uninstall it.
Restart the computer and check if you are able to login to Windows 10 PC.
Read: Deleted User Profile by mistake and now can't login.
3] Hide the problematic Update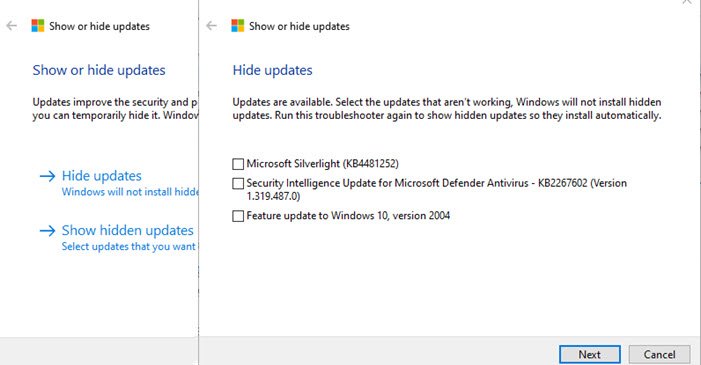 Once you are able to log in, you should use the Show or Hide Updates Tool.
Hiding updates do not mean simply remove it from the list, but it will prevent it from reinstalling automatically the next time Windows Updates are installed. As you can see, it can even remove feature updates from the listing.
Read: Windows stuck at log in screen after upgrade.
4] Repair Windows 11/10 using the Media Creation Tool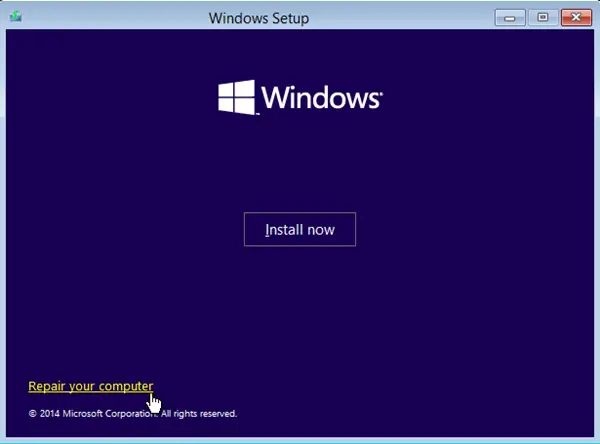 The last option is to repair Windows 11/10 using the Media Creation Tool. Since you are not able to login to Windows and if Safe Mode is not helping, its best to use Media Creation Tool to repair Windows 11/10. The steps to repair Windows 10 are as follows:
Create Bootable USB or DVD drive
Boot from the media and choose "Repair your computer."
Under Advanced troubleshooting, choose Startup Repair.
After verification, it will start diagnosing the computer and resolve any issue related to boot. Once the problem is resolved, the computer should reboot as usual, and you should be able to use it. The process doesn't wipe or delete personal files from your account, so you don't have to worry about it.
We hope something here helps you.