When you delete a user profile in Windows 11/10 using the User Account settings, then Windows removes all files and data. However, if it was accidental because you had used a third-party application or command-line tool that did not complete, then this post will help you. Usually, when this happens, you cannot log in to Windows 11/10 with that account, and the only thing you can think of is recovering any user data that is left.
Deleted User Profile by mistake and now can't login
You deleted User Profile by mistake and now can't log in to Windows – so what can you do? How to log in? How to recover the user account or user files?
Perform System Restore
Manually Restore using Registry.
These are the only two methods that can help you apart from using file recovery software. That can work, but it can be cumbersome.
1] Perform System Restore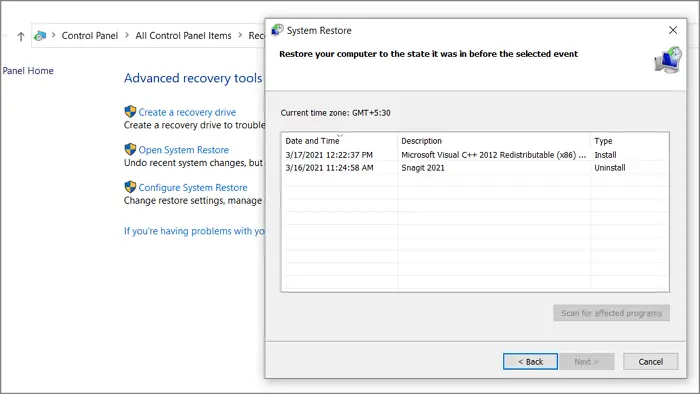 If you create system restore often, then restoring the computer to a working state can bring back the user account and all its files for that day. You will need an admin account to perform this.
Type System Restore in the Start menu search
Click on the Recovery option when it shows up
Then click on Open System Restore to get a list of dates to which you can restore
Select one of the dates at which the account existed and choose to restore.
Once done, restart the computer, and you should see the account at the login screen.
2] Manually Restore using Registry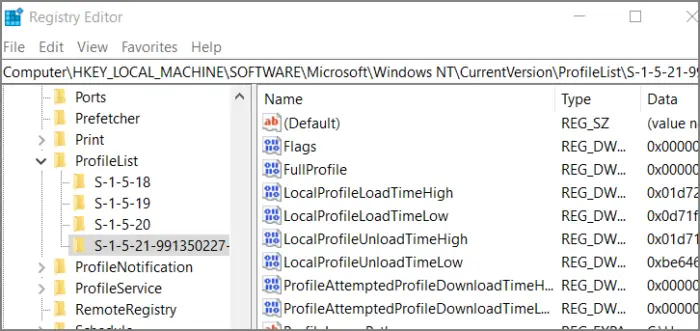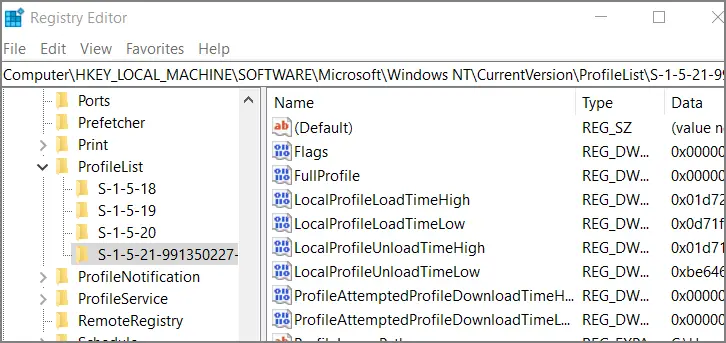 If the account removal is because of corruption or third-party software, the chances are that your account is still there, and a registry fix can help.
Type regedit in the Run prompt (Win +R), and then press the Enter key. It will open Registry Editor. Navigate to the following path to locate the user profile
HKEY_LOCAL_MACHINE\SOFTWARE\Microsoft\Windows NT\CurrentVersion\ProfileList
All user profiles will be listed with names similar to S-1-5-21-991350227-4168754500-3041839445-1001.
Locate one which has a BAK at the end of the name, e.g., S-1-5-21-991350227-4168754500-3041839445-1001.bak.
Delete the key which doesn't have BAK, and then rename the BAK one to a name that doesn't have BAK anymore.
Finally, locate the user profile folder in the C:\Users and note it down. The same path must be entered into ProfileImagePath. Double click to edit and save it.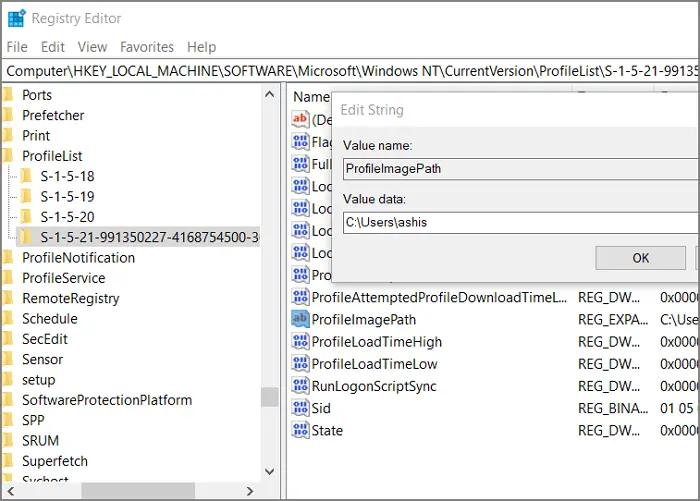 Did you lose the admin account?
If you have lost your admin account and there is no way to login to the computer, you can use the Advanced Recovery method to enable the secret admin account and then use it to create a new account. You can also use the admin account to go to the C:\users folder and then locate the files inside it.
In the Advanced Recovery, Select Troubleshoot > Advanced Options > Command Prompt.
Type  the following
net user administrator [email protected]$$w0rd
net user administrator /active:yes
Hit the Enter key
Restart the computer, and use [email protected]$$w0rd to login into this account.
I hope the post was easy to follow, and you could recover the user account or at least the files.