When Microsoft Edge browser is run in an environment protected by Microsoft Defender Application Guard, a maximum level of safety can be ensured against malware attacks. As such, you may find users having more options in this environment to control access to different apps. For instance, you can enable/disable the Camera and microphone in Microsoft Defender Application Guard for Edge browser on Windows 11/10.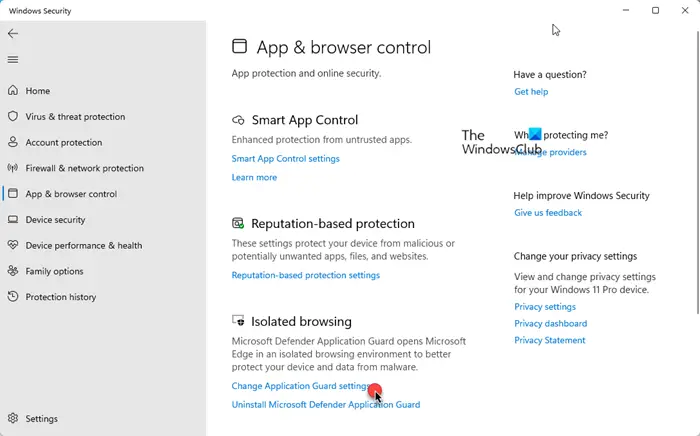 Microsoft Edge Application Guard, when enabled creates a new virtualized environment that completely isolates the web browsing session from your computer.
Enable Camera and Microphone in Microsoft Defender Application Guard for Edge
You must be signed in as an administrator to turn on or off allowing the camera and microphone access in Application Guard for Microsoft Edge: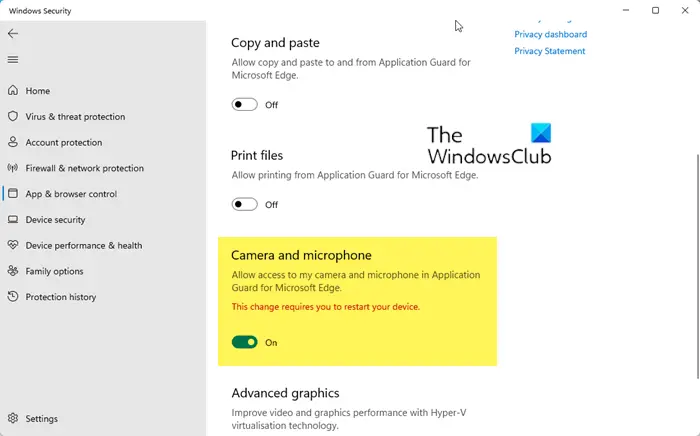 Open Windows Security
Click on App and Browser Control on the left side
Under Isolated browsing, click on Change Application Guard Settings
Locate Camera and microphone and toggle the switch to On
Restart your computer.
Now when you open Edge browser, you will see this option available.
Use Registry to turn on Camera and Microphone in Application Guard for Edge
Press Win + R to open the 'Run' dialog box. Type 'regedit.exe' and hit 'Enter'.
In the registry app that opens, navigate to the following address –
HKEY_LOCAL_MACHINE\SOFTWARE\Microsoft\Hvsi
Then, right-click in the empty space on the right and choose 'New' > 'Key' > 32-Bit DWORD value EnableCameraMicrophoneRedirection.
Set its value to 1 to enable the feature. For disabling the same, set the value data to 0.
Finally, exit and restart Windows 11/10.
Please note that you need to have Windows Enterprise or Pro installed on your machine to run Microsoft Defender Application Guard for the Edge browser.