How many people are still burning CDs and DVDs these days? If you're one of the few, then chances are you've come across something that says "Power Calibration Error" or "Medium Speed Error." Multiple factors could cause this error, but you know what, the likely cause is probably because the CD/DVD burner is unable to properly determine the Optimum Power Calibration rate.
For those who are wondering what that is, it's basically a test that runs before a burning process to regulate the optimal laser power required to get the job done. If this process fails to run accordingly, then guess what? It won't be possible for users to burn content on their CD or DVD.
Power Calibration Error
On the other hand, there are times when the "Power Calibration Error" occurs for just small issues and nothing to do with regulating laser power.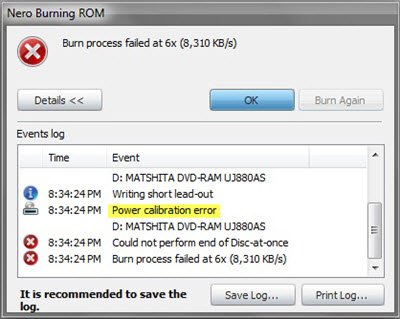 Burn process failed
When burning CDs &DVDs on your Windows PC you may come across a Burn process failed error known as Power Calibration Error or Medium Speed Error eventually, when using Nero, ImgBurn, etc. If you face this issue, here are a few things you could try to fix the issue.
1] Purchase quality media
Many issues with burning media can be attributed to the purchase of low-quality CDs or DVDs. It's not always a good idea to rely on cheap products, therefore, maybe it's time to begin spending a little bit more to acquire the quality needed.
We'd like to recommend brands such as JVC, Verbatim, and Falcon, to name a few that are worth your time.
2] Burn at lower speeds
Let's be honest here, doing things too quickly usually ends in disaster, and the same can be said when you're burning CDs or DVDs. The best thing to do at this point, or at any time when burning, is to burn at a slower speed and just take the time to wait.
3] Update your burning software
That's right, it's always a good idea to check if your burning software requires an update if it's giving you problems. In fact, this is a good idea for any software, so please keep that in mind going forward.
4] Clean the disk drive
There are several tools on the market that are designed for cleaning the disk drive. These tools tend to remove dust particles from the lens, and that aids a lot in the burning quality. It also helps with reducing errors, which is also good.
Some folks clean the disk drive manually, but that's something we do not recommend if you're not an expert.
5] Disable Image Mastering Applications Programming Interface (IMAPI)
Fire up the Control Panel by clicking on the Start button, then type control panel. It should pop up in the search query, after which, you must click to launch it. The next step, then, is to select System Security > Administrative Tools, then click Services.
From here you'll search for the option that says IMAPI CD-Burning COM Service. What you're going to do, then, is to right-click on it and select Properties. You must now switch Startup Type from Enabled to Disabled; click on Apply, then Restart your computer.
Related read: Burn to disc is grayed out in Windows 10; Can't burn DVD.