We usually have a habit of saving our passwords in the web browsers to get instant access to all our Internet accounts. This habit has some disadvantages, like say,  exposing your passwords to anyone else who uses your computer – and possibly to various other users over the web. Most of the commonly used web browsers allow us to save and store the password into their local database file. These stored passwords, however, provide us quick access to our accounts but at the same time, they can also result in data theft, especially when you are using a shared computer.
This is where Browser Password Remover, a free tool to display and remove all the stored passwords from the browsers. It also allows you to take a backup of all your passwords before you delete them.
Browser Password Remover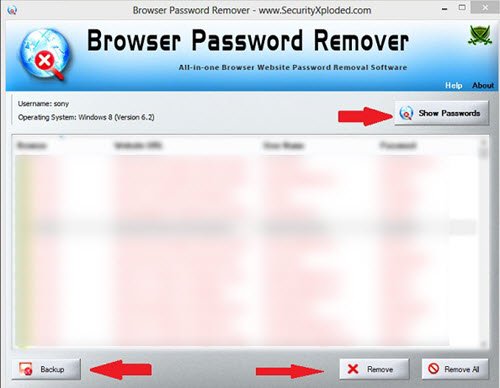 Browser Password Remover is a simple program and you can install it on your system with a simple installation wizard.
How to use Browser Password Remover to delete passwords
It comes with a user-friendly interface. You can start using it right after installing it on your computer system.
Launch the program and click on 'Show Passwords' button. It will display all the web browsers, URLs, and stored passwords.
You can remove the passwords one by one or all at one shot by clicking on the buttons 'Remove' or 'Remove all'.
There is a 'Backup' button in the lower-left corner, which helps you take the backup of all your passwords in an HTML file or as a Text file.
The program works really fast and provides quick access to all your saved passwords in just a couple of clicks. However, I found a few gaps in the program; first, it lacks the search option and you have to scroll down the entire list if you are looking for a particular website's password and secondly, the program also does not allow you to copy the password from the list. Consequentially
In a nutshell, Browser Password Remover is a useful free tool to check over your credentials saved in the web browsers and delete them in one go thereby avoiding any kind of data theft.
You can download Browser Password Remover from here. It is a portable tool and works on all versions of Windows and supports both 32-bit as well as 64-bit platforms. It also supports several browsers.