If you are learning basic coding languages such as HTML, CSS, etc., you might need an editor to show the preview side by side. Boostnote is free open-source note-taking software that you can use as a text editor to edit and save codes too. Let's take a look at the features of this freeware.
Boostnote code editor software for Windows
Boostnote comes with some exciting features, that are mentioned below-
Save code to check live preview: This is the primary function of this software.
Note management: If you frequently create notes, you might need a tool or option to organize your notes. If so, you can utilize the in-built option of Boostnote. It allows users to add tags so that you can categorize them according to your requirements. You can also add a star to your note if you want to save something important.
Change storage: By default, Boostnote saves all the notes in the "Boostnote" folder in your user account. However, if you want to change it, you can do that too.
Save as different formats: You can export a note or code in various formats including MD, TXT, HTML, PDF, etc. It is also possible to print a note directly from this software.
Change interface: By default, it comes with a basic user interface. However, if you do not like it, you can change it to something else. Apart from the whole UI, you can change the editor's interface as well.
Upload code to blog: If you have a blog with WordPress, you can upload the code or note to your blog or website directly from this tool. Before that, you need to go through a simple authentication process.
There are other functions available in this utility. However, you need to install and use it to get used to them all.
How to set up and use Boostnote
To get started, you need to download this software from the official website and install it on your computer.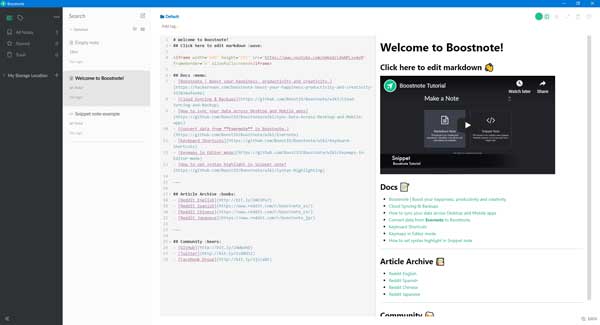 Now, the process is simple as there is no complex option. Click the Make a note button or press Ctrl+N to create a new note.
After clicking that button, you will find two options, i.e., Markdown Note and Snippet Note. If you want to create a note of your document, text, or anything like that, you can select the Markdown Note option. If you want to write some codes, opt for the second option.
For your information, you cannot export Snippet Notes in different formats such as PDF, HTML, etc., whereas that specific option is available for the Markdown Notes.
How to export notes
This is quite easy and not much time-consuming too. If you have created a Markdown Note, and you want to export it, you can click the Information (i) button visible on the top-right corner.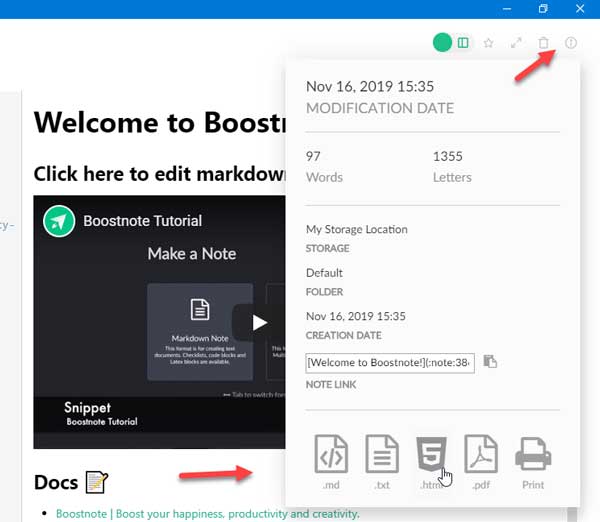 Following that, select a format that you want. After that, you can choose a location and give it a name to save the file.
Boostnote settings
The Settings panel offers a couple of options to customize this tool before using it. Some of the essential options are mentioned below.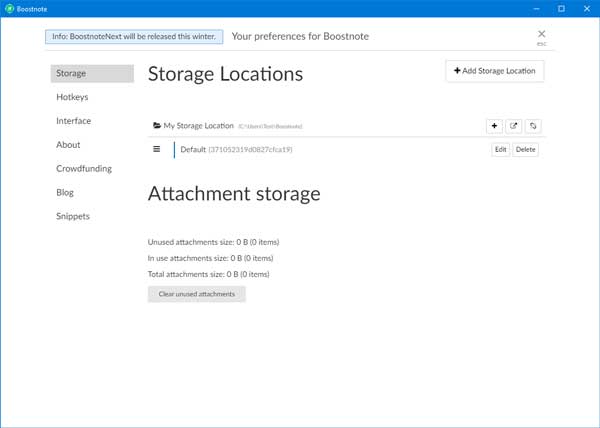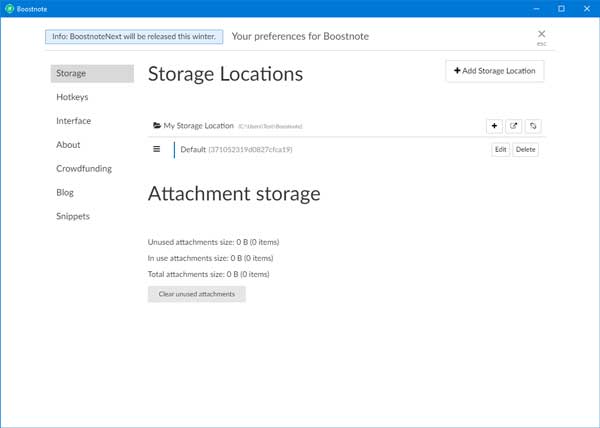 Storage: You can change the default save location of notes from this section.
Hotkeys: If you want to increase your productivity, you must know the keyboard shortcuts. To know about them all, you can check out the Hotkeys page. Although it doesn't have a lot of keyboard shortcuts, you can perform everyday tasks with them. The best thing is that you can change them to your desired hotkeys.
Interface: From here, you can change the default user interface of this tool. You need to choose an option from the Interface Theme drop-down menu. If you want to change the color scheme of the code editor, you can check out the Editor label, and make changes accordingly. This page offers some more options. You can customize the tags, enable smart table editor, manage matching character pairs, font (size, font family, code block), etc.
Blog: If you want to save or upload your notes to your website, you can do that form here. As mentioned earlier, it must be a WordPress website. You can visit the Blog tab, enter your website address, choose USER from the Authentication Method drop-down menu, enter username and password to verify your account.
Considering everything, Boostnote seems to be a useful tool for people who like to write codes and take some related notes. If you want, you can download it from the official download page. For your information, you need to enter your email address on their website to start the download process.