Video calling is a tricky business, especially when it's a business meeting, and you need to attend the video call while in a public place. The problem is just not the noise, but what happens in the background. Things could get a little embarrassing in no time. If you use Microsoft Teams, then you can blur the background in the Microsoft Teams meeting. It is straightforward, but as of now, it is not available for Linux users.
Blur background in Microsoft Teams meeting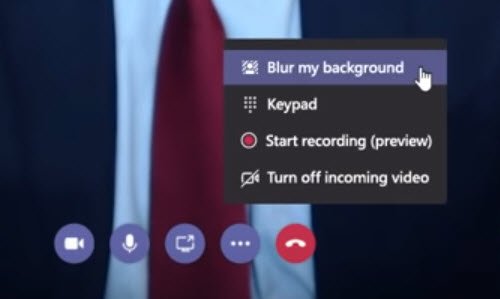 To blur the background in Microsoft Teams meeting, do the following:
Start your meeting in Microsoft Teams or join a meeting
When you see your video output, click on the Ellipse icon or the three-dots available on the video control
Select Blur my background, and you should have your blur background, or you can blur your background during a video call using CTRL+Shift+P combination
To start a meeting with background blur,  move the blur slider—the one to the right of the video slider—to the right on the Choose your audio and video settings screen when you're joining the meeting
While public nuisance is one reason, messed up rooms, and living rooms can be another. So if you want to have something which hides out all this in a subtle way, then background blur is the way to go.
Microsoft Teams blur background missing
If you are not able to see Blur Background option under More options, then it means your device is not yet supported. Microsoft is still working to make this feature available for all devices, as it may depend on the device capability as well. So if you don't see it, don't panic; it may take some time for them to enable support.
According to Microsoft, the feature to detect the person, and the background, works only on computers equipped with Advanced Vector Extension 2 (AVX2) graphics. AVX2 is what Teams use to blur the background after it figures out where the user is. If your computer has a post-Haswell chipset, then you will have the option. Microsoft also says that it will impact on your PC as it blurs in real-time, and puts some burden on the CPU as well.
TIP: You can now also use custom Backgrounds in Microsoft Teams.
I have been through forums, and the minimum hardware support seems dicey. Some reports from users with PC that supports AVX2 don't have this option as well. I am guessing it's going to a combination of hardware and software that is making a difference.
Here is a list of Hardware decoder and encoder driver recommendations for a list of unsupported decoders and encoders. You may have an unsupported decoder/encoder that is causing the problem.
Why can't I blur my background in Microsoft Teams?
There could be multiple reasons why you can't blur your background in Microsoft Teams. If you are using this app in an organization, the IT admin might have disabled this feature for the users like you. On the other hand, you can try updating the app on your Windows 11/10 computer, logging out from the app, logging in again, etc. For obvious reasons, you can't blur the background when your camera is not working.
How do I change the background in Microsoft Teams meetings?
It is possible to change the background in Microsoft Teams meetings using the in-built option it provides. For that, you need to click the profile avatar icon under your camera view and choose a background image on the right side. After that, Microsoft Teams will continue using the selected image until you change it manually.
How do students blur the background on Teams?
Whether you are a student, teacher, or employee, you can use the same aforementioned method to blue the background on Teams. You need to use the Blur my background option in the menu to get the job done.
I hope you were able to blur the background in the Microsoft Teams meeting, and if not, you know that it is probably the device that is not supported.
Related read: How to Blur Background in Skype calls.