If you often open particular files, apps, web pages, etc., and you want to create a shortcut for them, here is a very useful tool called Biniware Run. It will let you create a shortcut for any item so that you can open the target quickly. An icon gets attached to your screen, and you can access the shortcut and open the target very quickly. Everyone opens various apps, files, folders, web pages, etc. on his/her Windows computer. Sometimes, we open them using desktop shortcuts or the Start Menu.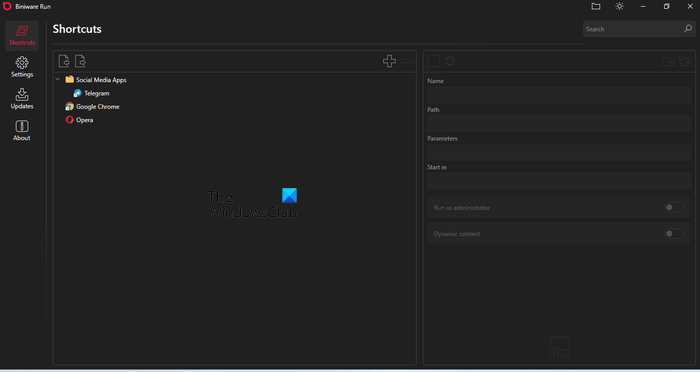 You may think that Windows 11/10 has a built-in feature to create Desktop shortcuts then what is the need for this software? You can make your Desktop screen clean by using Biniware Run.
Create shortcuts with Biniware Run
Before you start using this tool, you may want to know about the supported file formats and apps. You can include almost any file (document, image, spreadsheet, etc.). You can list .exe files, .bat files, .cmd files, etc. You can import HTML bookmarks from the browser, XML files, webpage links, etc. Whenever you need to add something, you can use the drag & drop method to get it done.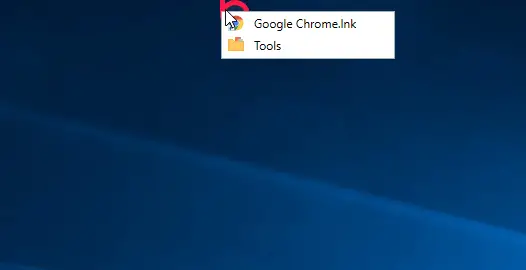 To start using this tool, download it from the official website. As this is portable software, you do not need to install it. After opening, you should find an icon on the top of your screen. If you want to add something, just use the drag & drop technique.
However, if you want to access more options to add something manually and customize it, you can right-click on the respective icon and select Configure.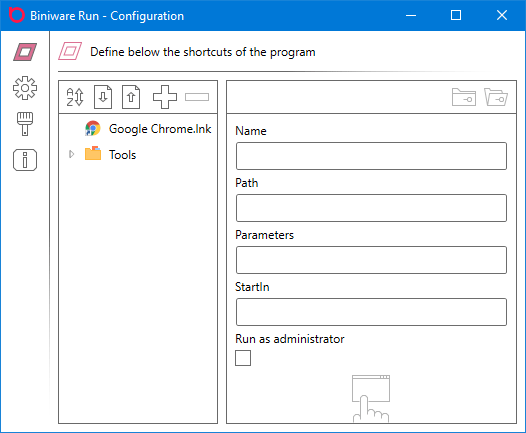 To add something to the list, click the Plus icon. Following that, you can enter the name, path, parameters, etc. If you want to run a program as an administrator, you can make tick in the Run as administrator checkbox.
It is also possible to create a folder so that you can categorize your shortcuts. In case, you have too many shortcuts; you can use this folder option to separate them. To create a folder, click the empty place in the Configure window, click the Plus icon, and enter the name that you want. After that, select the folder and click the "plus" icon. The new shortcut will be created under that folder.
It is also possible to import all the shortcuts in case you want to make some changes in the system. For that, you can find an Import button in the Configure window that you need to click. Following that, you can follow the screen options to get it done.
How to create a shortcut by using Biniware Run
Creating a shortcut is easy with Biniware Run.
Click on the Plus icon.
Enter the name of the shortcut.
Enter its path and you are done.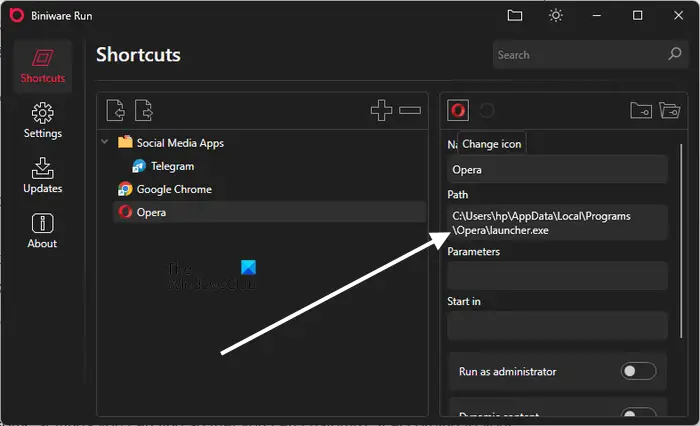 Suppose you want to create a shortcut for the Opera browser, enter its path in the required field, then enter a backslash after the path and type its application file name with the .exe extension. For example, the application file name of the Opera browser is launcher.exe. Hence, the complete path is:
C:\Users\hp\AppData\Local\Programs\Opera\launcher.exe
Biniware Run Settings
There are some settings you can find so that you can customize it according to your requirements. To open that panel, click the settings gear icon. From here, you can enable or disable these settings-
Auto start at user login
Always on top
Enable logging
Allow movement of the desktop icon
Display tooltips on context menu items
Confirm deletion of a shortcut
Download website icon when dropping an URL
Download website title when dropping an URL
Use text wrapping for properties values
You can also find an option called Open program data folder. This will let you open the folder where all the Biniware Run files are saved on your computer. In this folder, you can find things including the executable file, configuration file, icons folder, etc. Do not delete or make any changes in the .cfg file – or else you will end up corrupting your shortcuts.
Considering everything, Biniware Run seems to be quite a useful tool. You can download it from here. It is available for Windows 10/8/7, and you need .NET Framework v4.5 or later to use it.
What is a shortcut? How can you create a shortcut of any program?
A shortcut is a link that points toward a particular program, file, or folder. By double-clicking on a shortcut, you can open a program, file, or folder easily. You can create a shortcut in Windows 11/10 by using the Create Shortcut wizard or via the right-click context menu.
Why create a shortcut?
A shortcut makes it easy to launch a program. Without a shortcut, you have to go to the file location every time you want to open a program. This can be frustrating.
That's it. I hope this helps.
Read next: Free Duplicate File Finder and Remover software for Windows 11/10.