Classic games are classics for a reason. They are the ones we can return to again and again every night when we return from work drained. More many of us, these are much-needed trips down memory lane. Because love them or despise them, there is no avoiding them.
Xbox One Classic arcade games
So, without further ado, here are the ones that made the list of top ten Xbox One classics of all time:
1] Puzzles Bundle
Puzzles Bundle is a bundle of 3 games, The Bridge, Tumblestone Aracde DLC, and Tumblestone, though all are simply version of the same gameplay. While the seemingly simple name might make you think it's just another group of puzzle games that is just passing fad Puzzles Bundle might just be here to stay. And here's why.
Puzzles Bundle makes you think and evaluate till you question your own perceptions and the laws of physics. Manipulate gravity, travel through alternate dimensions and worlds and incredibly impossible architectural adventures, and do it all in a game that seems hand-drawn to each exquisite detail. And if you want to share these amazing experiences, play with a fried, because this game also has a multiplayer option. Intrigued yet? Is that a resounding yes? Well, download and play it here.
2] Burnout Revenge
When it comes to racing games, this one's a classic. That's where it all started, right? On the streets. In Burnout Revenge, one does not win, one wipes out the competition and everyone between till one is the only one left standing. This is not mere street-racing. This is revenge and you need to get yours during rush hour traffic. Fight other cars, grab your weapons and prepare for some serious destruction. And just in case you are as much in the mood for guns, glory, and cars as your rivals are, go grab the game here.
3] Rare Replay
For its 30th anniversary, Rare brought together some of its most iconic characters together in one bundle. It doesn't matter if you are just starting out or are a gaming pro, this collection has something for everyone. It includes a lot of the 2D classics and the best from Xbox 360. Whether you are playing Perfect Dark or BattleToads or Banjo-Kazooie, you will notice the amount of love that went into putting together this collection. Which is why, without further ado, you should grab the entire collection here.
4] Midway Arcade Origins
Released in late 2013, for this collection here Warner Bros. worked to bring together some fan favorites when it comes to arcade gaming. You can play pretty much every classic arcade game from its golden era because this collection includes an extensive 30 games. And that's not all. You can play this alone or play with your friends and look to the leadership boards for support and discussion. Take this trip down memory lane here.
5] Final Fight: DblImpact
Let this game take you and your friends on a journey through the best of Capcom history with its combination of Magic Sword and Final Fight. The graphics and music might have improved a lot since the days of arcade gaming but the developers have been able to preserve the nostalgia and the insane adrenaline-rush inducing properties of these games. Give it a try here.
6] Soulcalibur
And yet another arcade game made this list. Because who doesn't love a good fighting arcade game? And this one takes it up a notch by offering you a collection of 19 brilliant characters to choose from before you embark on your mission to gain the Soul Edge. Play alone or with your friend and collect amazing achievements. Play this game here.
7] Maize
You know how there is always that one kid in class who is just too different from the others? Well, Maize serves just that role on this list. Maize is exactly what it sounds like it's about i.e. corn. To be more specific, sentient corn developed by two scientists who misinterpret a mission description. Play this very colorful game and make friends with the cranky Russian robot-bear, make a lot more enemies and discover exactly what these creatures want other than a solid nap. Weird enough? Barely. Play it here and let it surprise you still.
8] R-Type DimensionsTM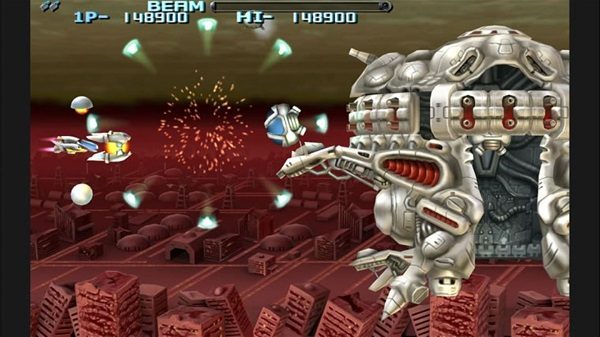 Now this game here takes nostalgia and drives it up several notches with some very sweet features. A coin-op classic, the R-Type Dimensions combines R-Type and R-Type II in one game. You may fight through several very Bydo-ridden stages in single or multiplayer mode and switch between 2D and 3D graphics as you go. Play to bring the Bydo empire down here.
9] Phantasy Star
Phantasy Star II has often been called one of the best classic games of all time. And with good reason too. This game, since the time of its inception in 2009, has gone on to win hearts all over the world. An RPG with a very intriguing storyline, Phantasy Star II lets you play as Rudo, Nei, Rolf or any other character of your choice as you crash and burn and fight the darkest forces through the Algol Star System. Customise your armor, weapons, and characters to complete missions and let this fantastic sequel of the original take you on a ride again. You can download and play this game from here.
10] Galaga
Now a lot of people might remember this one from there own childhood gaming days. Back then, Galaga was one of the few extremely enjoyable games out there. The gaming remains similar but it's now in hi-definition. Shoot at invading alien ships that keep changing formation, rescue a fighter and play with double the usual firepower and gain lots of bonuses. Play this legendary game here.
Did we miss your favorite one?
Now read: Best Xbox One Educational Games for kids.