The most important aspect of any project is the research holding the idea together. While most of the research work has shifted online these days, organizing your findings from different sources has become difficult. But a category of tools called 'Web Clippers' is constantly trying to solve this problem. Web Clippers makes it easy to extract and store anything important that you might have come across while browsing the internet. These tools make it easier to go through the information you've collected and easier to share. In this article, we've covered some of the best Web Clipper extensions available for Google Chrome.
Best Web Clippers for Chrome
1. OneNote Web Clipper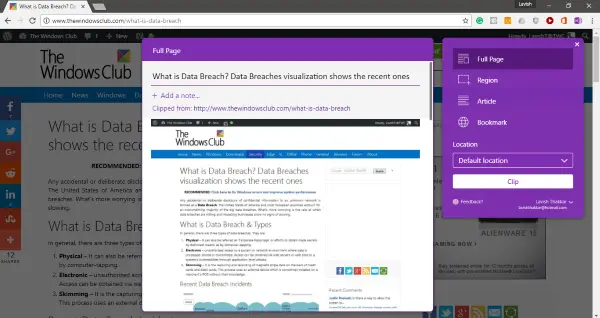 Best suited if you are on Windows and you use Microsoft Office products a lot. OneNote Web Clipper can easily take notes and save them directly to your OneNote notebook. Notebooks can then be viewed/edited on any device, and you can even share them with other people. Using OneNote Web Clipper has an advantage over other web clippers as it provides seamless integration into Windows and other Office Products. The clipper lets you clip the entire webpage in four different modes. You can save the entire page as it is or you can select a region to be saved. Moreover, you can switch to 'Article' mode where you can edit the contents of the notes before saving. You need a Microsoft Account for using OneNote Web Clipper. Click here to download OneNote Web Clipper.
2. Evernote Web Clipper
Evernote is one of the most popular and widely used web clippers. It offers great features and an outstanding synchronization experience. Evernote app is available on all platforms, and you can easily sync your notes and web clippings. Evernote also works on the concept of notebooks. You can create as many notebooks as you want and then put your notes into these notebooks. The web clipper extension can take note in quite a few modes. The Article mode lets you extract the main part of the webpage without including the sidebar and headers. Simplified Article mode lets you take out just the text from the webpage. And the screenshot mode lets you capture a certain area and save it as an image Evernote Web Clipper also comes with annotation features for screenshots. Click here to download Evernote Web Clipper.
3. Notebook Web Clipper
Notebook is a note-taking service offered by Zoho. So if you already have your company email with Zoho, you can directly start using this extension to take notes right from your web browser. You can create Notebooks and start adding notes to them. Notebook Web Clipper supports text-based notes and screenshots. It does not support annotations and its note-taking experience is also not as great as Evernote or OneNote. Apart from that, the notes can be synchronized within devices, and the application is available for most platforms including Android and iOS. Click here to download Notebooks.
4. Diigo
Diigo is more of an annotation tool that lets you save your annotations to the cloud. It makes it easier for teams to share their annotations and collaborate. With Diigo, you can annotate any webpage, PDF file or a screenshot. You can highlight things or even add sticky notes on the webpage. All these annotations can be saved to the cloud and accessed later. There is a feature called Outliner that lets you take notes like a conventional web clipper. Diigo was the most intuitive and innovative web clipper I've ever come across. Click here to download Diigo.
5. Google Keep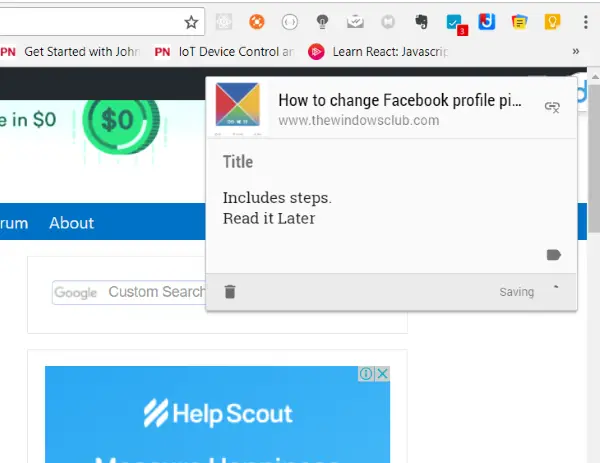 Google Keep is a very basic and simple note-taking application. The chrome extension lets you quickly snap in some information and save it in your Keep account. This extension can be very handy if you do not want much fuss but a simple click to save your notes. Taking notes using this extension took considerably lesser time than other applications but Keep lacked some essential features like images and screenshots. Click here to download Google Keep for Chrome.
These were some of the best available productivity note-taking extensions. These extensions will not only help you carry out your research but will improve the presentability of the information you collect. If you are working on something big and you have to browse a lot of websites for a particular topic, I would recommend using Evernote. But if you usually take short notes, or reminders from a webpage then go for Diigo or Google Keep.