Valheim is one of the best indie games released in the past year, and rightfully so since it managed to garner over 5 million downloads in just a few months. With such a large number of players, the community was bound to create a multitude of mods for the game, and so they did. Since we are not able to discuss all mods for Valheim, were just going to list our favorite 10, along with where to download them for those who are interested.
Are Valheim mods allowed?
Valheim does not support mods officially, therefore, you should always be careful because the developers have no idea how these mods could affect the game overall. If you're going to mod the game, please ensure you've backed up your world and character files. Before we go forward, we must state that you should download mods at your own risk. Please take into consideration that mods may cause problems with other mods or the base game, so always keep that in mind.
Best VALHEIM Mods to download and install
Valheim has a multitude of mods, but only a few can be considered for this article. The best of the mods is listed below:
Valheim Plus
First Person View
Torches Eternal
Clock Mod
Bigger Item Stack
Unrestricted Portals
Maps Sync
Discard Inventory Items
Equipment and Quick Slots
Craft Build Smelt Cook Fuel Pull From Containers
1] Valheim Plus
We want to begin by talking about a mod known as Valheim Plus. When it comes down to the quality of life, we have to say Valheim Plus is probably the best of the bunch, and it shows. This mod is great for players who want a streamlined experience without ever feeling as if they are cheating.
2] First-Person View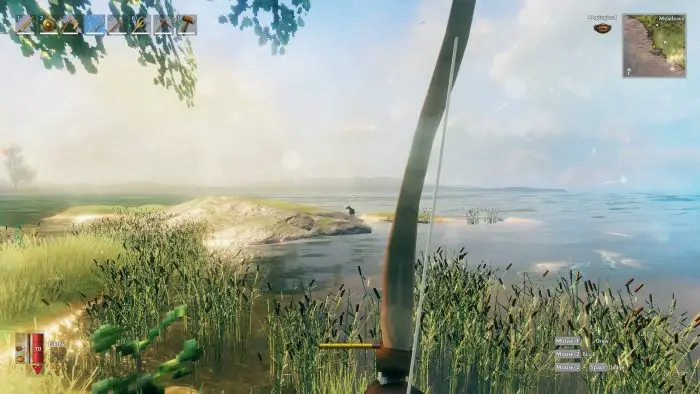 One thing is for certain, and that is Valheim is not a first-person game, but if a player wants the game to have such a mode, then the First-Person View mod is the best option at this time. The game looks great in first-person mode, and certain enemies are much scarier than before.
Download the First-Person View mod.
3] Torches Eternal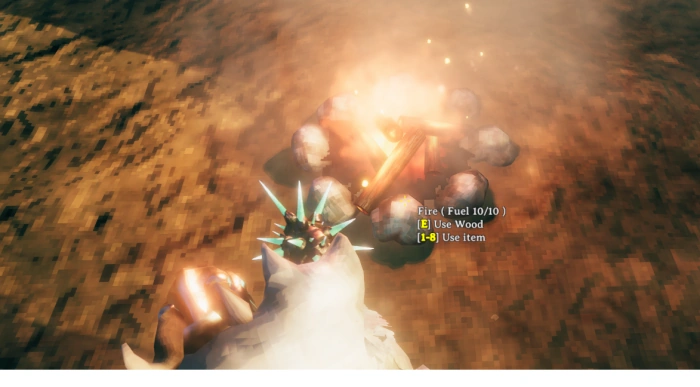 When it comes down to progressing through Eternal, you will likely have several bases located throughout the entire map. If you want to light up these bases in the most efficient way possible, then how about using torches? The problem is, you'll need a lot of resin to keep the torches blazing, so this is where Torches Eternal comes into play.
Once this mod is activated, you will no longer need to fuel torches with resin. Not only that but torches will be kept lit even during a storm.
Download Torches Eternal.
4] Clock Mod
The time indicator in Valheim is not bad, but from our point of view, it is too generic, especially for players who love to go on long travels. With that in mind, we suggest looking into the Clock mod. This is a mod that adds a configurable clock to the in-game screen, and it is designed to showcase the time of day.
Download the Clock Mod.
5] Bigger Item Stack
OK, so the next mod we want to have a look at is one called Bigger Item Stack, and you might be wondering what it is all about. You see, the plan here is to increase the number of items the player can carry around. The mod also can reduce the weight of all items, which means, folks will be walking around with more items than normal.
Download the Bigger Item Stack mod.
6] Unrestricted Portals
Here's the thing, traveling around in Valheim is super easy thanks to portals. However, players cannot transport certain items through the portal. With the Unrestricted Portals mod, gamers can now easily traverse the lands with ores, gold, and whatever else.
Download the Unrestricted Portals mod.
7] Map Sync
Valheim is not just a game or playing alone, but with others as well. You see, players can make themselves visible on the map for others to see, but at the moment, it is not possible to share maps from within the game.
The Map Sync mod, then, allow for the synchronization of all players on the server on a single map. This will make it easier to share points of interest, discovered areas, and more.
Download Map Sync mod.
8] Discard Inventory Items
Do you feel the need to discard or recycle inventory items in Valheim? Worry not because with the Discard or Recycle Inventory Items mod, this becomes something you can do right away. Strangely enough, this feature is not available in the base game, but that should no longer be a problem.
Download Discard Inventory Items.
9] Equipment and Quick Slots
What we have here is an interesting mod that is similar to the Hotbar in how it functions. It brings to the table special slots for armor, and armor rating, along with hotkeys for food and potions. A very useful mod for those who want a new level of detail added to their inventory.
Download Equipment and Quick Slots.
10] Craft Build Smelt Cook Fuel Pull From Containers
Storage containers inside Valheim are very important since it is not possible to walk around with every item. However, the problem arises when players must travel back to their base for items, not on their person. This is a tedious task, and that is where the Craft Build Smelt Cook Fuel Pull From Containers mod comes into play.
With it, players can easily pull up items from any nearby container with ease. From our point of view, this makes the game a lot easier to play.
Download Craft Build Smelt Cook Fuel Pull From Containers.
Which mod Manager is best for Valheim?
If you're looking for the best mod manager for Valheim, then we suggest taking advantage of Thunderstore r2modman. It comes packed with everything you need, so few reasons to go out of the manager to find mods to download and install for the game.