Downloading videos from torrent websites is a fun pastime, however, not everyone has the space on their computer to keep these files. Furthermore, downloading large media files can take hours, especially if the seed number is low. So, the best thing to do, from our point of view, is to stream the videos instead, and thankfully, there are several torrent platforms that offer such a service.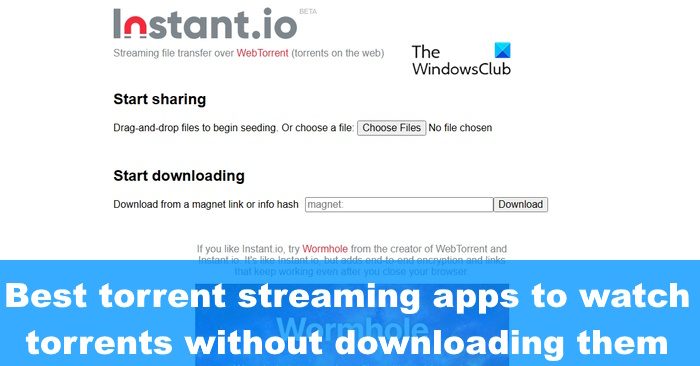 Now, we should point out that in no way does The Windows Club supports piracy. So, if you're going to download media files via torrents, then we suggest checking to see if the content is pirated before going forward with the download.
Best Torrent Streaming apps to watch Torrents without downloading them
There are many torrent apps that are capable of streaming, but which ones are the best? We've decided to list some of the best Torrent Streaming apps:
Seedr
Webtor
WebTorrent Desktop
qBitTorrent
Rox Player
Brave Web Browser
1] Seedr
OK, when it comes down to Seedr, it is merely a torrent-leaching platform that offers 2GB of cloud storage free of charge. So, instead of a direct stream of a particular content, Seedr downloads the torrent to your account and then gives you, the user, the option to stream or download the file to your computer.
Since this is a premium service, the possibility is there for users to increase their storage from the base 2GB offering to something more substantial. For those who want to avoid having to spend, we suggest deleting whatever you've downloaded to Seedr and populate it with new content.
Visit the official Seedr website.
2] Webtor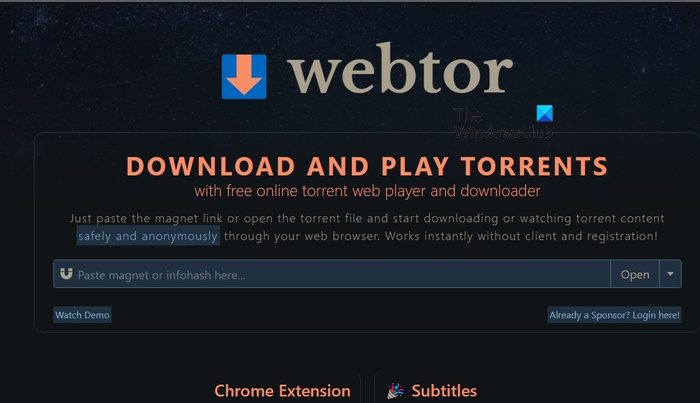 A great alternative to Seedr and the traditional way of downloading torrents is t use a tool known as Webtor. As expected, the service is free to use, and it allows anyone to watch media content from torrents without ever having to download them.
Interestingly enough, Webtor does not require the creation of a user account, and that's great. If you want to stream a torrent, all you have to do is copy the magnet link and paste it into the correct section of the service, then hit Open.
Things will take a few seconds to load, so give it some time. But once the loading is complete, your video will begin streaming. We should note that this platform supports subtitles, along with basic controls such as volume adjustment, pause, and play.
Direct download is supported here, which means, you can download any content to your computer. Additionally, the service supports formats such as AVI, MKV, and FLAC.
Visit the official Webtor website.
3] WebTorrent Desktop
From our point of view, WebTorrent Desktop is one of the best clients on the market that offers streaming functionality where torrents are concerned. We like it due to its open-source nature and the fact that it is available on multiple platforms such as Windows, macOS, and Linux.
This tool was created in JavaScript and takes advantage of WebRTC for peer-to-peer delivery of content. It is also capable of accepting both BitTorrent and WebTorrent connections with ease.
When it comes down to streaming torrents, all you have to here is to open WebTorrent right away.
After that, navigate to File > Open Torrent Address.
Paste the copied magnet link into the address area.
Hit the OK button or the Enter key, then wait for the torrent to load.
Finally, click on the Play button to get things moving.
Bear in mind that WebTorrent will be downloading the file in the background while it is being streamed.
Download WebTorrent Desktop for Windows via the official website.
4] qBitTorrent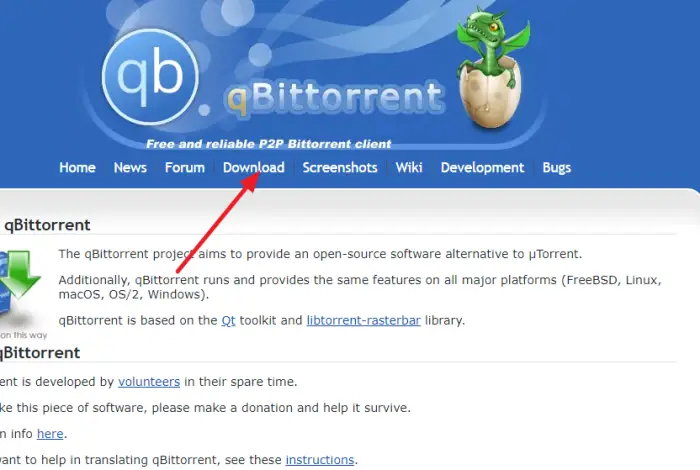 If you're a big fan of uTorrent, you may not have heard of qBitTorrent, a popular alternative. People like it because, unlike uTorrent, qBitTorrent does not have advertisements attached to the user interface. It also has a feature where users can stream torrent media files before downloading them to their Windows computers.
So, as you can tell, this tool is quite similar to WebTorrent Desktop in how it operates, and that is expected since it is a desktop app.
To stream with this app, you must click on the File button.
From there, select Add Torrent Link.
Paste the copied magnet link into the area.
Click the Download button without delay.
Now, from the download options dialog, please click on Download in Sequential Order.
Select the option that reads: Download first and last pieces first.
Click the OK button to kick-start the process.
Look to the download progress bar and wait for it to reach 10 percent.
Right-click on it, then select Preview File.
Choose the media player you want to stream the torrent file, then have fun as the content downloads in the background.
We should point out that qBitTorrent is also available for macOS and Linus platforms.
Download the qBitTorrent app directly from the official website.
5] Magnet Player and Instant.io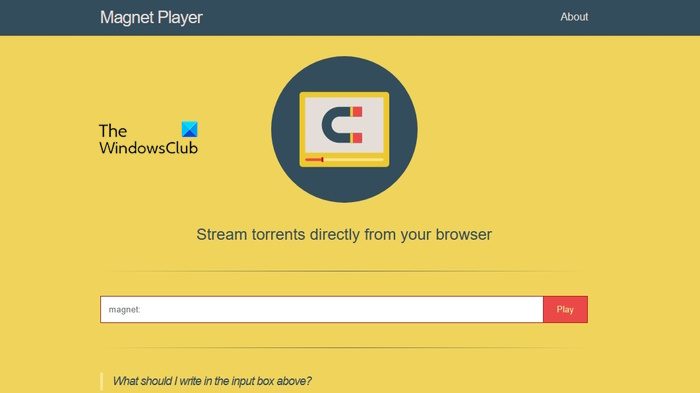 The next set of tools we want to share are in the form of Magnet Player and Instant.io. There was no need to separate them since they basically do the same thing. You see, once the official website is visited, you only need to copy and paste the magnet or torrent file into the relevant area, then hit the Enter key to have things moving forward in the right direction.
If all goes according to plan, then video playback should initiate from the web browser used to access the website of both Magnet Player and Instant.io.
Visit the official websites of Magnet Player and Instant.io.
6] Brave Web Browser
Not all users of the Brave web browser know that it comes with a WebTorrent extension installed by default. With this extension, then, users can stream torrents directly from within the browser itself.
To stream a torrent, please copy the torrent file and paste it into the Brave address bar.
Hit the Enter key right after.
The torrent preview window will appear promptly.
Click on the Start Torrent button and wait for the download process to begin.
Finally, click on the video file to initiate playback from within the browser, and that's it.
Download the Brave Web Browser from the official website.
You might be wondering which option from this list is best. Well, if you do not have a lot of hard drive space, then one of the two web apps is more than good enough for most scenarios. However, if you want to stream very large files, then download one of the desktop clients listed here.
READ: How to download and open Torrent Files on Windows computer
Can your ISP detect torrenting?
Yes, your ISP can detect if you're using the network to download files from a torrent website or app. Depending on the ISP and their rules, they may or may not respond to illegal torrent downloading. If the ISP responds, then usually comes in the form of throttling, but other times, it may even be a letter of warning.
How do I hide my IP address for torrenting?
The best way at this time to hide your IP address if you want to torrent safely is to use a Virtual Private Network, or VPN for short. The VPN usually works by encrypting user data and then routing it through one of the company's many servers that are located around the world.