Steam is the most popular gaming platform on the Windows operating system. Users are quite fond of it due to how easy it is to purchase and play the latest video games. Now, some Steam players have long been seeking an easy way to improve the experience while in the web browser.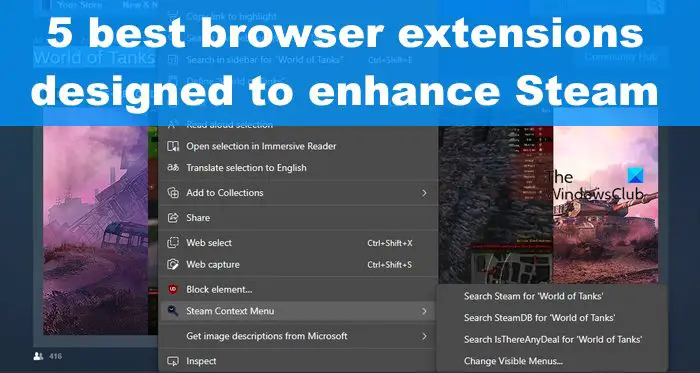 The good news is, there are several extensions available for this very purpose. You can find these extensions for Chromium-based web browsers, and of course, Mozilla Firefox.
Best Steam browser extensions to enhance experience
Here is a list of the best browser extensions for Chrome, Edge, Firefox, etc. to enhance and improve Steam performance & experience.
Steam Inventory Helper
Augmented Steam
Steam Popularity Filters
Steam Context Menu
SteamDB
1] Steam Inventory Helper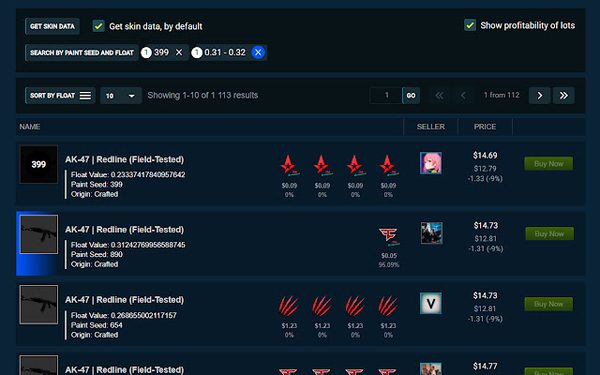 Those who deem themselves as heavy buyers and sellers on the Steam platform should definitely consider the Chrome extension known as Steam Inventory Helper. From what we have seen thus far, this extension brings a lot of functionality to the web browser.
These tools will make it easier for folks to buy and sell. Things should happen smoother and quicker than in the past. For example, the extension makes it possible for users to sell in bulk, but not only that, it can automatically adjust the price for content according to market value.
We also like the Quick Buy button that simplifies the purchasing experience. A perfect feature for the Steam user who loves to spend the big bucks.
Download the Steam Inventory Helper extension via the Chrome Store.
2] Augmented Steam
Some of us prefer to use Steam in the web browser rather than the application. For example, Augmented Steam is capable of highlighting the games that you own, and the ones previously added to your wish list. Users can insert customizable colors for each category.
The option is there to show or hide additional information such as Widescreen Gaming Forum (WSGF) certification, DRM warnings, and Metacritic scores. Furthermore, Augmented Steam can also showcase the price history of any game and the total amount of funds you've spent on Steam since joining.
Download Augmented Steam via the Chrome Store, and the Mozilla Store.
3] Steam Popularity Filters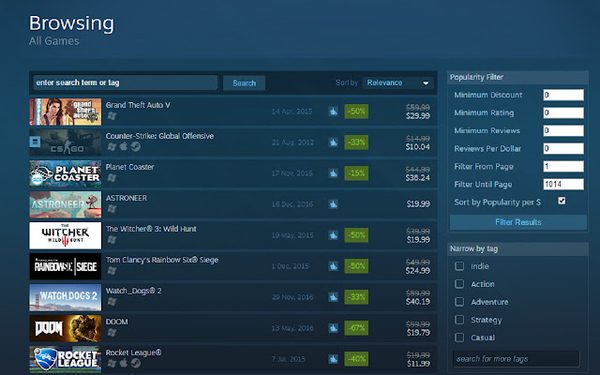 Steam is a storefront with an abundance of information that is thrown at the user, but with Steam Popularity Filters, users can filter out the data they do not want to see. Choosing how games are filtered ensures the user only sees what they prefer instead of everything all at once.
Do you want to show downloadable content or early access titles? The choice is yours on that one, the same goes if you want to see new or old game releases.
Download the Steam Popularity Filter extension via the Chrome Store.
4] Steam Context Menu
The next extension on this list is no other but Steam Context Menu. If you find yourself regularly searching for new games, then this extension could become your best friend overnight.
In order to make it work, simply highlight a text in your web browser, then right-click on that text.
Depending on how you search for games, Steam Context Menu could become a lifesaver of sorts.
Download the Steam Context Menu extension via the Chrome Store.
5] SteamDB
What we have here is a Firefox extension, and from our experience, SteamDB seems to work similarly to Augmented Steam, but better. For example, this extension comes with a quick sell button, the ability to display the latest game update via the game pages, automatically accent market agreement, and much more.
It's a powerful extension that is much better than we originally thought. It truly improves the Steam experience in the web browser. From there, select Steam Context Menu, then choose how you want to search.
Download the SteamDB extension via the Mozilla Firefox store.
READ: Best Steam Tips and Tricks you need to know
What is Enhanced Steam?
Enhanced Steam is another browser extension that brings additional features to the Steam website and store. The extension is available for both Mozilla Firefox and supported Chromium web browsers.
How do I make my Steam games high-performance?
If your Steam games are performing poorly, we suggest removing unnecessary startup applications and manually closing all unnecessary apps via the Task Manager. Furthermore, ensure you have enough RAM because video games are addictive.