This may come as a surprise to some, but the popular game known as Snake which was made popular by old Nokia phones is still a thing. There are different variations of this game available for Windows computers. Some are free, while others require payment, but as expected, were going to focus on the best free versions of Snake game.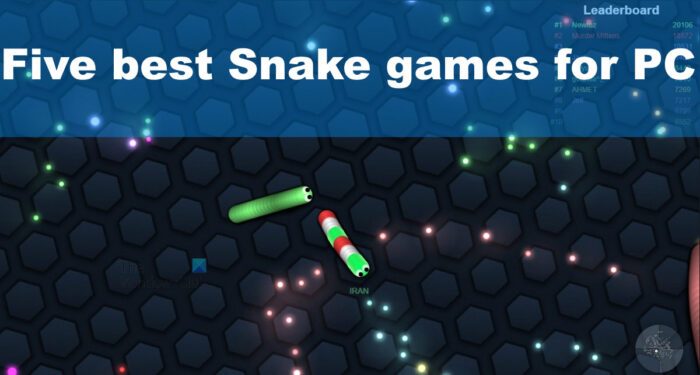 As we have stated before, these games are different from classic Snake. The basic idea is the same: the player must increase the snake in size while trying to avoid certain obstacles, so we have no problems with the new additions.
Most Popular Snake games for PC
Here are some of the best and most popular Snake games you can play on your Windows PC:
Slither.io
Snake vs Block
Snake Attack
Snake Hunt
Snake++
1] Slither.io
The first game we want to talk about here is a title known as Slither.io, and it is not your typical Snake game. We like this one because it comes packed with multiplayer components where the player must go up against other players on the same map.
The idea is to collect pebbles to increase your snake in length, all the while trying to avoid crashing into other players.
Players must also keep in mind that as the snake grows, it loses its reflexes, which means, it won't be as easy to maneuver, and that makes crashing into obstacles or other players more of a possibility.
Play the game in your web browser via Slither.io.
2] Snake vs Block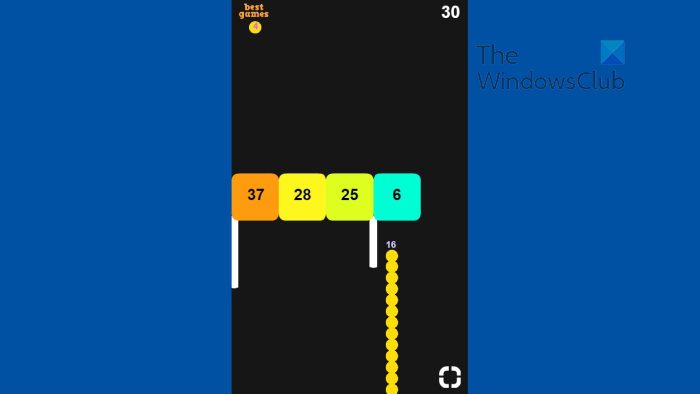 What we have here is another quality Snake game. The gameplay here requires the player to grow the snake by collecting balls, and once the snake is big enough, the player must use it to break through the blocks to earn points.
The more blocks broken means the more points the player will accumulate, but it is not as easy as it seems.
At the end of the day, Snake vs Block is a simple game that is fun and straight to the point. It still doesn't sit on the same level of awesomeness as the original, but that doesn't matter.
Play the game in your web browser at Best Games.
3] Snake Attack
Another game we want to look at here is Snake Attack. It plays very similar to that of Sllither.io, and that's fine by us. The player needs to collect pebbles to increase the size of the snake, and at the same time, avoid other snakes in the area.
If you crash into another snake, it simply means that's the end of the road and you'll be required to start over.
Play the game in your web browser at Cool Math Games.
4] Snake Hunt
The other games above are all online games, and not everyone is interested in playing games from within your web browser. If you fall in that boat, then we suggest giving Snake Hunt a test drive. The idea behind this game is to hunt down moving mice while trying to avoid obstacles on the map.
The ability is also there for players to use the snake to wrap around themselves or their prey. It's quite interesting, and we must say, quite fun as well.
Download the game from the Microsoft Store.
5] Snake++
If you prefer the classic version of Snake, then you'll love what Snake++ has to offer. This game, which was originally developed for Windows Phone, and can also be played on Windows 11/10, brings nothing new to the table. The developer simply wanted to create a game similar to that of the original.
So, all you have to do is collect pebbles, increase in length, and avoid obstacles to survive. There is really nothing else to it than that, and we suspect many will find such a modern snake game refreshing.
Download Snake++ from the Microsoft Store.
READ: Monitor Windows Event Log Files Checking with SnakeTail Windows tail utility
What is the famous snake game called?
As there are multiple snake games available in the market for Windows 11 and Windows 10 computers, you need to check them all one after one. Here we have enlisted five of the best and most famous snake games in this article. That said, you can learn more about Snake Attack, Snake++, Snake Hunt, etc.
Which game is the best version of Snake?
After playing many of these games, we have to say Slither.io takes the cake. It is a unique experience due to the multiplayer aspect. There is no other like it out there, so if you are looking for a snake game that is unlike anything else, then this is your best bet right now.