Video conferencing and online meetings have become a common aspect of our daily lives. To do that we use mics, and software like Microsoft Teams, Zoom, etc. Though we use the best software, the audio quality is also an important aspect of online meetings or calls. The background noise such as keyboard clicks, fan noises, and traffic outside can cause a lot of inconvenience to you and others in the meeting. Fortunately, there are programs that can help you cancel the background noise and have a great audio experience in calls or anywhere. In this article, we have sorted and listed some of the Best Noise Cancellation software for Windows 11/10.
Best Noise Cancellation software for Windows 11/10
There are several noise cancellation software programs available to download an use on Windows 11/10. Here are the five best options:
NVIDIA Broadcast
Krisp
SoliCall Pro
RTX Voice
NoiseGator
Let's get into the details of each noise cancellation program and know the better. 
1] NVIDIA Broadcast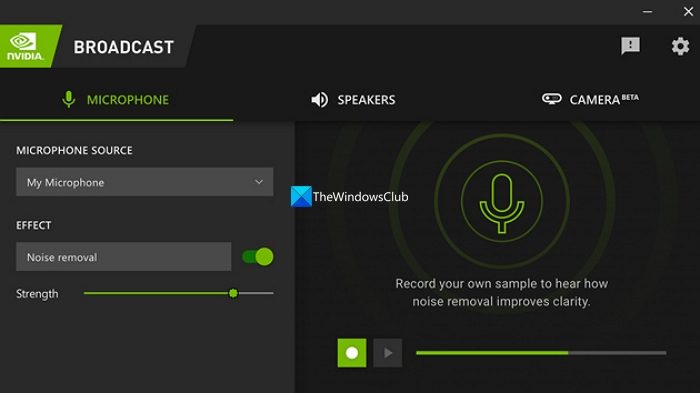 NVIDIA Broadcast is a software tool developed by NVIDIA that offers real-time audio and video processing features. It can considerably increase the quality of audio recordings or calls. To use NVIDIA Broadcast for noise cancellation, you need to have a compatible NVIDIA graphics card on your PC. The noise canceling feature on NVIDIA Broadcast uses artificial intelligence to sort audio and filter the background noise. The good thing about NVIDIA Broadcast is that the software is free to use and no feature is set behind a paywall. 
Read: How to reduce Background Noise in Microsoft Teams
2] Krisp
Krisp is another great tool that can help you improve the quality of your audio by canceling the background noises. With the use of artificial intelligence and its algorithms, Krisp filters the noise from your microphone and removes it to make the audio clearer. You can integrate Krisp into programs like Skype, Zoom, or Discord to improve audio quality. The main features of Krisp are its ability to remove background noises from the microphone as well as speakers to improve audio. Krisp is available for free as well as a paid version with some extra features. In the free version of Krisp, you get 60 minutes per day of noise, background voice, and echo cancellation. You can even use Krisp to transcript your meetings as well as take meeting notes. 
3] SoliCall Pro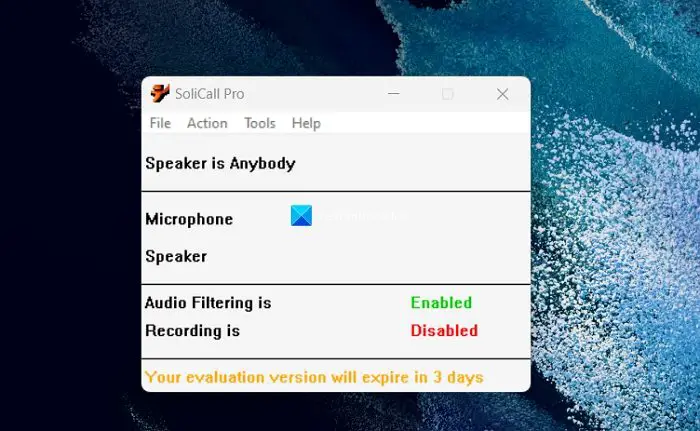 SoliCall Pro is another great software application for Windows 11/10 that you can use to reduce noise and cancel echoes during meetings or audio calls. The program uses advanced algorithms to analyze and filter out unwanted background noise, such as keyboard typing, mouse clicks, and other environmental noises to make the audio sound better and clear. You can integrate SoliCall Pro to cancel noises on Skype, Zoom, or Microsoft Teams. Some of the important features of SoliCall Pro is its real-time analysis capabilities to reduce noise. Though it is one of the best apps to reduce noise, SoliCall Pro is a paid tool that is available to use and try for 3 days only as a free version.
Read: How to stop Microphone from auto-adjusting; Lock microphone volume
4] RTX Voice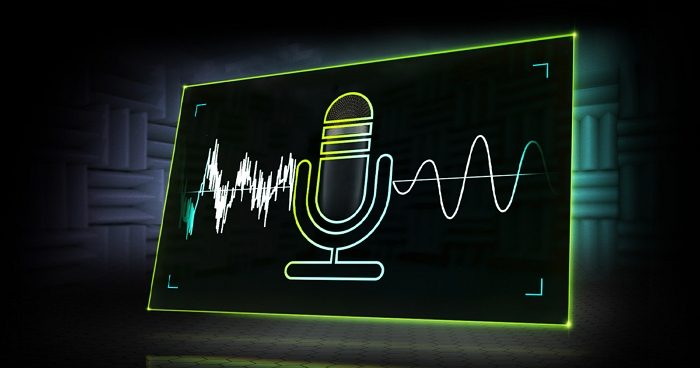 RTX Voice will cancel background noises and improve audio quality, developed and released by NVIDIA. Originally, it was released to use on the RTX series of graphics cards. Now, you can use it even on non-RTX NVIDIA graphics cards with some minor limitations. It is a heavy program that consumes significant amounts of your PC's resources to function. You need to be aware of that before downloading and installing it on your PC. RTX Voice can be configured to reduce noise on Discord, OBS Studio, Streamlabs, XSplit Broadcaster, Twitch Studio, WebEx, Zoom, Slack, Microsoft Teams, Skype, and Google Chrome. 
5] NoiseGator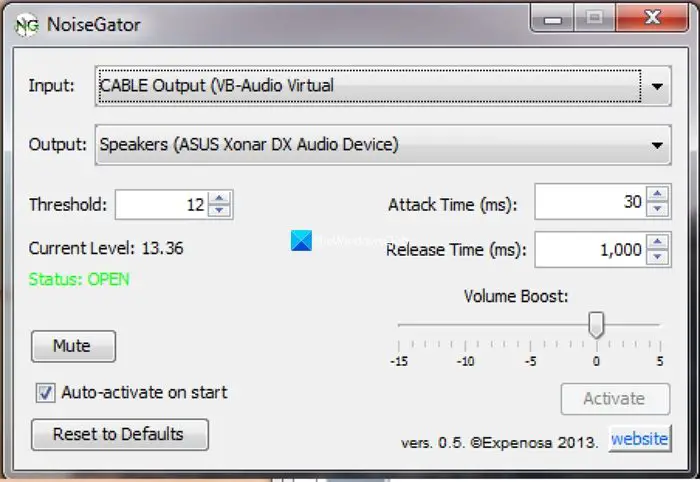 NoiseGator is an open-source program that you can use to suppress background noise and make audio sound better. When you stream or record audio, NoiseGator will automatically detect the disturbances in your audio and suppresses them in real time. This can be a great tool for you if you live-stream or do podcasts. NoiseGator works well to reduce background noises, but it cannot completely eliminate them in most disturbing environments. NoiseGator is not updated regularly as it does not have a dedicated team.
Read: Fix Sound and Audio problems and issues in Windows
These are some of the best noise-cancellation software programs available for Windows 11/10 that you can use. 
How to do noise cancellation in Windows 11?
There are two ways you can do noise cancellation on Windows 11. One is through the Settings app, and the other is by using noise cancellation software. Open the Settings app on your PC and click on the Sound tab in the System. Scroll down and click on More sound settings. Select the Recording tab and select the microphone you are using. Then, click on the Properties and select the Levels tab. There, you can adjust the levels of the Microphone and Microphone Boost until you are satisfied with the sound. You may not get the desired level of noise cancellation. 
Can noise canceling be done with software?
Yes, there are many software programs that you can download and install on your PC to cancel background noises and improve the quality of your audio. Most of the software programs are now developed with AI features that can work even better than the older versions. Choose the latest one that can integrate with most of the apps and use it. 
Related read: Reduce or Remove Background Noise using Audacity.