Looking for the best MCC Mods? This post lists some of the best Mods for Halo The Master Chief Collection on Windows PC. Halo The Master Chief Collection, or the MCC as some like to call it, is the definitive Halo experience for new players and old fans alike. The replayability here is enormous, but even more so if mods are included in the mix. Yes, this game supports mods, and there are enough available to keep players returning for more.
The big question right now, is which one of the many mods is the best to take advantage of? Well, before we dig in, we must point out that some mods support a single game in the collection, while others can be used across all. Furthermore, all mods can be downloaded via Nexus Mods, the most popular forum for anyone looking to get mods for their favorite video games.
Halo The Master Chief Collection Best Mods
The list of mods below should aid in improving several aspects of the game for the purpose of increased replayability:
Halo 3: Zombies
Overkill – Installation 04
Third Person Reach Campaign
Ruby's Rebalanced Campaign Mods
Halo Reach Evolved
Fall of Reach Infinite
Unlock All Cosmetics
Prometheus
Let us talk about these mods in more detail.
1] Halo 3: Zombies
One of the things many players around the world have come to love about the Call of Duty franchise is the ability to play zombie mode. Well, such a mode is available for Halo 3 via a mod known as Halo 3: Zombies. The author of this mod, Crisp, has done a splendid job to copy several aspects of what made zombies so great for COD and incorporating them into the MCC.
Now, we should point out that this mod is very different from Infection, the official zombie mode in Halo. It is more similar to Call of Duty than anything else, and it works quite well thus far. At the moment, the mod is only available for Halo 3 and probably won't make it to other titles in the future.
Download Halo 3: Zombies via Nexus Mods.
2] Overkill – Installation 04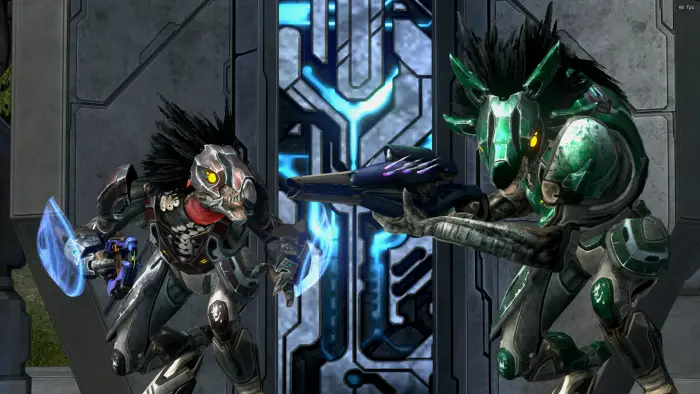 If you want to overhaul Halo: Reach's Firefight mode, then we suggest downloading and installing the Overkill – Installation 04 mod. It also brings to the table a new sandbox that delivers faster-paced gameplay that is similar to that of an arena shooter.
From what we have come to understand, the Firefight mode is now more ruthless than before. Not only that, but players must also have impressive gun skills to come out on top frequently.
While big changes were made, the mod did not do away with Halo's identity, and that's a good thing, so nothing to worry about here.
Download Overkill – Installation 04 via Nexus Mods.
3] Third Person Reach Campaign
As the name suggests, this mod was designed for Halo Reach, specifically the campaign. It changes the perspective from first-person to third-person, so if you've always wanted to play Halo in third-person mode, then you're in the right place.
The most important thing, however, is the fact that the core aspect of Halo Reach is preserved, and we suspect that was not hard to accomplish.
Download the mod via the Nexus Mods forum.
4] Ruby's Rebalanced Campaign Mods
If you're a veteran Halo player who has played all titles, then you might end up loving Ruby's Rebalanced Campaign Mods. You see, this mod has made several changes to the campaign sandbox where level tweaks and weapon changes are concerned.
From what we've gathered, tweaks are done to every level, but for players to experience these changes, they must play the game on Legendary difficultly. So, as it stands, only the most skilled Halo players will get to enjoy Ruby's Rebalanced Campaign Mods.
Download the mod from the following locations:
5] Halo Reach Evolved
What we have here is another mod designed to overhaul the entire campaign of Halo Reach, and in the eyes of some, Halo Reach Evolved is the best one yet. This is a mod that was originally created for the Xbox 360 version of the game, but with the rise of MCC, it has been ported to PC.
This mod will deliver changes to weapons and vehicles in a bid to give them a distinctive feel.
Download the mod via the Nexus Mods forum.
6] Fall of Reach Infinite
Again, this is another mod designed for Halo Reach, and its sole purpose is to transform the game into having the look and feel of Halo Infinite. Weapons are improved along with the addition of new ones not found in the original game.
Additionally, the Brutes are more dangerous than before. No longer can users shoot them in the head twice with a rifle to take them down. The mod began life with support for only the New Alexandria campaign mission and Countdown multiplayer map, but this has since changed as all missions are now supported.
Download the mod via Nexus Mods.
7] Unlock All Cosmetics
The folks at 343 Industries have released tons of cosmetic items for players who want to customize their Spartans. This mod in question does exactly what the title suggests, but only for the campaign. You will still have to go through the regular method if you want to unlock cosmetics for the multiplayer aspect of Halo.
From what we have gathered, the Unlock All Cosmetics mod is available for every title within The Master Chief Collection, so take your time and have some fun.
Download this mod from the official page on Nexus Mods.
8] Prometheus
Halo Reach is a great game, but we must admit that the campaign does not hold a lot of replay value. However, with the Prometheus mod, it is possible to bring new life to the game's campaign mode. From our understanding, everything has changed to make the game as different as possible.
For example, many encounters are no longer the same, and changes have been done to the weapons so several aspects of the game feel overly different, and that's a good thing.
Download the Prometheus mod from Nexus Mods.
Read: Best Resident Evil Village Mods
Is The Halo Master Chief Collection worth it?
It all depends if you're a fan of the Halo games. If that is the case, then in every sense of the word, The Halo Master Chief Collection is worth every penny and then some.
Does Halo Master Chief Collection include every game?
The collection does not include every game in the franchise. However, it comes packed with 6 games, and they are Halo: Reach, Halo: Combat Evolved Anniversary, Halo 2: Anniversary, Halo 3, Halo 3: ODST, and Halo 4.