Are you in any way interested in checking the MD5 hash numbers of files on Windows 11/10 computers? If that's a yes, then you need the help from a decent enough MD5 Hash Checker. What we're going to do, is talk about the best free hash checkers available for Windows 11/10.
What is deemed as best is basically our opinion, so it's best to make the decision yourself to find the one that fits your needs. As stated above, each and every one of the tools we're going to talk about here, are all free to download and use, at least, at the time of writing.
MD5 Hash Checker Tools for Windows 11/10
Were not going to just list these 3 checker tools for the sake of doing so. We believe it's best to talk about the ones that are worth your time, so if you're looking for hash checkers that just works, then keep reading.
MD5 Hasher
MD5 Checker
Little MD5 Creator.
Let us take a look at them.
1] MD5 Hasher
If you're looking for a simplistic MD5 hash tool, then? MD5 Hasher is one of the best options available today. We like the fact that this tool is portable, which makes it easier to use on several computers without having to install a thing. If you want to generate an MD5 hash for any file on your computer, please select the option that says, Open File.
Bear in mind that files can only be checked at one at a time, and not several all at the same time.
Download from the official website.
Read: File Integrity and Checksum Checkers.
2] MD5 Checker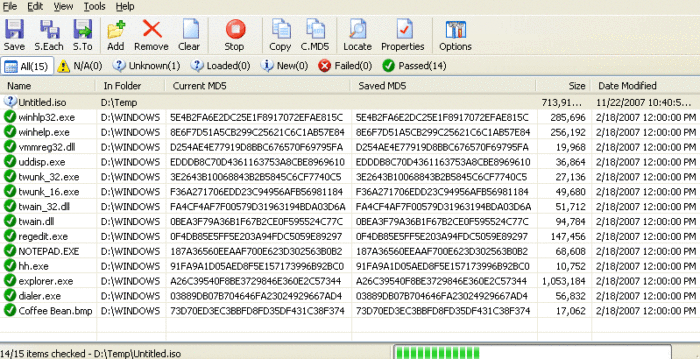 If you're looking for another portable tool, then MD5 Checker is one of the best of the bunch. It's quite advanced, so if you're the type of person who wants to do a lot with an MD5 hash program, then Checker should be right up your alley.
From what we can tell, the option is there to load MD5 checksums of multiple files all at the same time. Not all tools on this list are capable of such a thing, therefore, we suggest downloading this one if you prefer to perform multiple tasks at once instead of just singles.
We like the fact that it can also detect .md5 files if they are located in any folder on your Windows 10 computer.
Download from the official website.
TIP: You can verify the MD5 checksum of files using the built-in command-line tool Certutil.
3] Little MD5 Creator
Another portable tool on this list is the impressive Little MD5 Creator. Amateurs will likely have little issues with what we have here due to its simplicity and easy-to-understand design. Load the original file on the left, and from the right section, you'll be asked for the confirmation checksum.
If you get a green dot, then that means all the information has matched, and as expected, that's a good thing. Download it from Softpedia.
PS Hash, MD5 Check and Marixio File Checksum verifier are other similar tools that will interest you.
Now read: What is the difference between Encryption and Hashing?