Here is a list of the best free User Persona Tools and Templates to create customer, buyer, or user personas. A user persona is basically a UX design that defines your target customers. It consists of traits, goals, demographic information, and other qualities of the target audience. Using it, you can understand your customers better and enhance your business and services.
There are a lot of graphics and UI/ UX designing tools that you can use for creating a user persona. For example, you can use the Adobe Express tool. It provides free persona templates that you can customize. If you want to generate AI-powered customer personas, then User Persona is a great tool. Many more such tools are available that you can check out below.
Best free User Persona Tools and Templates
Here are the best free User Persona Tools and Templates that you can use to create customer personas online:
Xtensio
HubSpot
User Persona
SEMrush
Adobe Express
UXPressia
Visme
Figma
Venngage
InVision
1] Xtensio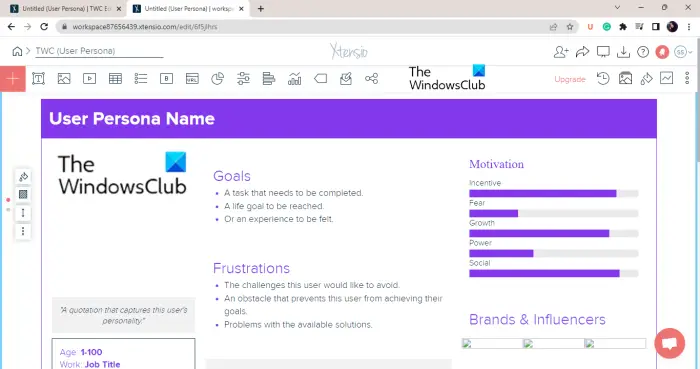 Xtensio is a nice free online tool that you can use to design customer personas for your business. It offers various free User Persona templates that you can edit and customize to make your own user personas. One of its many persona templates that you can use is available here. Just open the template page and click on the Use This Template button to start editing it. You can also invite collaborators via email address and customize the user persona together.
It provides a dedicated Templates section. You can navigate to this section and then search for persona templates. It contains various free user persona templates including Traveler Persona, Customer Support Persona, Software Developer Persona, Interior Designer Persona, Millenial Persona, and more. You can select any of these required templates and then build up a desired customer persona.
Once you open up a user persona template in its Editor, you will be able to customize the text, images, modules, headings, and other details. For different sections like Goals, Motivations, Profile Picture, etc., you get controls like changing background color/ image, moving a module to a different position, showing/hiding border, showing/ hiding header, etc. You can also format the text by customizing font type and text color, aligning text, adding bullet points, etc.
You can also add icons to your user persona in different categories like Connectivity, Science Fiction, Household, Logistics, Maps, Security, and more. It let you browse free images and icons directly from Pexels and add them to your design.
Apart from text and images, you can also insert videos, tables, task lists, labels, embed sites and apps, etc. It also allows you to insert charts (bar, pie, scale, etc.), email forms, and social links in your user persona.
Finally, when you are done creating a user persona, you can share it using its URL. Or, you can simply present the slideshow or export the persona design as a PNG image.
The free plan of this tool is restricted in terms of functions. To utilize it completely and remove the watermark on the output, you will have to upgrade to its paid plan.
Read: How to make a Cartoon Avatar on Windows 11/10?
2] HubSpot
HubSpot is another online user persona creator tool. It allows you to create a customer or buyer persona for your company. All you need to do is follow its step-by-step procedure and it will generate a persona based on the entered information.
To use it, open its website in your web browser and click on the Build My Persona button. Now, step 1 is to create your avatar; simply enter the persona name and select an avatar. Then, press the right arrow button to go to the next step. After that, you need to enter the demographic traits including the age range of target customers and education. Next, specify business details, job title and other details, biggest challenges, job responsibilities, preferred communication medium, consumption habits, and social networks of your persona.
Once you are done adding all the details, it will show you the created persona. You can then edit the text, resize a particular section, change the position of a specific section, and customize the color scheme of the persona. Finally, click on the Download/Export button and save the final person as a PDF document. Besides that, you can also share your persona via its URL link. You can also invite others to edit the persona using the shared web link.
It is a simple yet useful tool to create user personas
3] User Persona
User Persona is a free AI user person generator tool. It automatically generates a persona based on a short description of your business or product. On its home page, write down the description of your service and then press the GENERATE USER PERSONA button. It will then show you an AI-generated persona with Bio, Goals, Pains, Motivation, Profile Picture, Age, Gender, Occupation, Location, and more. You can download the created persona as an image by clicking the respective button. It lets you save the persona in PNG format.
You can keep generating random AI user personas until you get the desired result. To try it, go to userpersona.dev.
See: Best free Slide Presentation Maker software for Windows PC.
4] SEMrush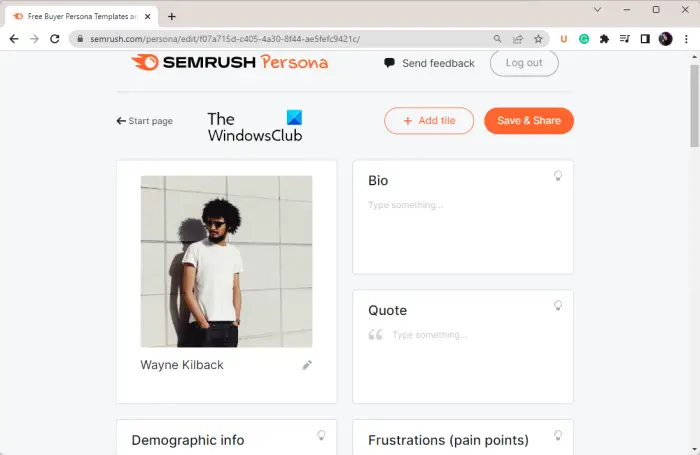 SEMrush offers various free customer persona templates that you can use. You can go to its Persona page and click on the Create Your Free Buyer Personas button. After that, select a profile picture that is similar to your buyers and then choose a User persona template. Now, you can enter persona details in respective sections. You can type Bio, Frustrations, Quote, Motivations, Goals, Demographic Info, Jobs to be done, Gains from your product, Communication, and more.
It also lets you more sections in your persona using the Add tile option. You can also change the background color of individual tiles. When the design is done, click on the Save & Share button and share the created persona using respective URL links.
SEMrush's buyer persona template is a nice template to generate your user personas for free.
5] Adobe Express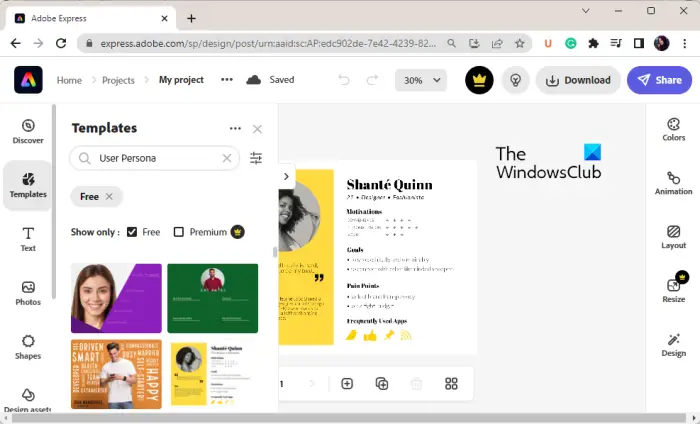 One more free online tool that you can use to design customer personas is Adobe Express. It provides some great free user persona templates that you can use and edit as per your requirements. It has some attractive templates with beautiful designs that enable you to create fascinating personas without putting in any effort.
To start with, go to its user persona templates page and press the Create your persona design now button. After that, an editor window will open up with a sample persona template. You can now go to the Templates tab from the left-side pane and search for User Persona templates. Then, select the one you want to use and customize.
You can later change the background, edit the profile picture, apply various effects and enhancements, etc. It also provides some image editing tools including flip, crop, transparency, etc. You can then insert text placeholders or customize the existing text as per your need. Furthermore, it lets you add shapes and design assets to your personas.
Once done, you can download your user persona in various formats including PNG (with or without transparent background), JPG, and PDF. You can even publish it on the web and share the buyer's persona on various platforms e.g., Twitter, Instagram, Facebook, LinkedIn, Teams, etc.
It is a full-fledged graphics editor using which you can generate beautiful personas. You can start creating user personas with Adobe Express here.
Read: Best free Vector Graphics Design software for Windows.
6] UXPressia
Try UXPressia to generate customer personas online. It provides a dedicated tool to create customer personas. You get a basic customer persona template with key features that you can easily customize according to your requirements.
In a persona, you can describe the personality type, enter the demographic details, write the goals of your persona, enter the persona's quotes, describe skills, add motivations and frustrations, and outline brands. If you further want to add a new section to define other persona details, you can use the ADD SECTION option. Also, you can add personality description blocks too. To add a profile picture, you can import a locally saved image or create an avatar using details like gender, age range, hair color, etc.
The created user persona can be exported in different formats. The supported formats include PNG, PDF, and CSV. You can navigate to its official website and start creating customer personas for your brands.
7] Visme
Visme is a popular tool to create infographics, presentations, videos, and other graphics. It also provides a lot of free user persona templates that you can use. You can browse through its persona templates like Code Review System User Persona Template, Project Management Software User Persona Template, Job Board User Persona Template, Gen Z User Persona Template, Health Conscious User Persona Template, and many more.
It contains a fully fledges editor with all basic and advanced designing tools. You can add a header & text, stats & figures, diagrams, font pairs, lines & shapes, icons, 3D graphics, animations, and more. It lets you browse through various free images online and use the desired ones. Furthermore, it also allows you to add charts, tables, maps, and data widgets, and embed online content. The theme colors can also be modified.
You can share the persona using a private link. Or, invite collaborators or team members to view/ edit your persona. The other export features including image and PDF export are locked in this free plan. You will need to upgrade to its pro plans to utilize all its features.
Here are the Visme User Persona Templates that you can use to create your customer personas.
Read: How to add Infographics in PowerPoint?
8] Figma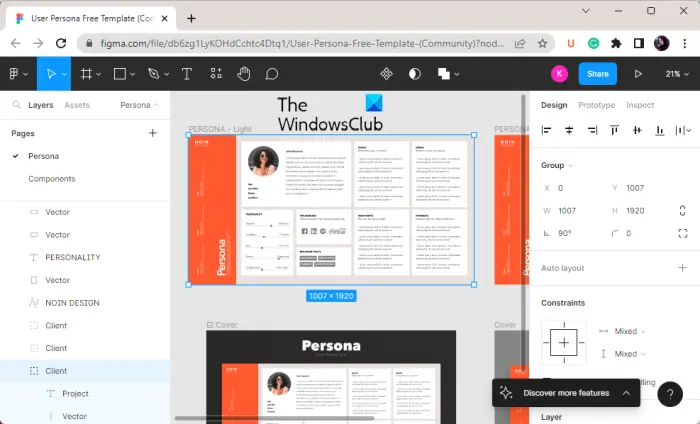 Figma provides a user persona template that you can edit and customize accordingly. It is basically a UI design tool that is used to design, collaborate, prototype, and gather feedback. Using its user persona template, you can also design customer personas.
You can get the Figma persona template here. Just go to the aforementioned link and click on the Get a copy button. Now, you can customize the persona template, add your images, edit the text, and do much more. You can also format the added content using various options like colors, font, effects, size, etc.
You can share the persona using its link. Press the Share button and then invite users using their email addresses to let them view and edit the created persona. You can also copy the link and share it with others to show your personas. It also lets you present a customer persona in full-screen mode.
TIP: How to use Figma on Microsoft Teams?
9] Venngage
Another user persona tool on this list is Venngage. It is primarily used for creating infographics, flyers, presentations, eBooks, banners, reports, and many more types of graphics. Along with all these graphics, it also provides you with user persona templates to create a custom persona.
To start with, open its website in your browser and click on the Visualize My Customer button. After that, press the Create New button and select the Design option. Now, you can search for user persona templates in its library and choose the one you like. You can now start editing your persona. It lets you add text, icons, charts, images, maps, and some interactive elements like survey polls, forms, YouTube videos, etc.
You can also format the added content. Modify the text font, change the text color, align the content as per your need, customize the color theme, and do more. The final persona design can be published online and shared with other users. You can try it here.
See: Best free Greeting Card Maker software and online tools.
10] InVision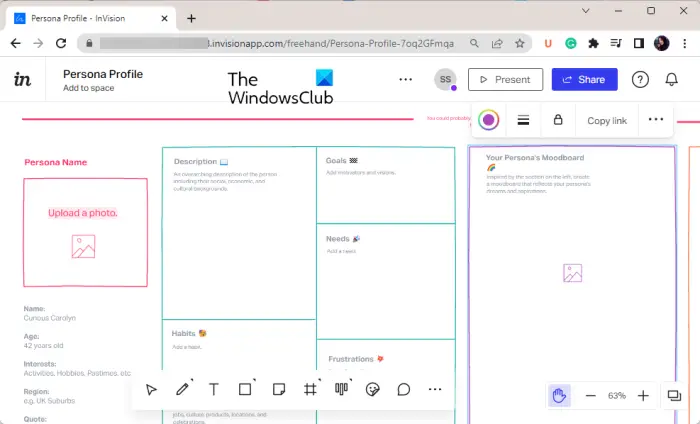 InVision is a nice online graphics designing tool that offers a buyer persona template. You can go to its template page and then start editing the content as needed. Upload your persona image, edit the name, write the description, add reactions with emojis, and more. The persona you design through this can be shared online using the URL link.
You can use InVision's free user persona template here.