Reading the RSS Feeds is a way to keep track of all your favorite blogs and websites. No matter how many websites you have subscribed to, the RSS Feeds bring all the updates in one location for you to read. On the other hand, for bloggers and website owners, RSS Feeds are a great marketing tool to spread their content to the readers and potential customers. It helps them get a loyal readership and grow their website and businesses.
Now, to read the RSS Feeds you need an RSS Reader. There are however many different readers and apps available on the internet, but not all of them are worth using. If you are a Windows 10 PC user, you need the best compatible RSS Feed Reader apps, and thankfully the Windows Store has a good number of desktop apps to choose from. In this post, we will talk about the five best RSS Readers Windows Store App.
Free RSS Reader Windows Store apps
Here are the best free RSS Reader Windows Store apps for Windows 111/0:
NewsFlow
Readiy
Tickers
FeedLab
Fedora.
Let us take a look at them.
1] NewsFlow
This is one of the simplest RSS Reader desktop apps with a very user-friendly layout. Not cluttered at all, this app gives you a very clean and easy interface to navigate and read. It is a feature-rich app with the fastest synchronization being the best one. Other important features of NewsFlow include Live Tile notification, push notifications, offline news storage, a feature to create a preferred list and favorites, extended readability, read later and much more.
With the extended readability feature of NewsFlow, you can actually read the post without even opening the link in a browser. Landscape and portrait orientations give you a better reading experience of course. Furthermore, NewsFlow is a free app and contains no in-app advertisements either like most of the other free apps. Download it here.
2] Readiy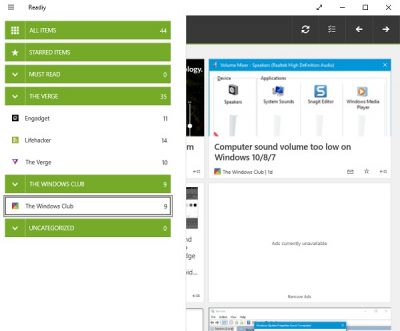 If you don't like spending too much time on your RSS Feeds and need just a quick scan, Readiy is the app for you. It is one of the best rated RSS Reader Windows App by the users. The app has a modern UI and takes no time to download on your PC. Clean appearance, quick synchronization and modern interface is what makes it a popular RSS Reader for Windows users.
You need to login to your Feedly account to use the Readiy app. The app displays your unread articles on the main page in a list view so that you can take a quick glance at the headlines and decide what you want to read. Readiy offers various settings options which include the themes, small tweaks, readability settings, and your feed breakdown options. Furthermore, it also lets you share the articles on Evernote/OneNote or to save them on Instapaper or Pocket for future reference. Readiy app is available both as a free and a premium version where the paid version has some extra features of course. Download it here.
3] Tickers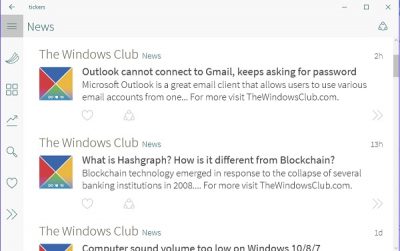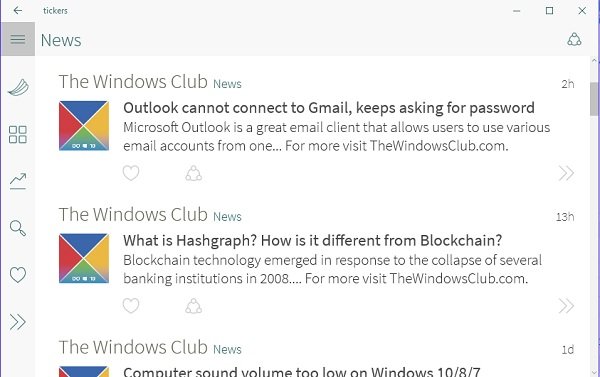 Tickers is again a free RSS Reader Windows app which comes with some excellent features and a lovely design. It is a scrolling reader and lets you take a quick glance at all your Feeds even while you are working. Once you download the app and add your feeds, Ticker automatically starts scrolling the feeds. Just hover over any title, and you can see the description and click on the title to read the article in a browser. You can also mail the article directly to anyone, right from the app.
The layout is quite simple, and you can easily add your feeds to the app. However, there is some default feeds available in the app like BBC News, Yahoo Finance. You can anyways disable them if you want. Download it here.
4] FeedLab
This is another free and great app to manage your feeds on Windows 10 PC. You can add the RSS Feeds from all your favorite magazines, journals, blogs and websites. The app brings customization options where you can group your feeds as per their categories. You can also select the type of display for your feeds. For example, you can make them appear title wise, with large or small titles, with small or large images as per your suitability.
The app also comes with the feature of Live Tile notification and furthermore you can also launch the app directly from Cortana. Another interesting feature of FeedLab is that it lets you use the speech feature on your feeds, which means you can listen to your articles if you are not in a mood to read them or running short of time. Download it here.
5] Fedora
Fedora Reader is one of the best RSS Reader Windows Store apps with a very clean interface. It is a minimalist app with no clutter at all. The app runs in the background if you allow, and keeps your feed up-to-date. You can add your own feeds manually here in this app via URL or choose from the curated feeds.
This feed reader focuses more on text and images rather than the formatting. It extracts the content from the feed and displays it in an easy to read clean format. Thus you don't really need to open the browser to read the extract. The app also lets you mark your favorite feeds, but the only drawback here in this app is that you have to go back to the menu to check your next feed. Download it here.
RSS Feeds are actually the best way to stay updated on your favorite blogs and website, and these Windows apps can help you in the same. RSS Readers help you read your feeds more efficiently and in a good environment. 
So, this is my list of the Best free RSS Reader Windows Store apps for Windows 11/10. If you are looking for desktop software, check our list of best RSS Feed Reader desktop software for Windows.
Stay in touch with TheWindowsClub – stay in touch with the latest in the world of Windows!  Click here to subscribe to TheWindowsClub RSS Feeds.