This article lists down free portable video editor software for Windows 11/10. A portable software requires no installation and can be used on the go. Hence, these video editors don't need to be installed on your PC to run. You can double-click on the program (exe) file to open and use these video editors. Additionally, you can carry these video editors in a portable storage device like a USB flash drive and simply plug-and-play whenever required.
Free Portable Video Editors for Windows 11/10
These are portable video editor freeware available for Windows 11/10 PC:
Shotcut
Vidiot
XMedia Recode
VirtualDub
FFmpeg
Let's check out these portable video editors in detail!
1] Shotcut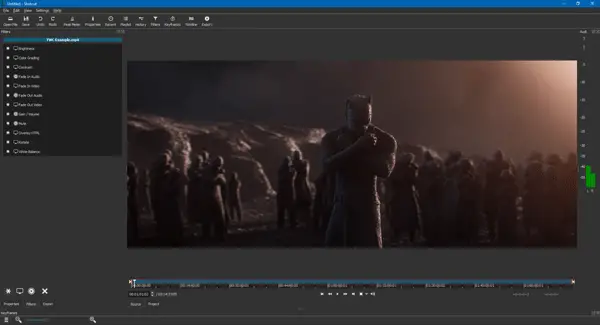 Shotcut is a free, open-source, and portable video editor software for Windows 10. It is one of the best from this list that provides you various advanced features. You can get its portable version from its official website. Alternately, an installer package is also available for this video editor.
In Shotcut, you can perform video compositing by merging two or more videos and other media files. You can also find color correction and grading tools in it including Mids, Shadows, and Highlights. Several video filters are also available, such as chroma key, alpha, key spill, old film, etc. Deinterlacing, eyedropper for white balance, speed effects, fader controls, track controls, overwrite, ripple delete, and various blending modes are its other features. Apart from that, you can also use standard video editing tools like trim, split, crop, and video transitions.
Shotcut offers few advanced features like 4k support, audio recording, and webcam recording. It works well with a lot of video file formats including MP4, AVI, MPEG, WMV, MKV, etc.
2] Vidiot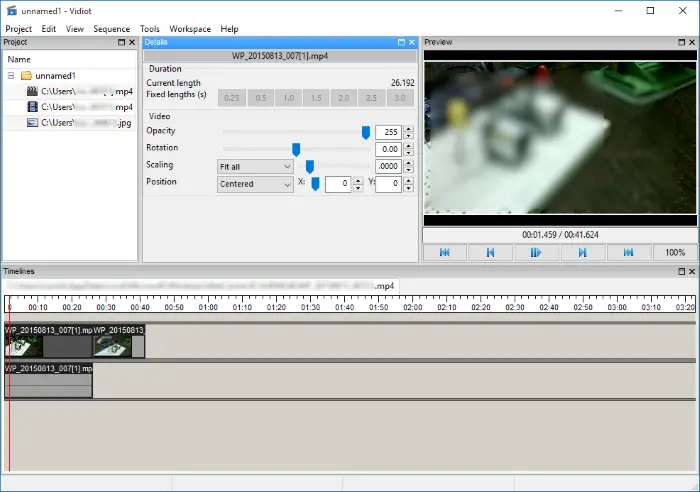 Vidiot is a free and portable video editor for Windows 10. It is a lightweight and non-linear video editing software. You can find various standard video editing features in it. Some of its tools include Trim, Crop, Opacity, Rotation, Scaling, Position, Volume, Fader, Balance, Video keyframes, and Audio keyframes. You can also change video playback speed using its Speed feature. It lets you add different audio to your video.
Simply drag and drop video files onto its interface and start editing the videos using the Timeline. It lets you import and export videos in different file formats including MP4, AVI, MOV, 3GP, WebM, MPEG, etc.
3] XMedia Recode
XMedia Recode is a free and portable batch video converter and processing utility software for Windows 10. Apart from conversion, you can find a lot of nice video editing features in it. It offers tools like Color Curves, Color Correction, Denoise, Flip, Rotate, Resize, Crop, Smart Blur, Box Blur, Hue/Saturation, Painting Effect, Watermark, Draw a box, Sharpness, Vignette, Grayscale, Clip Speed, Mirror, etc. You can find these and many more video editing tools in its Filters/ Preview tab.
As it is a batch processor, you can batch edit multiple videos at once using it. Just add the input video files, go to the Filters/ Preview tab, add desired editing filters, set up output video configurations, and then process them all at once using its Add to queue > Encode option. The input and output video formats supported by it include MP4, MKV, AVI, FLV, 3GP, MPEG, MOV, etc.
4] VirtualDub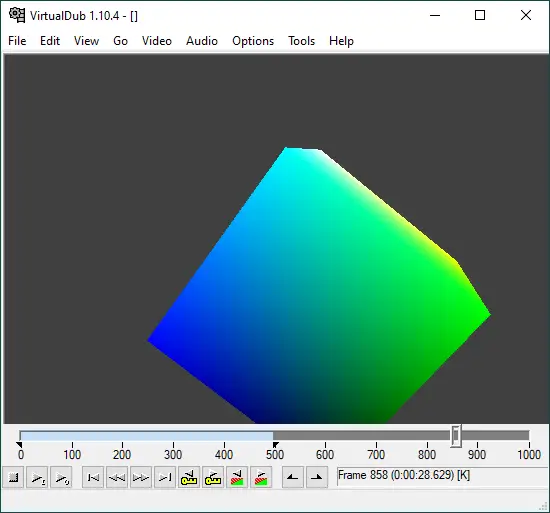 VirtualDub is another portable video editing software for Windows 10. It is not an advanced video editor with a lot of features. However, you get some standard editing options in it to edit videos for general purposes. Some of its features include frame rate, color depth, video compression, add audio, audio filter, and trim.
It offers a lot of useful video filters to apply to videos such as blur, box blur, bob doubler, emboss, deinterlace, fill, invert, grayscale, rotate, resize, flip, sharpen, smoother, etc. To save your edited videos, it supports AVI, Raw video, Animated GIF, Adobe Filmstrip, and Image Sequence file formats.
Some additional features are provided in it that include Capture Video, Create Test Video, Benchmark Resampler, Hex Editor, Run video analysis pass, Dynamic compilation, and more.
5] FFmpeg

FFmpeg is a command-based video processing software for Windows. It is completely free, open-source, and portable. Using this command-line tool, you can perform a lot of video editing tasks. For example, you can resize a video, rotate a video, edit video metadata, crop a video, etc. Here are some commands that you can use to edit videos using FFmpeg:
To crop a video, use the following command:
ffmpeg -i [input-video] -filter_complex "[0:v]crop=width:height:x:y[cropped]" -map "[cropped]" [output-video]
In the above command, provide a cropped portion of the video in place of width:height. And, x:y is used to enter pixel position to crop video from left (x) and top (y) edges.
To cut a video, you need to enter the below command:
ffmpeg -ss 00:00:05 -i [InputVideo] -to 00:00:10 -c:v copy -c:a copy [OutputVideo]
The above command will trim a video from the 5th second to the 10th second of the original video.
To merge two videos, use the below command:
(echo file 'first-file.mp4' & echo file 'second-file.mp4' )>list.txt
ffmpeg -safe 0 -f concat -i list.txt -c copy output.mp4
Similarly, there are multiple other commands to edit videos with FFmpeg. Open Command Prompt in FFmpeg folder and simply enter the respective command to perform a video editing task. Check ffmpeg.org to explore its video editing commands and other documentations.
So, these are the free portable video editing software that you can use without installing them on your Windows 11/10 PC. If you don't mind installing the theme, these free video editoring software may interest you.