Ping Monitoring Tools are used for calculating the time a host takes to connect to the internet. You can find the Ping command in every operating system's Command-Line Interpreter.
Ping, in general, is the calculation of time taken by your request packet to complete its journey, from the sender to the receiver and then back to you, the sender, along with letting you know its operating place and other statistics.
In this article, we present you with some of the best Ping Monitor tools that you can use on your Windows 10 machine.
Free Ping Monitor Tools for PC
Here are some of the best free Ping Monitor tools for Windows 11/10.
ManageEngine OPManager Free Ping Tool
PingInfoView
EMCO Ping Monitor
Use the Command Prompt to Ping.
Let us talk about them in detail.
1] ManageEngine OPManager Free Ping Tool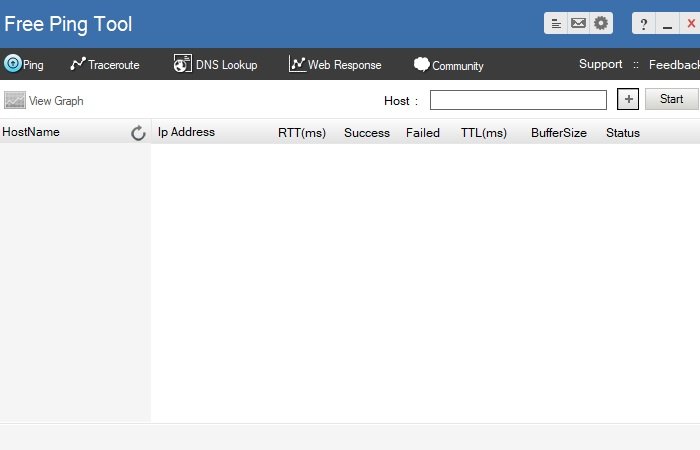 ManageEngine OPManager Free Ping Tool is a basic diagnostic tool that monitors your Ping and Latency. Even though it provides minimal functions, it has a great dashboard that is easy-to-use.
If you want to find core metrics that include Round Trip Time, hop number, HTTP Performing Reporting, and packet loss percentage then this tool is for you.
It enables you to find success as well as failed ping counts. However, it comes with some compromises. The major one is its 10 server/websites monitor limit. But it will leave you satisfied as it has all the things a Ping monitor tool should have as it alerts you if a node is not connected or is unavailable. So, if you are working in a Network firm then this tool can save you hours.
It also offers some additional features that include Server Performance Reporting, DNS Lookup, Website Reporting, and many more. You can download the tool from here.
2] PingInfoView
If you are looking for very minimalistic features Ping Monitor Tool, PingInfoView is the one for you. It let you keep a tab on whether the connection succeeded or failed along with the latency. Regular Ping scans are there for you to keep it ultra-modern.
It lt you ping unlimited IP Addresses and Hostnames and let you save the result in the form of HTML, XML, and Text.
It is free of cost for Windows 10, Windows XP, Windows 2000, Windows Server 2003, Windows Server 2008, Windows Vista, Windows 7, and Windows 8. It may not be feature-rich as others but it is still good for monitoring pings as most of the Ping Monitoring tools are paid. You can download the application from their official website.
3] EMCO Ping Monitor
If you are a person looking for a Ping Monitor tool that is feature-packed then check out EMCO Ping Monitor as it let you overlook hosts over your network by Host Status Overview.
It allows you to see the host's ping response rate, outages number, and status along with letting you keep an eye over the host during real-time. Along with real-time, you can also keep a tab on your network through historic host data.
This Ping Monitor tool is free but its paid version (Professional and Enterprise edition) starts with 99$. However, if you have a small enterprise of five people then this tool can be an excellent choice for you as after the end of 30-days of trial, you can choose to use this software for free but it will support a maximum of 5 nodes.
You can download the software from here.
4] Use the Command Prompt to Ping
If you just want to ping a website to see if there is some fault in the network, try the Command Prompt. You just need to launch the Command Prompt as an administrator by searching it out of the Start Menu, type the following command and hit Enter.
ping google.com
Note: You can change "google.com" with any URL of your choice.
You can check the Ping Statistics that includes the number of packets sent, received, lost, round trip times, and many more.
Related: Why is my Ping Time so high in Windows 11/10?