Here is a list of the best free online video stabilizer tools and software for Windows 11/10. Video Stabilization is a process that removes unwanted camera shakes and jitters from videos. Videos captured with a camera or mobile phone often have a lot of shakes due to unintentional panning and hand jiggling. To make them smoother and deshake such videos, video stabilization is the process you use. Now, how exactly you can do that? Well, that is what we are going to discuss in its article.
In this guide, we are going to list down dedicated video stabilizers for Windows 11/10 that enable you to deshake your videos. This list contains online as well as desktop software that you can use for stabilizing videos. All these video stabilizers work smoothly and you don't have to do much to get your work done. Just import your files to these tools and deshake videos in a few clicks. Let us now get straight to these free video stabilizing tools and software.
How do I fix my video shake?
You can fix and stabilize shaky videos using a free online tool. there are plenty of them, such as Online-Video-Cutter, Mp4Compress, Stabilizo, and VideoUtils. Apart from that, if you use VirtualDub, you can use a fess Deshaker plugin to stabilize your videos. There is also a dedicated free video stabilizer software that we have mentioned. Additionally, FFMPEG can also be used for stabilizing video through a command. We have discussed all these tools in detail and also have mentioned the steps to use them. You can check them out below.
How can I stabilize videos for free?
All the video stabilizer tools that we listed in this post are free to use. You can use any of these tools and software, deshake your videos, and make your videos smoother without paying a penny. Go through this list and use the tool you want to use for stabilizing videos.
Best Free Online Video Stabilizer tools and software for Windows PC
Here are the free online tools and software that you can use to stabilize videos on Windows 11/10 PC:
Online-Video-Cutter
Mp4Compress
Online Converter
VideoUtils
FileConverto
Stabilizo
Deshaker for VirtualDub
Video DeShake
FFMPEG
EZGIF Video Stabilizer
Let us discuss the above-mentioned online video stabilizing tools and software in detail now.
1] Online-Video-Cutter
Online-Video-Cutter is a free website with a lot of tools including an online video stabilizer. It enables you to remove camera shake from videos without much hassle. It is very easy to use and does your work within a few minutes. The time taken for stabilizing and processing a video depends upon the length of the video.
Before stabilizing a video, you can use various video editing tools to customize the resulting video. These tools include trim/cut, crop, rotate, flip, change resolution, change volume, change speed, add image, add text, and more. Using these features, you can edit the output stabilized video as per your requirements.
How to stabilize a video online using Online-Video-Cutter
These are the main steps that you can follow to stabilize videos online using this handy tool:
First, open a web browser.
Now, go to the Online-Video-Cutter website and navigate to its Stabilize Video page.
Next, choose the input video file from your PC, URL, Dropbox, or Google Drive. It will open up the video in its editing section.
After that, you can click on the Stabilize button to stabilize your video.
Then, make use of the video editing tools if needed.
Finally, click on the Save button to encode the stabilized video.
When the video is processed, you will be able to download the video to your PC.
You can try this feature-rich online video stabilizer tool here.
Read: How to stabilize Shaky Video Footage in Adobe Premiere Pro
2] Mp4Compress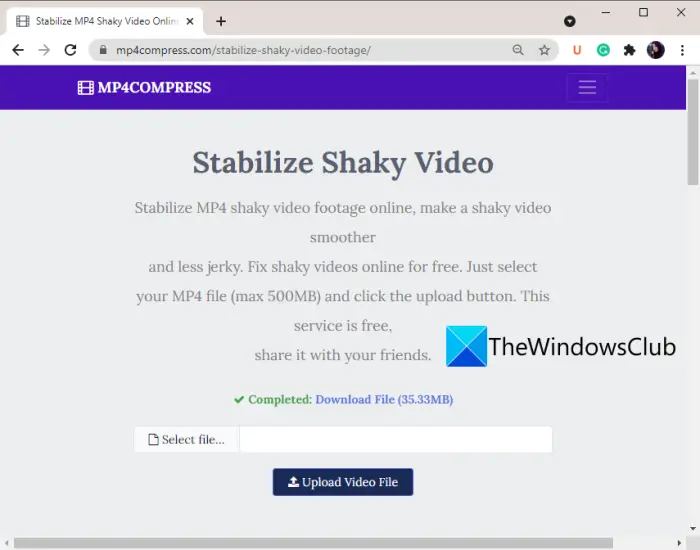 Mp4Compress is a nice online video stabilizer that you can use to stabilize a video in your browser. This website is specially designed for converting videos, compressing videos, removing sound from videos, and adding grayscale effects to the video. It also provides a separate section to remove the shake from a video and make it smoother.
Here are the main steps to deshake video online using Mp4Compress:
Firstly, launch a web browser and open the Mp4Compress website. Make sure you are on its Stabilize page.
Now, click on the Select file button to browse and select the input video file from your PC.
Next, tap on the Upload Video File button.
The video upload process will take a while, so be patient.
When the video is stabilized, download it to your PC.
You can go to its website to stabilize videos online.
3] Online Converter
You can also try Online Converter to stabilize and deshake a video online. As its name suggests, it is primarily a file converter website that offers a video stabilizer tool. You can use this tool to stabilize a video up to the desired level. If your video has a lot of camera shake, you can choose the Maximum shake level. In case there is a little shake, set the Stabilize Level to Minimum or A Little.
Follow the below steps to stabilize or deshake your videos online:
First, open a browser and head over here to use this online video stabilizer tool.
Now, choose an input video file from your library.
Next, select a Stabilize Level as per your requirement.
After that, click on the Stabilize button to start deshaking the video.
Finally, save the output video to your PC.
It is a good online video stabilizer and also provides a lot more other tools.
Read: Lightworks is a complete video creation software for Windows
4] VideoUtils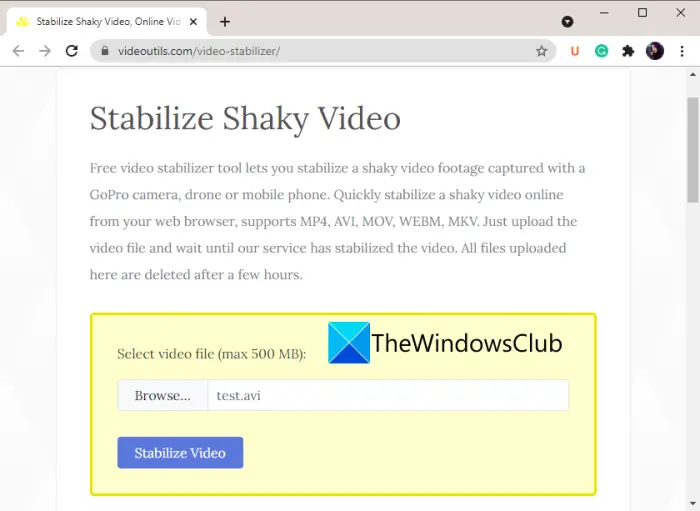 VideoUtils is yet another free online video stabilizer tool. It lets you remove shakes from videos recorded with a GoPro camera, drone, or mobile phone and stabilize them. It supports a lot of common video formats including MP4, AVI, MOV, WebM, and MKV. You can follow the below procedure to stabilize videos through it:
Open a web browser.
Navigate to VideoUtils's video stabilizer page.
Browse and select the source video file.
Click on the Stabilize Video.
Download the output stabilized video.
It will take a while to upload and deshake your video. So, let it process completely to get the results.
5] FileConverto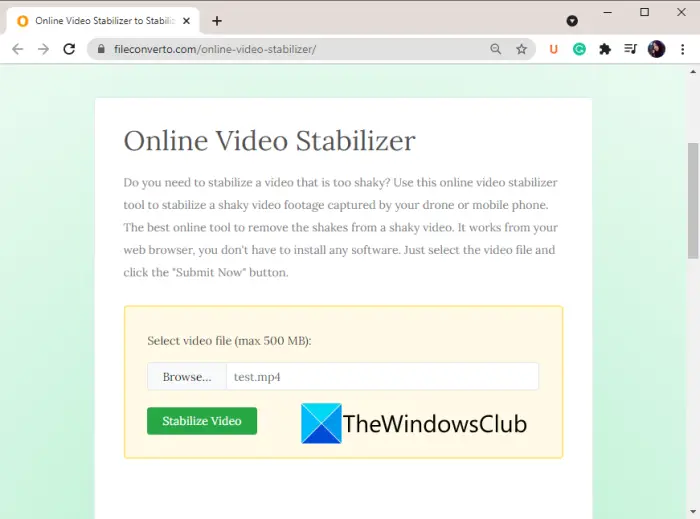 Another free online video stabilizer tool that you can try is FileConverto. Although it is primarily designed for file conversion, it also provides some other tools including a video stabilizer. Using it, you can browse and open a video file and then stabilize the video in one click. It will show you the final stabilized version of your video that you will be able to download to your PC. Go to its homepage to use this free video deshaker.
See: OBS Studio is the best video recording and live streaming software
6] Stabilizo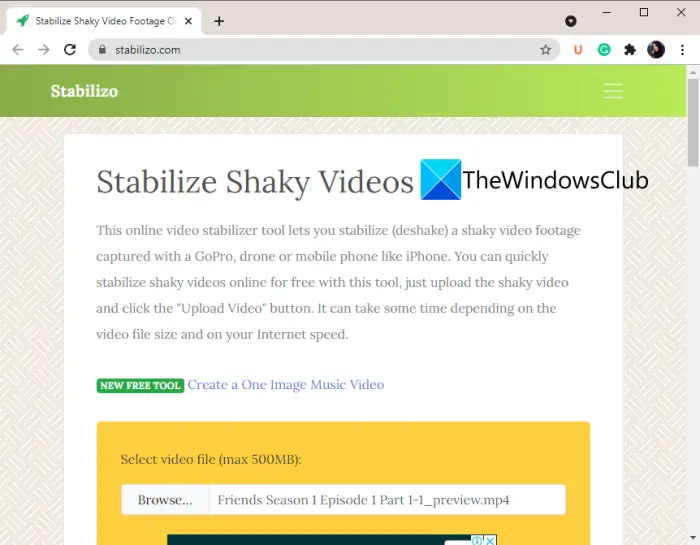 Deshake your videos online with yet another free online video stabilizer tool called Stabilizo. It is a good tool and works for a video of up to 500 MB size. The process to stabilize a video through it is very simple. just open a web browser and go to its website here. Now, choose a video file and then press the Upload Video button to stabilize the video. When the process is done, you can download the resulting stabilized video.
7] Deshaker for VirtualDub
Deshaker is a free plugin for free, portable, and open-source video editor called VirtualDub. To use it, first, download VirtualDub from the aforementioned link. Then, unzip the downloaded file. Now, download the Deshaker plugin from here and decompress the ZIP folder. Then, open the plugin folder and copy the Deshaker.vdf file to the plugins32 sub-folder of the extracted VirtualDub folder. You can now launch the VirtualDub software and deshake a video through it. Let us check out how.
Firstly, open a video in VirtualDub and then go to the Video > Filters option. Then, click on the Add button, and from the available filters, select the Deshaker filter and press the OK button.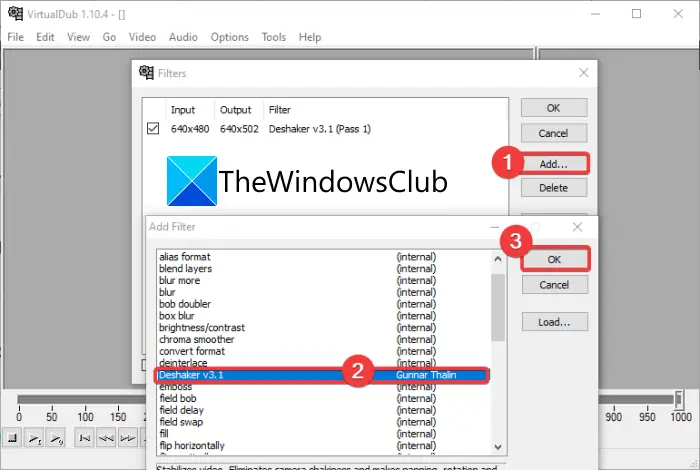 You can also double-click on the Deshaker filter and customize various parameters like video output, detect rotation, detect zoom, ignore pixels, detect scenes, edge compensation, motion smoothness, and more.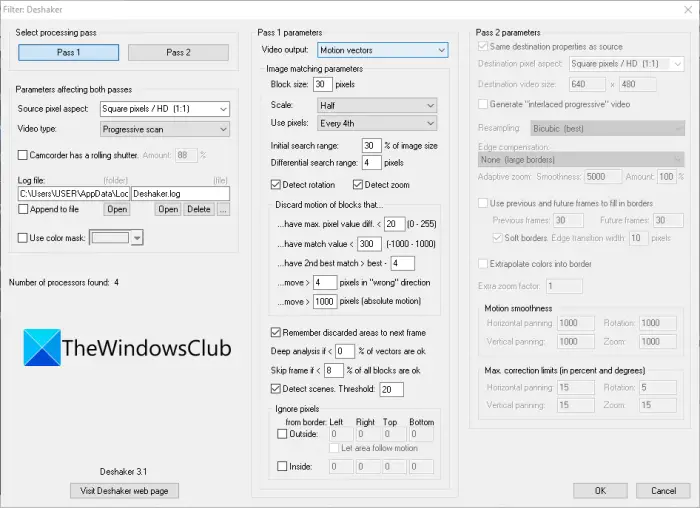 Simply press the OK button to deshake your video. After applying this filter, you can export the video in formats like AVI, Adobe Filmstrip, Raw Video, Animated GIF, etc.
8] Video DeShake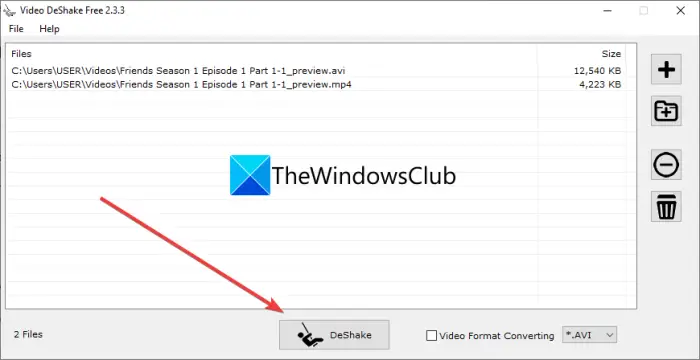 Video DeShake is a featured free video stabilizer software for Windows 11/10. This software lets you deshake not one but multiple videos at once.
The process of stabilizing multiple videos through it is very easy. First and foremost, you need to download and install this software from its official website. Then, launch the software and add source video files to it. After that, select an output video format and then press the DeShake button. You then need to select the output folder whether you want to save your resulting stabilized videos. As you do that, it starts stabilizing and processing your videos.
You can check out its full review here.
9] FFMPEG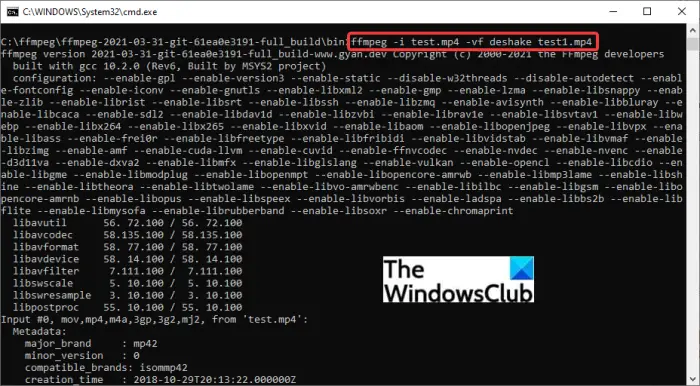 FFMPEG is a command-based video and audio processing software that can also be used to stabilize videos. It requires a simple command to deshake your video. You can even resize videos, rotate videos, edit video metadata, and do much more. Let us check out what command you need to enter in order to stabilize a video through it.
How to stabilize or deshake a video using command through FFMPEG:
Here are the steps you need to follow in order to stabilize a video using a command with the help of FFMPEG:
Firstly, download FFMPEG from its official website and then unzip the folder. Now, open the extracted folder and then launch Command Prompt in this folder. Next, in the Command Prompt, you need to enter a video stabilizing command like the below one:
ffmpeg -i input.mp4 -vf deshake output.mp4
In the above command, -vf deshake is the stabilization filter. You can replace input.mp4 and output.mp4 with the input and output video filename with file extension and exact path.
As you enter the above video stabilization command, it will start processing your video and you will get the output at the prespecified location.
10] EZGIF Video Stabilizer
EZGIF Video Stabilizer is one more online video stabilizer tool. Using it, you can stabilize your videos and make them smooth. You can open its website in a web browser and then deshake your videos. Just import an input video file from your PC or using a video URL. After that, you can click on the Upload Video button to upload the video. When the video is uploaded, click on the Stabilize button to start the video stabilizing process. You can save the final video to your local library.
It supports a wide number of video formats. However, you can upload a video of a maximum of 100 MB size which is not that bad. You can use this tool here.
Hope this helps!
Now Read: