Creating a graph doesn't need to be difficult once you have the right tools at your disposal. Now, instead of having to draw a graph on a piece of paper, or use advanced applications to get the job done, we suggest taking advantage of free Online Graph Makers for less complicated graphs.
The question is, which online program is best for such a task? Well, there are quite a few online apps designed for graph creation that is free to use.
Best free Online Graph Makers
Graph makers online are plentiful, but we are only going to focus on free options such as Microsoft Excel Online, and Google Sheets, both of which are excellent choices.
Microsoft Excel Online
Google Sheets
Canva
TinyWow Chart Creator
NCES Kids' Zone Create a Graph
1] Microsoft Excel Online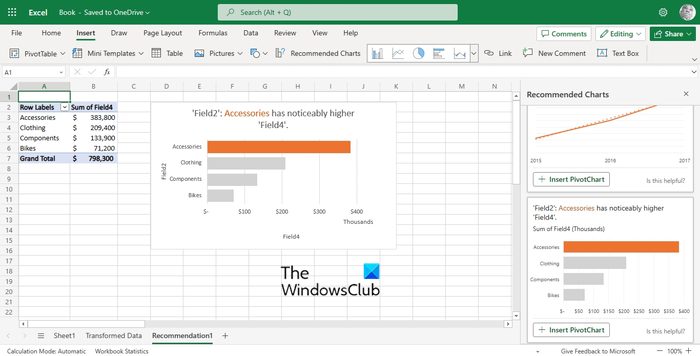 One of the best ways to create graphs on the web if you are an experienced person is Microsoft Excel Online. For the most part, this tool comes packed with all the features that make Excel on the desktop so popular, and that includes the ability to create graphs.
To create graphs, then, you must navigate to the official Excel Online website.
From there, sign in with your Microsoft account.
Open a new workbook or one already created.
Ensure the relevant content is available in your spreadsheet.
Next, click on the Insert tab, and from there, look for Recommended Charts.
Choose one of the graphs from the right panel.
In just a short moment, the chosen graph will appear.
2] Google Sheets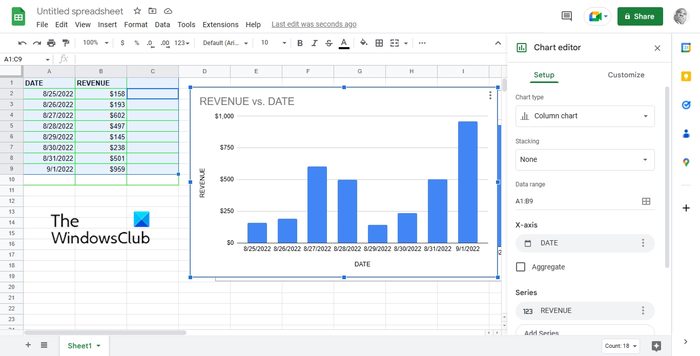 Just like Excel Online, it is possible to create graphs in Google Sheets as well. It's just as easy too, so let us explain.
Open the Google Sheets website, and from there, log in with your Google account.
Once done, open a new Sheet, or one that was previously created.
Add the data to the Sheet, then click on Insert.
The next step here is to click on Chart via the dropdown menu.
To the right of the window, a panel will appear with a list of graphs.
Choose the one you want for your Sheet, and that's it.
3] Canva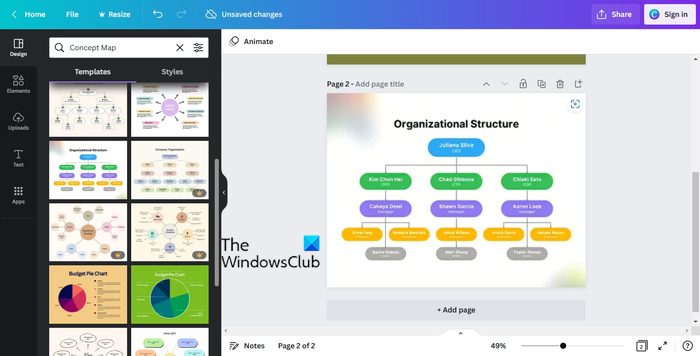 What we have here is Canva graph maker, a web app that has similarities to Microsoft Office, though not as advanced. It too is also a great tool for creating graphs with ease, probably easier than the options we've mentioned above.
Now, when you begin with Canva, it will ask what type of graph you want to create. For those who are not certain, Canva will suggest several types of graphs, and all you have to do is choose the one that works best for your needs.
Once a graph is selected, you can choose an existing template or create one from scratch if you wish.
4] TinyWow Chart Creator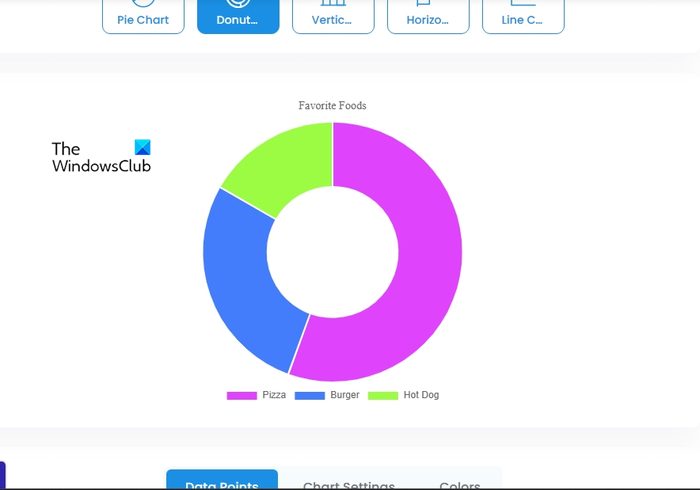 Have you ever heard of TinyWow Chart Creator? This tool is perfect for those who want a quick and easy way to create graphs. No need to sign up with an account here or a premium plan. Simply visit the website, choose a chart, then customize it to fit your needs.
Customization includes the addition of Data Points, Chart Settings, and Colors. Once completed, the graph can then be downloaded on your computer for use elsewhere.
Bear in mind that the moment a file is generated, it's only valid for the next 1 hour. After that, it will be automatically deleted from the TinyWow Chart Creator platform.
5] NCES Kids' Zone Create a Graph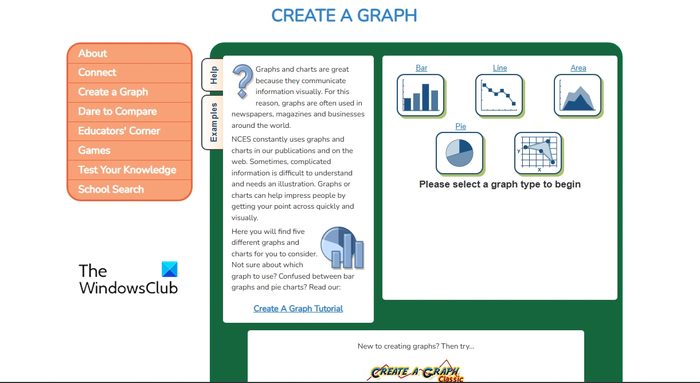 The final online tool we want to have a look at here, is one called NCES Kids' Zone. It's the perfect program for those who want to create graphs with their children or have a bigger problem understanding how graphs work.
With this app, folks can choose from five different graphs. The overall process is very simple, and even if you still have problems, there is a tutorial that's easy to follow.
To create a graph, then, you must select the type of graph, then the direction, shape, and style. From there, add the preferred data and labels if needs be. When you're done, hit the Save button after previewing your work, and that's it.
READ: Create Animated Graphs and Charts online free
How can I make a graph online for free?
Chartle.com is a great way to create graphs online. Users can make their own charts and graphs with ease since it doesn't take a lot of effort to accomplish. All you have to do is select a graph type, then enter the relevant data for the graph, and right away, a graph will be created instantly.
READ: Best Free Online Flowchart Maker Tools
Is Canva graph maker free?
Yes, the Canva graph maker is free to use, and it can be done on your own or with others in a collaborative situation. If you want more, then take advantage of premium content and other design tools.