There is nothing more lucrative, if you are starting a business than getting Customer Relationship Management (CRM) Software. This way you, handling managing clients and doing daily chores will be more efficient. There are a ton of good CRM Software but most of them are paid. Therefore, we have accumulated a list of some of the best free CRM Software for Windows systems.
Best CRM Software for Windows 11/10
These are the best free CRM Software for Windows 11/10:
EngageBay
Bitrix24
Zoho CRM
Hubspot
Freshworks
Let us talk about them in detail.
1] EngageBay
With the growing wrath of Capitalism, finding a good all-rounder CRM Software is as strenuous as ever. Under these circumstances, EnagegeBay is a sigh of relief. It clubs tools for marketing, sales, and services in one package and offers support for 5 users for free.
EnageBay is a one-stop-shop for notes, tasks, email, charts, and other tools required to manage your workflow. You can create various workflow and pipelines for a product or program in EngageBay and manage them from the app itself.
Another thing about EngageBay is that it is available on Android and iOS as an app and for Windows and MAC it has a web version. So, you are getting 24×7 support.
Talking about its marketing suite, you are getting newsletters, promotional tools, and other important tools to access you. You will get another plethora of add-ons if you go for the paid version, but the free version is equipped enough for most blossoming businesses.
You can access EngageBay from engagebay.com
2] Bitrix24
Next up, we have Bitrix24. It is probably the only CRM Service on our list that has no restriction when it comes to the number of users. It also has some tools to take advantage of this feature and to make the workflow in a team more seamless such as chats, workgroups, polls, etc.
However, there's no rose without a thorn. In the case of Bitrix24, you are getting bombarded with features that you may not even need. Because of that, sometimes it can be a bit difficult to find the tool when you need it. Therefore, if you are planning to go for this tool, make sure to hide all the bloat options.
Bitrix24 is available on your computer as a web version and can be accessed from bitrix24.com
3] Zoho CRM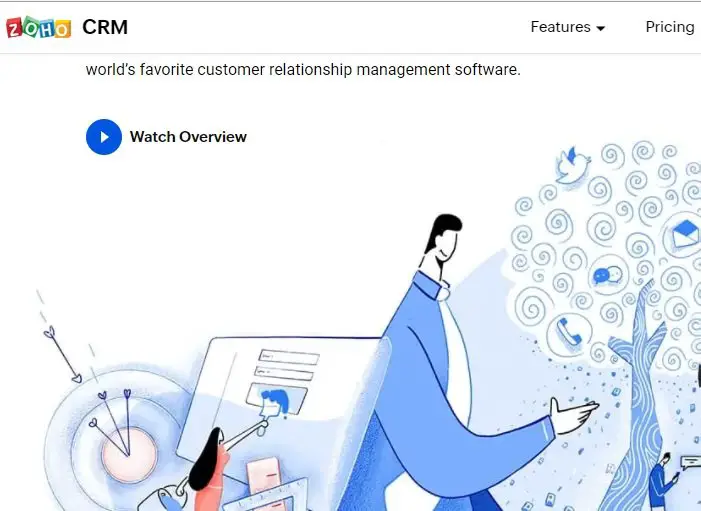 Zoho CRM is another free option. Although the free version is not very feature-rich, it can be a good starting point. Zoho as a whole solution has an app for marketing, sales, e-commerce, HR, and more.
One of the most interesting features of Zoho is SalesIQ. With SalesIQ, you can add a code snippet to your website's source code to track the number of views. It also has a live chat feature to connect with your team. SalesIQ in itself has a plethora of features for you to try.
So, if Zoho CRM is your thing, access this tool from zoho.com
4] Hubspot
Hubspot, as the name suggests, is a hub to cumulate all your important applications. These apps are integrated in a way that all of them will work seamlessly.
Hubspot gives you the option to integrate 600 apps in the paid version. But the free version is no slouch, you can integrate 150 apps, which is more than enough for a medium-scale business.
Unlike the free version of most apps, Hubspot doesn't limit the number of users. You will get unlimited user support and room for up to a million users.
It has some other important features that you can know from hubspot.com
5] Freshworks
Freshworks, previously called Freshsales, is a free unlimited user solution. It supports unlimited users, unlimited contacts, an integrated phone system, and other such features to emphasize your productivity.
There is one caveat here, the free program doesn't allow you to integrate any email. That's the only thing that pushes it so down the list. It is the Achilles heel for Freshworks but not you can find some other workaround.
You can get access Freshworks from freshworks.com
Hopefully, we have helped to pick CRM Software for your company.
Read Next: Best Free Hospital Management software for Windows.