For a developer, nothing can be more frustrating than a bug. They can decrease your credibility in the company or worse your company's credibility. Therefore, if you are working on a new project, then Bug Tracking Tools are a must-have.
Bug Tracking Tools for Windows 10
With the help of Bug Tracking tools, you can report bugs, analyze or work on the development of their fixes. There are dozens of Bug Tracking tools in the market, but most of them are paid. Therefore, we have accumulated a list of some of the best free open-source Bug Tracking tools for Windows 10. They are:
Mantis BT
Redmine
Trac
Jira
Bugzilla
Let us talk about them in detail.
1] Mantis BT
Another free tool, Mantis BT is one of the best Bug Tracking Tools in the market. It is a web-based Bug Tracking Tool that was designed in PHP. However, it supports other database backends such as MySQL, MS SQL, Postgre SQL.
With the help of Mantis BT, you can track the development of a bug fix easily. If you have a software development company then this can be a handy tool for you.
Moreover, the software is free to use but if you want its cloud version called MantisHub you need to get a subscription that ranges from $4.95/month to $45.95/month.
The simplest way to download and install this software would be to do it from Bitnami's official website.
2] Redmine
The first app out list, Redmine, is an open-source software created to help developers. It is a powerful tool that does all sorts of things including bug tracking.
Redmine essentially is not only Bug Tracking software instead it is a project management software that has a bug tracking tool is built in it.
This tool works on the Ruby-on-Rail framework and is a perfect cross-platform software that can check your bugs, store the report on its cloud so that you can check it whenever and wherever you want.
Bitnami Redmine is a perfect software if you don't want to spend your hard-earned money on a dedicated Bug Tracking tool.
The application can be downloaded from their Bitmani Website.
3] Trac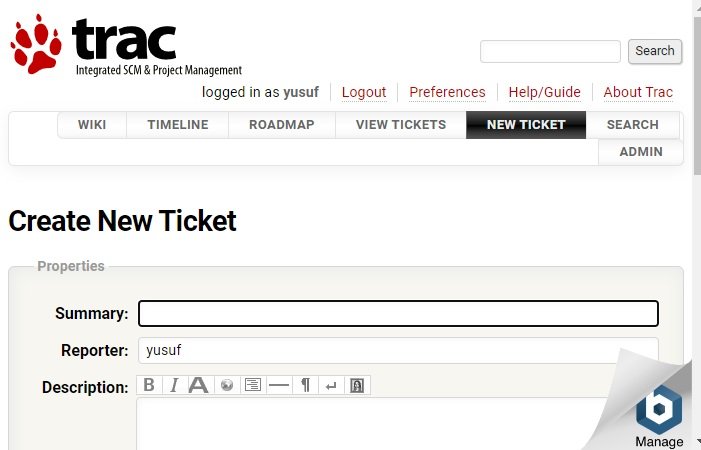 Trac is another open-source Bug Tracker. At its core, it is a business management software made for project development and issue tracking.
It has a simple user interface that allows you to track bugs, search about them and link them to some other report.
This free software was built on python and works on the web. So, you can download it on Windows, Linux, and macOS.
It supports both Git and SVN and has plugins for Perforce, Monotone, CVS, Bazaar, etc.
You can download the application from its official website but we won't recommend you doing that as it requires a lot of work. Bitnami has created a simple one-click installation package that can be installed on your computer effortlessly.
4] Jira
Jira is another one of those paid tools that has a free plan which is enough for most people. Build by Atlassian, Jira is one of the most popular tools on our list.
Jira is fast, they have achieved this by building the software on their own platform called JQL or Jira Query Language, because of this it is perfectly optimized.
They also have simple boards such as Scrumban, Scrums, and Kamban. They are secured by SAML SISO, automated user provisioning, etc.
If you are a developer then you should definitely go for the Jira free version that supports a maximum of 10 users from their official website.
5] Bugzilla
Last but not least we have Bugzilla. It is a web-based solution that allows you to report bugs just like any other software on this list.
One of the biggest perks of Bugzilla is that it is a web-based tool, so, you don't have to install any third-party application on your computer and just access it from your browser. This Mozilla software is powerful enough that you won't feel like you are missing out on something and light enough that you won't feel overwhelmed.
You can access the software from its official website.
Why do we need a Bug Tracking Tool?
When you develop an app, most probably, it will be packed with a plethora of bugs. Without a proper bug tracker, your final product will be bad and filled with bugs that will deteriorate customer's experience and your company's credibility.
Therefore, you should definitely pick one of the free Bug Tracking Tool from this list, to make your product bug-free.