Planning to create a logo? Here is a list of the best free AI logo generator tools to create stunning logo designs automatically.
Can I create a logo using AI?
Yes, you can create a logo using AI technology. For that, multiple free online AI-powered design tools let you generate logos using the company's description. Turbologo is an example of a tool that uses AI technology to create logo designs automatically.
Best free AI Logo Generator Tools
Several free AI logo generators, like Logo.com, BrandCrowd, and Turbologo, allow you to create logo designs by entering the brand's description. Let us take a look at them.
1] Logo.com
Logo.com is a great AI-powered logo maker tool using which you can automatically generate logos for businesses. You just have to provide the name and description of the brand for which you want to generate logos. The rest of the work will be done by the tool itself.
To start with, you can open its website in a web browser. Now, the first step is to enter the business name; do that and press the Continue button. Next, you can enter the slogan of your organization or brand if you want to add a slogan to the output logo design, or you can skip this step. After that, enter the industry to which your business belongs.
Once you have entered the description of your brand, you can choose the color themes that you want to use in your logo image and press the Continue button. Then, you can select the preferred font style and click on the Continue button. Now, you can choose whether you want to create a text-based or icon-based logo. Once done, enter the keywords for your brand and press the Continue button. It will then generate various logo designs based on the logo description using AI technology.
You can select the desired logo design and customize it as per your requirements. After customizing, you can share your logo with others using its URL. Or, you can go to your dashboard, move to the Logo Files tab, select a logo design, and click on the Download button to quickly download the logo to your device in PNG format.
The free plan of this web service imposes some restrictions, e,g., you can download only low-quality logo images, some features are available in the paid plan only, etc. To remove these limitations, you need to purchase its subscription.
You can try this AI-powered logo maker tool here.
Read: Free AI Image Generators
2] BrandCrowd
BrandCrowd is another free AI logo generator tool on this list. Using it, you just have to enter your brand name and it will do all the designing work. It will generate some nice beautiful and professional logos that you can use for your business.
First, go to its website in a preferred web browser and then enter the brand name in the respective text box. After that, click on the CREATE LOGOS button and it will generate tons of logos for your brand. You can enter new keywords for your logos and regenerate logos. It also lets you select the desired logo style and color to filter out logos.
If you like a logo, click on it and then customize its color and layout, and press the Continue button to further customize it. It provides all the standard formatting tools to customize your layout, text, color, background, etc. Once done, you can share the design online using its URL or directly share the design on Twitter, Facebook, and LinkedIn. To download a specific logo design, you have to buy it.
To start creating AI-powered logos with BrandCrowd, visit here.
See: Best AI tools for Digital Marketing.
3] Turbologo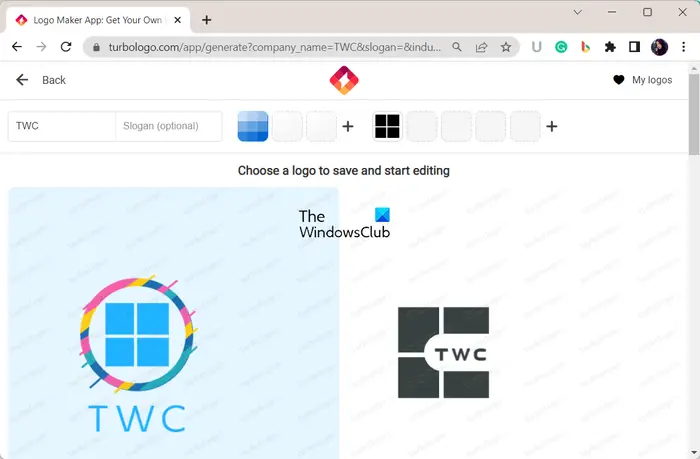 Turbologo is the next AI-powered logo generator tool. Using it, you can generate logos in a blink of an eye. Just enter your company's name, slogan, and business field, and it will create some stunning logos. You can also customize the color profile and select the desired icon image to add to logos by entering relevant keywords.
It also lets you edit and customize logos as required. You can generate a link to the designed logo and share it with others. But, to download a logo, you are required to pay the price of the logo.
Now read: Best free User Persona Tools and Templates.