Artificial Intelligence (AI) is impacting every industry we can think of. It is the same with digital marketing. There are some great tools that can help digital marketers in laying out their digital marketing strategies and make the most out of these AI tools in less time. Digital marketers can benefit a lot from using AI tools by saving time and automating repetitive tasks. In this guide, we show you the Best AI tools for Digital Marketing.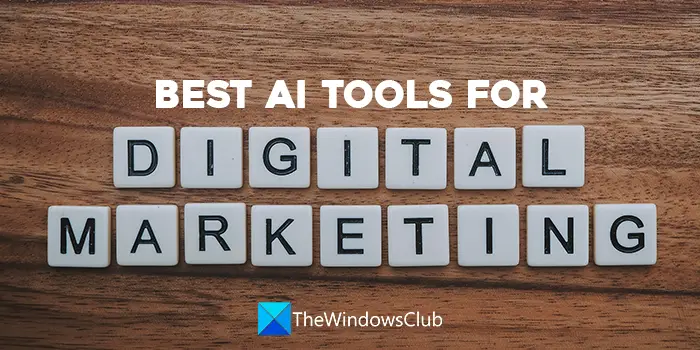 Best AI tools for Digital Marketing
If you are a digital marketer and want to make it more productive, you can use the following AI tools to optimize your profession.
HelloScribe
Flair
Looka
Replai.so
tiledesk
Let's get into the details of each tool and know how to use them.
1] HelloScribe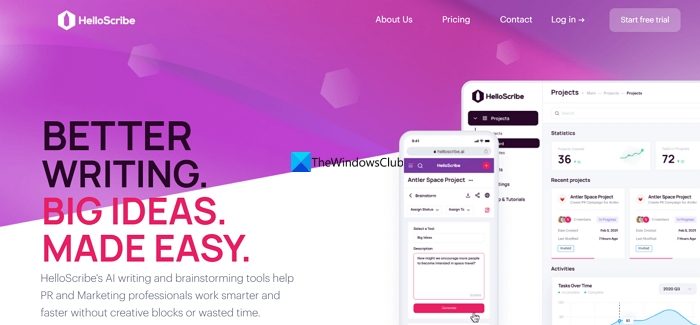 HelloScribe is an AI writing and brainstorming assistant that can help PR and marketing professionals work smarter and faster without creative blocks or wasted time. You just need to input what you want and HelloScribe can generate endless original ideas and content related to your specific request. You can pick the best of the generated ideas, edit them, implement them in your strategy and publish them on your social media. HelloScribe has tools for creative brainstorming, Brand messaging, Press releases, Headlines, news hooks, media pitches, social media copy, interview questions, etc. You can get more done faster using HelloScribe. You can try HelloScribe for free for 7 days without any credit card and then buy a paid plan if you like its services.
2] Flair
Flair is an AI tool to design branded content in seconds. You can get a great design in a few clicks for your digital marketing. All you need to do is drag your photos into the Flair canvas, and describe the scene on how you want the design surrounding your product. It will then automatically generate the best possible content that you can edit, export, and share on your social media. Flair is good in its drag-and-drop interface, and scene construction capabilities around your product. It also has a smart prompting feature that will give you some suggestions or prompts based on the product image you upload. Also, when you are describing a scene around your product, the smart prompting feature shows you autocomplete suggestions.
3] Looka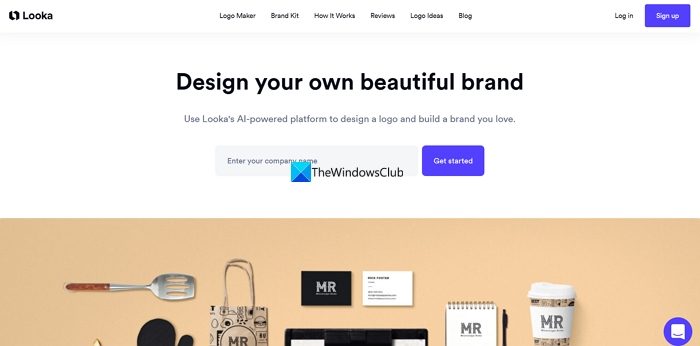 Looka is a great AI tool to design logos for your brand and your clients. On Looka, you can use AI to design the best possible logos for your brand in a few minutes. You do not require any design skills. All you need is a vision of how you want your logo to look. Looka can generate endless options and tweak designs to get exactly what you want. Looka services do not stop with generating a logo, you can also build your brand identity using the brand kit and branded marketing materials that Looka generates. You can choose from 300+ templates that can match your vision and identity. You can customize the design in the easy-to-use editor. To sum up, Looka is a personal designer that can help you design logos and branded content for your clients.
4] Replai.so
Replai.so is an AI tool that can help you interact with customers and the user community to make your brand more accessible to people. It is the easiest way to connect with the community and look clever, funny, and professional on social media. You can appear smarter and grow your audience with 10x less effort. It is an easy-to-use AI replies generator with extremely simple functionality. You can use Replai.so on Twitter and LinkedIn and start from a blank page and go to the best content. It also helps you grow better and easier. Replai.so can help you interact, generate icebreakers for tweets, create viral jokes, and custom reactions. You can try Replai.so for free using the free plan.
Read: Best AI tools for Content Writing
5] tiledesk
tiledesk is an all-in-one customer engagement platform to generate leads and post-sales conversations. You can use tiledesk on your website as well as WhatsApp. You can make your customer service a whole lot better by just using the tiledesk that can give instant replies 24/7 with ai-powered chatbots which can be set up in seconds. You can use tiledesk for free forever using the free plan.
Read: Best Graphic Design Tools and Software for beginners
These are the different tools a digital marketer can implement on their client projects or own projects and make the most out of them.
How AI is used in digital marketing?
AI has different uses in digital marketing. From generating content to interacting with people on social media, and websites, AI can benefit digital marketing easily. All you need is the right tool that suits your need. Even the strategies can be generated by AI tools like HelloScribe. AI can help you get more clients if you are a digital marketer.
What type of AI is used in marketing?
From chatbots to replying to customers to interacting with the community on social media, AI can be used in many ways in marketing. There are many great tools to write marketing copies that convert. You just need to have an idea of how your marketing should be. The rest will be taken care of by the AI.
Related read: 10 Online jobs that you can do from Home.