Many organizations are rapidly shifting to the 'Work from Home' culture. As per experts, the culture of work from home and remote login is going to be highly accepted and adapted in the coming times. The challenging times posed by the coronavirus pandemic have impacted businesses massively and affected almost all professions.  Fortunately, several jobs can be accomplished remotely by working from home to earn well. So, let's look at some viable work from home jobs through which you can continue making money even while staying at your house.
Online jobs that you can do from Home
If you wish to earn by working from home, here is a list of some tech-related online jobs you can do:
Social media manager
Medical Transcription
Cloud Designer
Web Designer
Software Developer
Freelance Technical Writer
SEO and Review Writers
Mobile App Developer
Online Training and Tutoring
Digital Marketer.
Let's look at each of these job profiles in detail.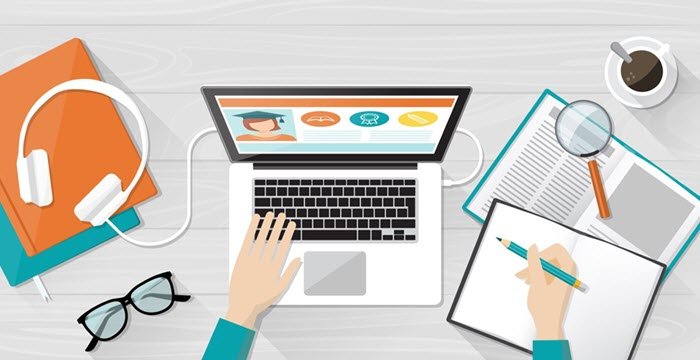 1] Social Media Manager
Social media platforms have become one of the most prominent media of marketing and brand promotion wherein the biggest of the brands are leveraging the massive reach of the channels like Facebook, TikTok, LinkedIn, Twitter, and Instagram. Companies are tapping in the opportunity by prudently handling their social media campaigns to influence their potential buyers. Since not many businesses have a dedicated team to channelize their social media presence via accounts, many freelancers have taken up the role of social media managers and work remotely.
In the coronavirus pandemic, digital marketing companies are also looking for social media managers who can help them efficiently plan, design, and implement their social media campaigns through their accounts on various platforms. This is a relatively new role, however, youngsters and people who have a good hold on writing catchy posts and understand the nerve of viral media campaigns, love socializing online and are interactive can make successful social media managers. If you have the right presence on social media, then in the coronavirus lockdown, you can earn good money handling social media accounts of others.
Download: Microsoft's Essential guide to working from home.
2] Medical Transcription
Medical Transcriptionist typically works from the hospitals and physician's office; however, with the increase in technological aids that enable people to connect remotely, most of the transcriptionists are now working from home. The Work of medical transcription includes efficiently transcribing the dictation by doctors. The healthcare professionals and people who have completed a medical transcriptionist program can take up this job from home.
3] Cloud Designer
Cloud-based applications are much in demand these days as the technology is fast growing. If you are a well-versed cloud designer and architect, then you can earn well by working from home and providing cloud solutions to various companies. Many companies are looking for efficient cloud developers who can help them manage and develop cloud apps. Coronavirus lockdown has propelled companies to allow remote working, and the demand for freelancers has increased.
Read: Free Windows Software to help you Work from Home.
4] Web Designer
Everyone needs a website in today's times. In the pandemic situation, when physical stores are almost shut down, an online presence is mandatory. In such a case, every big and small business is looking for someone to help build and manage their website. There are many self-employed web developers in the present times who work remotely as per their convenience and earn an impressive salary. Web developers and designers cater to the diverse needs of their customers from website design, administration, and development.
5] Software Developer
On average, a software developer can earn somewhere around 70-80 thousand dollars per year without having any advanced degree. The essential skills include knowledge of web development and application. With so many resources and tools available, web developers can now easily boot-start their careers and earn working from home without any hassle. Web development is one of the most lucrative and high paying job professionals can take from home.
Read: Security tips to protect data when working remotely.
6] Freelance Technical Writer
Help Manuals, Online Guide, website content, blogs and social media posts, how-to articles, product reviews, there are so many places where clients need skilled and creative content writers to provide them quality content for websites like TheWindowsClub.com. There is a massive demand for content writers in times of search marketing and digital marketing. If you are a skilled and quality writer, you can earn a considerable amount of money working from your home without any hassles. Content writing is one job that has been performed from home for the longest time. The writers can get great value for their content by using the right techniques and developing content that is informative and unique. Brands are ready to pay impressively to the writers who provide engaging content that can drive traffic to their websites.
7] SEO and Review Writers
SEO driven content is high in demand these days, as most of the businesses are done online based on search marketing. People are now investing highly in quality content instead of bulk content. You can groom yourself as a niche writer and reach out to potential clients easily on various forums and portals. On websites like Freelancer.com, Upwork, and Fiverr.com, you can build a strong portfolio and bid for freelance projects that are high paying. You can earn up to 1500 dollars per article, in case you make an influential profile as a writer. Freelance writing s one of the most well paying and feasible jobs, which can be done from home.
8] Mobile App Developer
In the current pandemic situation hen, people are stuck at home and have extra time at hand; the use of mobile apps has increased massively.  Mobile phone games, dating apps, chat apps, and shopping apps are massively used as they are quick and handy. As an Android or iOS app developer, you can efficiently work from home and build apps for various clients paying heavily. If you are a trained or skilled App Developer, you can earn more than a well paying regular job. It is the most viable Work from home options for developers and tech professionals.
9] Online Training and Tutoring
Whether you are a Tableau trainer or a skilled Yoga trainer, whether you provide art classes or just educate people on culinary skills, online coaching and training is something that can help you earn a fair amount of money while enjoying your creative skills. During the current Coronavirus, pandemic people are restricted to stay at home. You can provide coaching classes to children on various subjects or provide training to professionals on multiple technologies. You, training online, probably the best Work from home job that can bring you the most value for your time. From providing makeup tutorials and cooking classes to ladies to taking online Zumba classes for fitness enthusiasts, online coaching is excellent Work from home option in the coronavirus pandemic.
10] Digital Marketer
Digital marketing is all about handling the digital platforms and providing the right solutions to the clients on the various platforms, from email to website to social media. With the proper knowledge of Social media, Search Engine Optimization, and website administration, along with the algorithms of various social media platforms, you can attract the right clients who pay well. The job can be done entirely from home.
Final words
Disruptions are likely to change the face of workplaces forever. With remote working being the trend of the next generations, the above jobs can help professionals build strong portfolios and earn well.