With the rise of ChatGPT, Bing AI chatbot, and Bart, it's safe to say that many people will take advantage of these tools to generate content for work and school. The question is, how does one tell if a particular content was generated by AI? That's where the free AI content detector online tools come into play. The internet is filled with these tools, but we are only going to focus on the best ones from the bunch.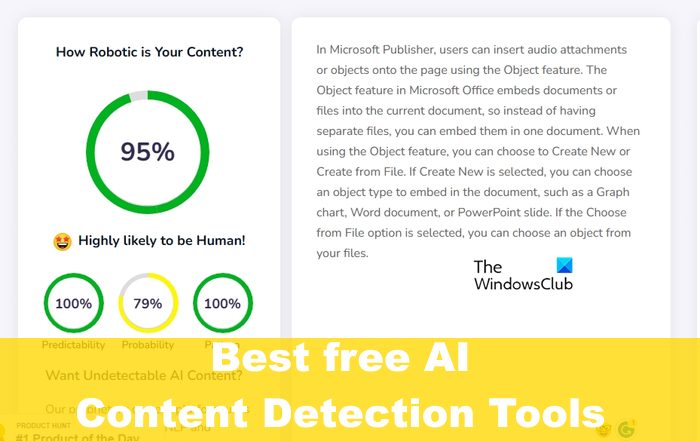 The best AI text detector online tools
The best AI text detector tools are AI Text Classifier, Writer, Content at Scale, and more. All are free at the time of writing.
AI Text Classifier
GPTZero
Content at Scale
GPT- 2 Output Detector
Writer
Originality.ai.
1] AI Text Classifier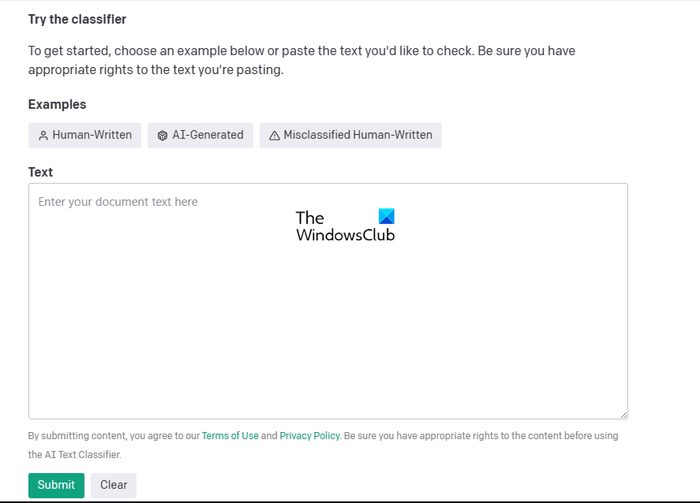 This is an interesting one because the developers are from Open AI, the same company known for ChatGPT. The idea here is for it is to evaluate content to see if they were generated by AI, and from our testing, we can say for certain that it works.
Now, we must note that AI Text Classifier is not perfect since it can only evaluate content with no more than 1,000 characters. Furthermore, there are times when it may mislabel both human-written and AI-generated text. Additionally, it will not work well with text written in languages outside of English.
Visit the official website at AITextClassifier.
2] GPTZero
GPTZero is considered by some as the best AI content detector in the world. Since the time of writing, this tool has amassed over 1 million users and growing. We like it because it can evaluate a larger number of text, 5,000 characters to be exact.
It will accept multiple file types and is limited to checking 1 million words every month.
The service is free right now, but there is a paid option that was designed to make things more interesting.
Visit the official website at GPTZero.
3] Content at Scale
Have you ever heard of Content at Scale? Chances are you haven't, but now you have. This is a great tool that was trained on both human-written and AI-generated text. Now, we like this tool because it covers all major AI tools, and that includes ChatGPT.
The problem here is that Content Scale can only check up to 400 words at a time, and it does not tell users which AI model is used.
So, how does it work? Well, it uses NLP, semantic analysis, and three different AI models to find content that was generated by AI.
Visit the official website at ContentAtScale.
4] GPT- 2 Output Detector
One of the best AI content detectors available right now, but the problem is, it only recognizes content produced by GPT. Furthermore, it is not able to detect plagiarism and the results are not always correct, but despite all of that, it works quite well.
Not to mention, it comes packed with a simple and easy-to-understand user interface and is free to use.
Visit the official website at GPT- 2 OutputDetector.
5] Writer
Finally, we want to talk about Writer, an AI text detector that can check up to 1,500 characters of text. It's free to use, therefore, you should not be too hard on the limited character support.
One of the ways Writer separates itself from the rest is its ability to evaluate webpages and copied text. It might not be very useful though due to the character limitation, so always bear that in mind before taking advantage of the tool.
Visit the official website at Writer.
6] Originality.ai
Originality.ai is among the finest AI Content Detector and Plagiarism Checker tools. It is the only Chat GPT, GPT-2, GPT-3, GPT-4, Bard and ONLY Paraphrase Detection (quillbot) Content Detection tool on the market. You can get their browser extension here.
Just for your information, all content on TheWindowsClub.com is written by humans for humans, and no AI tools are used.
READ: ChatGPT History is temporarily unavailable
Which tool detect AI-generated content?
One of the best is no other than GPT-2 Output Detector. It is an open-source tool that was designed for the sole purpose of detecting AI-generated text in a fast manner.
Can Google recognize AI content?
Yes, Google can recognize content that was created by AI, but it won't affect your ranking unless the content was not designed first for people, and not search engines. So as it stands, the intent matters more than how the content was created.