Microsoft Outlook has been one of the most prominent offerings that have been bundled with Microsoft Office Suite. It is a step up from the usual email web clients and offers a blend of the Calendar, Tasks manager, Contact manager, Note-taking tools, and Journal. Ever Since Microsoft has ensured that the availability of Outlook to all the non-Windows platform the popularity of the product has been soaring high. That said not many people know that Microsoft has tons of free Outlook extensions that will change the way you work with the email client.
We have already seen how to install or enable Outlook add-ins. Today we will take a look at some of the best free add-ins for Microsoft Outlook.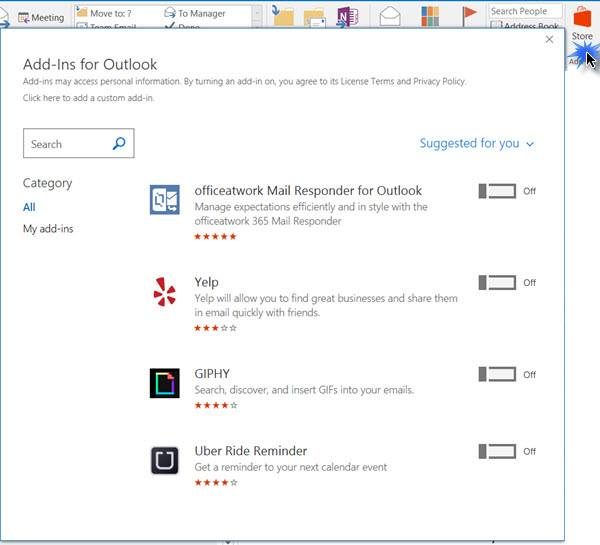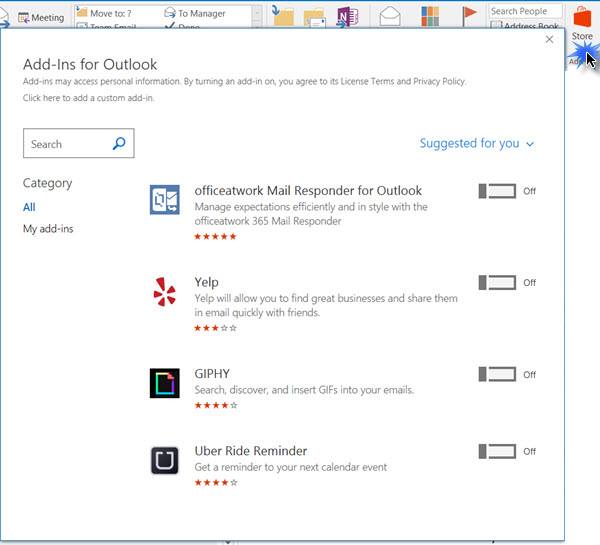 Best Add-ins for Outlook
1. Office at Work Mail Responder
Tired of typing and scheduling auto responses whenever you are not at your desk or out of the station? Office at work Mail responder is kind of an impromptu answering machine that lets you respond to emails automatically. Needless to say, it comes with a slew of presets that will allow the users to pre-program and automate the entire process. Auto response messages are mostly considered to be polite, thoughtful and professional.
2. Giphy
Love those Cat GIFS but don't have the patience to search for one. The Giphy is a popular service that lets you search, discover and also insert gifs into your emails. In order to make it simple for you, the makers of Giphy have curated hundreds of GIF's that you can search and choose from to send it across. By adding the extension, one can simply go to the search bar, search for the relevant GIF, and finally insert it into the email.
3. Evernote for Outlook
If you are an Evernote user then this extension should essentially figure out in your must haves. It's very common for important communication to get lost in the overcrowded email inbox and the same happens with our project ideas and other micro research that will be useful for our work. With the powerful Evernote extension you can now harness the power of email and organize important email by clipping any Outlook thread and its attachments, the best part this clipping can be accessed from any devices supporting Evernote including the smartphones.
4. Join.me Meetings for Office 365
The join.me add-in for Office 365 ensures a seamless way for Office 365 users to add join.me meeting details and also send invitations to calendar events. Just make a note that this add-on is useful only for join.me links and one needs to have a join.me account in order to use the extension.
5. Maps for Outlook
Digital Maps have now been an integral part of our lives, each and every time we tend to send out the coordinates of the meeting place. Maps for Outlook is an extension that aims at easing the ordeal by facilitating a map generator. All that the user has to do is open up the map generator (all without exiting the Outlook app.) Also, the contextual address feature will automatically detect if your email has an address and look it up as well.
6. Tilkee
Tilkee extension is one of the best ways to track your business proposals and also predict the taxation part of it. The best part is that Tilkee analyzes the prospects reading behavior and helps you understand whether they will be signing the deal or if you need to make amends. However, you will also be needing a Tilkee account for this.
7. Bing Nearby
Bing Nearby is a handy addon if you want to insert an info snapshot of a restaurant, coffee shop or any venue nearby your meeting and maybe the meeting itself. For instance, if you are planning to meet your colleague in Starbucks simply use the Bing Nearby to search for the nearest Starbucks and then just drag and drop it on the Outlook appointment. The info snapshot will include all the information like the address, phone number, name and user ratings.
8. Uber Ride Reminder
Uber has indeed revolutionized and has fostered the growth of cab hailing services. What if you get the Rie Reminder for your rides directly on your smartphone. This is possible with the Ride Reminder that will remind you when it's the time to get out and hop into your Uber. Also, in select regions, new users will get a free ride.
9. App in the Air
Travelling is part and parcel of every business and tracking your flights will help you fine tune the schedule. Well, this is something that can be done by accessing other services, but App in Air fetches your travel details by accessing your Outlook emails. A simple click on the extension will tell you if your flight is on time/delayed or if there are any changes in boarding gates.
10. Wunderlist for Outlook
Wunderlist is a great tool to keep your inbox organized. Apart from being neat, the tool will also help you search better for the email. However, the main feature offered by Wunderlist is to turn your emails into the task, for instance, if you have received the deadline date for the project you are working on just click on it and Save as task. This lets you save some precious tasks and eliminates the need to use a full-fledged task manager.
Visit the Office Store here to get started.
What is the best add-in for Outlook?
The name of the best add-in depends on the purpose of usage. If you want to send GIF, you can use Giphy. Similarly, if you want to integrate Evernote into Outlook, you can try the Evernote for Outlook add-in. The best thing is that you can find a suitable add-in for almost every purpose.
Is there an add-in for Outlook?
Yes, there are multiple add-ins available for Outlook. Whether you want to use add-ins on the desktop app or the web version, you can install some of the aforementioned add-ins. All the above-mentioned Outlook add-ins are available for free, and you can install and use them on the desktop client without any error.
Wrapping it up
In a nutshell, it is good to know that Microsoft has been supplementing the Outlook offering with useful extensions and this only pronounces the utilitarian front of the software. Microsoft Outlook is arguably one of the most widely used email clients by both home users and enterprise users, and due to its robust feature, it will be a quintessential part of the Office 365 offerings. If you happen to use any other Outlook extension that deserves the place above let us know in the comment section below.