Most of the tasks these days involve using the internet. Working online can be extremely distracting and it can wobble you away from what you are doing with notifications constantly popping up from Skype, Facebook, Twitter, YouTube, WhatsApp, and other distracting websites. These notifications can fade your focus and distract you from your current task.
Working online can be distracting! Here are some of the best extensions for the Google Chrome browser for higher productivity & a distraction-free workplace. The internet is one such thing that drags you away from concentrating on your work and many a time we end up procrastinating on the web by scrolling the Facebook news feeds or watching some shows on YouTube. This can affect your productivity to a great extent and one must prevail over these distractions before it starts controlling you.
It is quite difficult to stay true to yourself when there are so many distractions on the internet however one simple way to boost your resolution to refrain from online distractions is to make use of some browser extensions that will help you stay focussed and avoid unnecessary interrupts during your work hours. In this article, we outline some of the best Chrome extensions that will help you stay focused by avoiding online distractions.
Best Chrome extensions for higher productivity
The following Chrome extensions will help you boost productivity at your workplace:
Momentum
Stay Focused
Strict Workflow
Mindful Browsing
Radio Mode for YouTube
Forest
Productivity Owl.
Let us take a look at what they offer.
1] Momentum
Momentum is a browser extension for Chrome that helps you stay focused by replacing a tab page with a customizable dashboard that features an inspirational quote, to-do list and displays weather. Distractions wobble you away from your current task, and since you may be carried away by unnecessary distractions when you open a new tab, this extension gives you a moment to relax and eliminates the interruptions with daily photos, daily focus, and to-dos.  You can easily customize and set your daily goals, focus, uptime, downtime and to-do list. You can also customize the interface with widgets, weather forecast reports and inspirational photos. Get this extension here. 
2] Stay Focused
Stay Focused is a useful extension for those who are hooked to computer screen always browsing through unwanted pieces of stuff at the internet, scrolling down the Facebook news feed, reading every update on Twitter, playing online games and so on. This extension helps you to stay focused by restricting the websites that distract you during your work hours. You can indicate specific hours where you want a distraction-free working period by limiting the websites, subdomains, and specific paths. Get this extension here.
3] Strict Workflow
Strict Workflow is a work/break timer that enforces you to work without distraction during a 25-minute work timer and then relax during a 5-minute break timer. This productivity cycle can be repeated as many times as you want until you complete your task. This extension can also be configured to restrict the websites for a certain time period to avoid unnecessary distractions. Get this extension here.
4] Mindful Browsing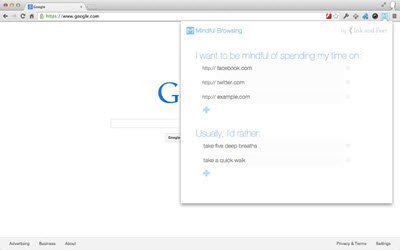 Mindful Browsing is a productivity add-on that helps you to have a better life by pleasantly interrupting your mindless browsing with phenomenal photographs. The extension doesn't block the distracting websites to get you rid of internet addiction instead, it reminds you of the list of things that you would rather do instead of procrastinating over the unproductive pages.  You can customize the extension by providing a list of websites name which you would like to be mindful of during your work hours, and also a list of activities you would instead to do than spend time over the distracting pages. Get this extension here.
5] Radio Mode for YouTube
Radio Mode for YouTube is a Chrome add-on that removes a video from a page and replaces the background videos with efficient audio to provide distraction-free browsing. This is useful if you're playing YouTube on a background wherein you can simply turn on the audio and remove the video from the page. This not only helps you to avoid distractions but also speeds up your computer by refraining your system from consuming unwanted RAM. Get this extension here.
6] Forest
Forest is a Chrome add-on that helps to build self-motivation for those obsessional to the internet. It beautifully rehabilitates you from online distractions by providing a motivational activity wherein you plant a seed to focus on your work, which will gradually grow into a tree when you are working. However, the tree will wither away from you when you cannot overcome your internet addictions and open a blacklisted website. This way it will help you gather some willpower to avoid online distractions. Get this extension here.
7] Productivity Owl
Productivity Owl is a Chrome add-on that helps to de-addict yourself from the online distractions that are hard to give up by allowing you to browse on a certain website for only a certain amount of time instead of completely blocking the site. The addon shows an owl seated on every page and sets a timer whenever you browse through the distracting websites. It closes the page once the timer has been set off. You can easily configure the addon by allowing certain websites to be blacklisted and you can set a free pass to your work-related websites. The owl keeps flying on every web page you open and closes the tab once the timer sets off so that you get rid of your time-wasting habits on the internet. Get this extension here.
Which is your favourite productivity tool to avoid online distractions?