If you're a huge fan of the Call of Duty franchise, then you must know the importance of having a personalized name. It helps you to stand out from other players, but not only that, it can put fear in opponents before they make any attempts to face you. Most players tend to search the internet for unique COD usernames that contain stylish fonts and symbols.
Tips for choosing the best Call of Duty username
When it comes down to choosing a COD username that fits, there are a few things to consider before moving forward. Begin by thinking about the type of player you are, for example, are you the type who prefers to play in a team, or a lone wolf? Determining this should help with narrowing down the perfect names.
You can also decide on names that will bring laughter from your teammates and even opponents. However, if you are a competitive person, then a more serious name that is easier to remember is preferred.
At the end of the day, your username should represent the type of player or person you are, for such things matter more.
Best Call of Duty names to consider
If you're having problems coming up with unique names, then here are a few good ones to choose from.
Ageless Assasin
John Whip
Urban Warrior
Combat Princess
Fearsome Titan
Ocean Nomad
Arctic Predator
Terror Tracker
Space Trekker
LegendaryBattleLord
Shadow Knight
Jungle Scout
Universe Defender
ShadowMorpher
FieryWarlock
Space Hunter
Desert Raider
Arctic Sentinel
Sky Predator
Tactical Avenger
The Village Idiot
Shadow Mercenary
Elite Commando
Bloodthirsty Assassin
Special Ops Infiltrator
Chances are by the time you've found these names; they are already taken. What you can do in such a situation is to create unique versions of the listed Call of Duty names. For example, you can use a word or phrase in a different language or combine words and phrases to create something entirely new.
Additionally, the option is there to use a play on words or some type of nickname or pseudonym. Some people like to use special characters and numbers to give their COD username that extra spice it needs.
How to change your username in Call of Duty Modern Warfare or Warzone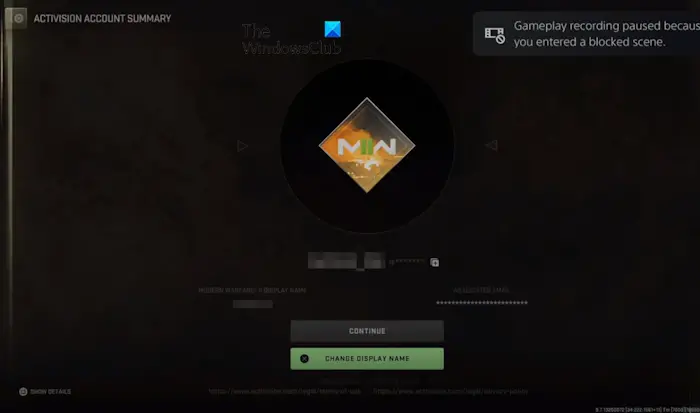 Before you can change your username in COD, you will need the services of a special token. These tokens are issued to players every six months, and it is only possible to hold up to two tokens at any given time.
Now, let us discuss how to change your username with ease.
Begin by pressing the options button on the home screen.
From there, navigate to the tab that reads, Account, then select Activision Account.
Select Change Display Name, then go ahead and enter your preferred name.
Click on Confirm when you're done to complete the task.
READ: Fix Error Code 0x887A0005 in Call Of Duty Warzone 2 and MW2
How to change Activision ID
If you feel the need to change your Activision ID or display name, then these steps will get you through the door.
Log into your official Activision account.
Click on the option that reads, Basic Info.
After that, click the Edit button next to Activision ID.
Look for Account Verification Required, and from there, select Send Code.
Navigate to your email account to locate the verification code.
Copy the code, then return to Account Verification Required and enter the copied code.
From the Basic Info tab, then, please click on Edit.
After that, type a new Activision ID name and hit the Save button.
Finally, enter the official Activision account password, then click on the Submit button to complete.
READ: Fix Dev Error 11063 in Call of Duty Modern Warfare
Why does my COD name have numbers?
All Activision IDs have numbers that appear after the display name. These numbers are unique to your Activision account, and it makes it possible for players to have the same Gamertag, SteamID, BattleTag, and PSN ID.
READ: How to fix Call of Duty: Modern Warfare Dev Error 1202
What does 141 stand for in COD?
OK, so for those who are wondering, 141 in Call of Duty is referring to Task Force 141 (One-Four-One). It's a multinational special operations unit that participates in missions all over the world. The well-known Captain Price is the leader of the special unit.