The DLL file is missing error is something most computer users have come across at least once in their lifetime. Hey, if you've never seen a DLL error, then chances are you're only using your computer to access Facebook, YouTube, and other social networks. Now, we should point out that DLL files are usually associated with redistributables and DirectX, but that doesn't mean DLL files such as bcrypt.dll won't act up now and again. Furthermore, it should be noted that bcrypt.dll is important for running various apps, so when it's corrupted or missing, things can go haywire.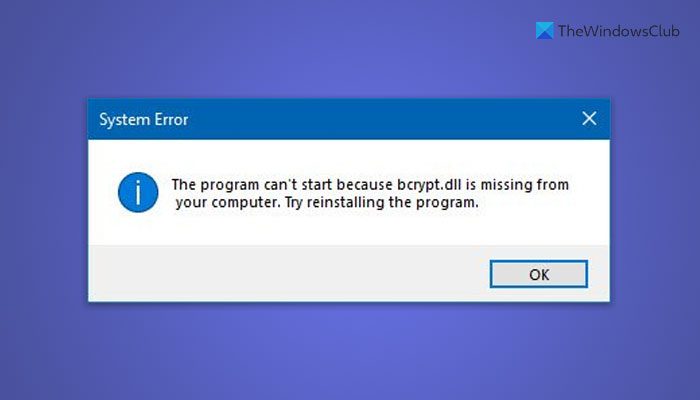 bcrypt.dll is a Microsoft Windows operating system file called Windows Cryptographic Primitives Library. It is located in the System32 folder. Now, whenever there's an issue, users will see an error that says "bcrypt.dll missing". The exact message would read:
The program can't start because bcrypt.dll is missing from your computer. Try reinstalling the program to fix the problem.
Fix bcrypt.dll file is missing, not found or corrupted errors
The good news is, there are ways to fix it, but it might not be easy depending on the exact nature of the problem.
1] Reinstall the affected program
If the DLL error is causing one or more of your programs to act up, then probably the first step to take here before going forward, is to reinstall them.
We do this by clicking on the Windows Key + S, then type Control Panel into the search box. When the option comes up, launch it. Click on the section that says Uninstall Programs, locate the affected ones, uninstall them, then reinstall after.
2] Run System File Checker
Open an elevated Command Prompt and execute sfc /scannow command to run the System File Checker. This will replace all damaged or corrupted system files.
3] Perform a malware scan
As mentioned earlier, the legit bcrypt.dll is located in the System32 folder. If it is located, it could well be malware.
To run a virus or malware scan, fire up Windows Defender from the taskbar, or launch the Settings app, then select Update & Security > Windows Security > Open Windows Defender Security Center.
Choose the section that says Virus & threat protection, then click on Run a new advanced scan. Select the option, Windows Defender Offline Scan, then finally, click on Scan Now.
Where is the bcrypt.dll file?
The bcrypt.dll file is located in the C:\Windows\System32 folder and it runs under a process called Windows Cryptographic Primitives Library. Its file size is 165 KB overall and the size on disk is 168 KB. This file is directly related to the DirectX and Redistributable packages. However, if your system is attacked by adware or malware, then it might be possible that bcrypt.dll will be missing on your computer.
How do I fix a corrupt DLL file?
There could be countless DLL file errors and countless reasons why you are getting the DLL missing error on your computer. To troubleshoot such issues, you need to find the responsible app first. Then, you can follow the official instructions or reset the app and reinstall it to fix the issue. In most cases, users need to reinstall the corresponding app to get the job done.
Need further help? See Fix Missing DLL files error.