In the world of information technology, we use digital data constantly. The online products used for creating digital contents are so vital that it has become an integral part of our life. The data is created using online digital tools that are constantly updated, stored, and shared online. There is a need to make a copy of these valuable data before deleting it completely. Backing up of the data is given the utmost importance in order to be prepared for future emergencies where data may be completely lost. It is required to archive these files and folders to restore the data in case of data loss.
Of all the applications and services you use online, Gmail is one of the important ones where you store all the important contacts and have important messages. Some of the email messages may contain sensitive information, and it may be required to backup or download these data either for business deals, legal reasons or for any personal reasons. Email backup is also quintessential if you are switching your account to the new mail service or if you want to transfer the data to another account. In some cases, you may want to backup the entire mail locally.
Luckily,  Gmail provides an option to backup the data using third-party apps or you can also backup the files entirely to your Local hard drive or External Hard Drive using Google's Data tool. In this article, we discuss how to download the Gmail contacts and messages using Gmail Data Backup Tool provided by Google. All it requires is to archive the email data which you wish to safeguard at the local storage and export these archives to the drive via Data Tools.
Backup Gmail to Hard Drive
If you are looking for a way to download or backup your Gmail emails, contacts & messages to your local Hard Drive on your computer, then you can do so using the Gmail Data Backup Tool. Let us take a look at the method involved:
Open Gmail account.
Click on My Account > Personal info & privacy.
Click Control your content.
Click on CREATE ARCHIVE.
Select the Delivery method.
Let us take a look at this in detail.
Open your Gmail account.
At the top right corner, click on My Account.
Navigate to Personal info & privacy.
Click on Control your content.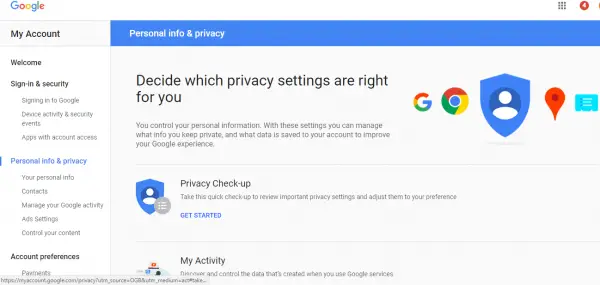 To create an archive with a copy of your data click on CREATE ARCHIVE.
This will take you to Download your data page. In this page, you will see a complete list of the Google products that you can choose and backup. Out of the full list of Google products you may want to select only a few products to archive. To archive the Mail, under Select data to include, click on SELECT NONE.
Now scroll down to locate Mail and toggle the button to select.
Click on Next button.
Select the file type as .zip or .tgz. Usually, .zip files are preferred because it can be easily opened in most of the computers.
Select the Delivery method from the list of options. You are provided with options to download link via email, Google Drive, Dropbox or OneDrive.
Once the Delivery method is selected, click on the link account and click on Create Archive.
A message box pops up which reads as "An archive of your Mail data is currently being prepared".
It will take an approximate time of a day or more to generate your data archive depending on the number of emails and send a download link to the chosen delivery method.
Once the message is received, open it and click on Download Archive to save it securely to a local computer or External  Hard Drive. During the download process, you may be asked to sign in again to start the downloading. It should be noted that you need to have archiving software installed on your system to extract the data download from the archive.
Save email and attachments browser extension
If you want to save Gmail emails and attachments then you may have to make use of this Chrome extension called Save emails and attachments.
There is another tool that may interest you. Gmail Backup is a third-party freeware that copies all emails from your Gmail account to a local drive or removable disk. You can download it from here.
That's all!