We use antivirus on our PCs to protect them from malware and security threats. Generally, most of us use, Windows Defender which comes built-in on Windows and protects your PC. There are some other antivirus programs like AVG which are famous with users around the world. You might have wondered what actually is the difference between them. In this guide, we have compared and explained AVG vs Windows Defender on Windows PC.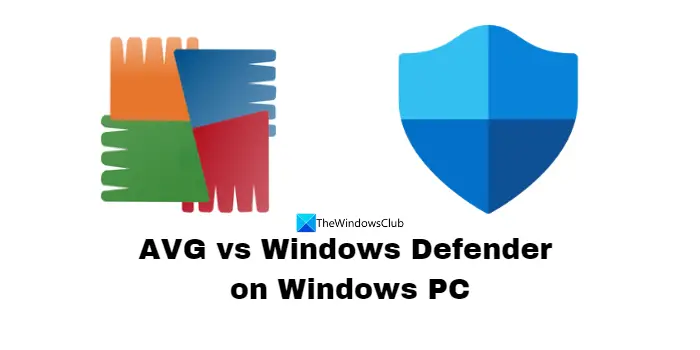 AVG vs Windows Defender on Windows PC
Both AVG and Windows Defender work to protect your PC from malware and other security threats. They both have major differences in the following aspects.
Features
Performance
User Interface
Updates
Cost
Let's get into the details of each aspect and know the differences more.
1] Features
AVG and Windows Defender mainly differ in their features. AVG offers more comprehensive features to protect your PC from viruses, malware, and other security threats. AVG offers real-time scanning that actively monitors the PC, Web protections to block malicious websites, Email protection, Firewall, Ransomware protection, and some advanced customization options to set your own scanning options, scheduling, etc.
Windows Defender on the other hand offers antivirus and anti-malware protection, a built-in firewall, etc. It does not come with all the advanced features AVG has. Windows Defender has security features only to protect your PC from active threats that occur on a daily basis.
2] Performance
Windows Defender comes integrated into Windows PC. It does not need separate installation and also it does not take much of your PC resources while running. Windows Defender constantly runs in the background to protect your PC though it cannot offer real-time protection. It won't put much stress on your system resources.
As AVG has to be installed separately, it runs in the background of your PC to protect it in real time. It needs a small chunk of system resources compared to Windows Defender to protect your PC. The scan speeds and other protection features depend on it.
Read: Fix AVG High Disk and CPU usage on Windows 11/10
3] User Interface
Both AVG and Windows Defender have easy-to-use interfaces. They do not confuse users with interfaces. AVG has a very straightforward interface with all its features and users can run any feature in just a few clicks. It has a clear Menu structure that features organized under each menu.
Windows Defender is integrated into Windows Security Center. It also has a very accessible and straightforward interface to scan and protect your PC. It has a centralized management structure to manage various security settings in a central location.
4] Updates
AVG gets regular updates with an up-to-date virus definition database and software to maintain protection against the latest threats. The developers release updates to AVG in order to give maximum protection to the users from the latest security threats.
Microsoft also releases updates to Windows Defender regularly along with the Windows updates. It ensures the Windows Defender stays updated with the latest security patches.
5] Cost
Windows Defender comes included in the Windows OS to provide basic level protection to your PC. You do not need to pay extra or subscribe to it to get additional features.
AVG on the other hand is available for free as well as paid version. The free version provides essential antivirus protection to your PC, whereas paid version gives some additional features and advanced protection options.
These are the different aspects in which AVG and Windows Defender differ. If you have to choose one between them, it depends on the kind of work you do on your PC. If you maintain files with regular downloads and software installations, you can go for AVG antivirus. If you just want basic protection, you can just use Windows Defender which is already installed on your PC.
Do I need AVG Antivirus if I have Windows Defender?
That depends on the kind of work you do on your PC. If you connect external hard drives or download different kinds of files and store sensitive information on your PC, you need AVG antivirus. If not, Windows Defender is enough to protect your PC.
Is Windows Defender better than any antivirus?
Windows Defender is a good antivirus that can give basic protection to your PC. It detects most of the threats that occur on your PC and safeguard your PC. It does not have advanced features like internet security, email protection, etc. which makes it lesser powerful than third-party antiviruses.