Tracking your computer's energy consumption is very important if you're a power user. This important because at times, your computer could overheat. Therefore, users need to have a way to monitor power, and to keep things in check.
By now everyone should know that there are built-in tools with Windows 10, but these tools are primarily based on the idle state of the computer system. Not to mention, to navigate to this power tool, you must use either the Control Panel or the new Windows Settings. There's just too much to do, so with that in mind, we chose to seek out a software that is easily accessible and with more features.
In our extensive search, we came across AutoPowerOptionsOK. In our days of use, we find it easier to use, and more catered to power users than what Microsoft has on offer.
Use AutoPowerOptionsOK to reduce energy consumption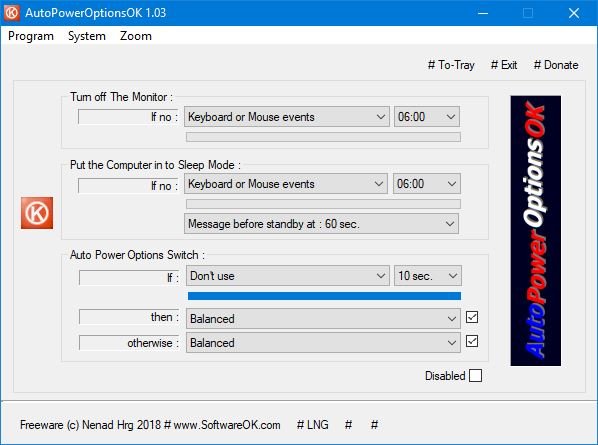 OK, so here's the thing about this impressive tool. You see, you'll find that it's portable, therefore, no need to install anything to your computer, and that is always a plus. Now, after downloading the file, just unzip it, then launch the application within.
After launching, you'll see a simple user interface without flare and a ton of graphical animations. We like that because it means AutoPowerOptionsOK won't take up a lot of your system's resources.
At the top, you'll see three options in the form of Program, System, and Zoom. Below, you should see some additional options, and chances are, you'll be playing around with these more often than once.
What are these options all about?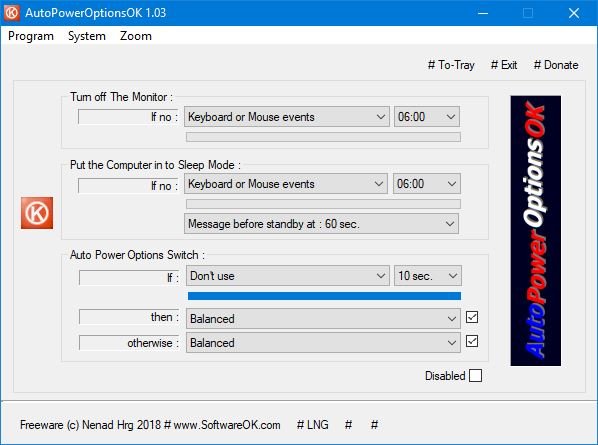 The first is called Turn off The Monitor, and from what is available, you can see that if no keyboard or mouse movement is made in five minutes, then the display will automatically turn off.
The other, which is known as, Put the Computer into Sleep Mode, requires the user to handle the keyboard and mouse before the 10-minute mark, or else the computer will automatically go into Sleep Mode.
These options can be changed to your liking, of course. If not, you can tick the Disabled box at the bottom to render the options completely useless.
Back to the options above
Note that the options above are nothing special. The most prominent is one known as System, and it is there to make it easier for the user to gain access to certain built-in programs from Microsoft.
Click on System then select any of the options, and you'll realize that a built-in tool from Windows 10 will pop up. For those who might have issues getting to system monitor tools quickly, AutoPowerOptionsOK should solve that problem, no biggie. We like what it brings to the table because the user interface is easy on the eyes, and options are easy to get to. You can download it from its homepage.