We are offering Ashampoo Backup Pro 15 full version completely free to TWC readers! Backup and recovery mean creating a copy of all your data and storing it in a separate medium so that you can recover it in the event of data failures, such as accidental deletion, malware attack, data corruption, or software failure. There are tons of software available on the web to create and restore a backup, but not all of them are great.
If you are looking for simple yet powerful backup software, you should try Ashampoo Backup Pro 15. It is a Windows-based backup and recovery program that lets you back up any file, entire disk partitions, and even the operating systems. The program supports multiple cloud services so you can either upload your data to the cloud or store it in a storage device.
Download Ashampoo Backup Pro 15 Free!

It is a very simple program with a very user-friendly interface. You don't really need any specific tech know-how to use it. Simply download and activate the program and click on Create Backup Plan. Then select the storage type that you would like to use for the backup data and click Next. If you are using a Cloud service, like Dropbox or Google Drive, you first need to authorize access to Ashampoo.

Once the verification is done, give a name to your backup plan and click Next. Ashampoo has some pre-defined backup templates that you get to choose from in the next step. Select if you want a weekly backup of all your internal drives or daily backups of the documents folder and click Next. Follow the steps and you are done. Simple as that!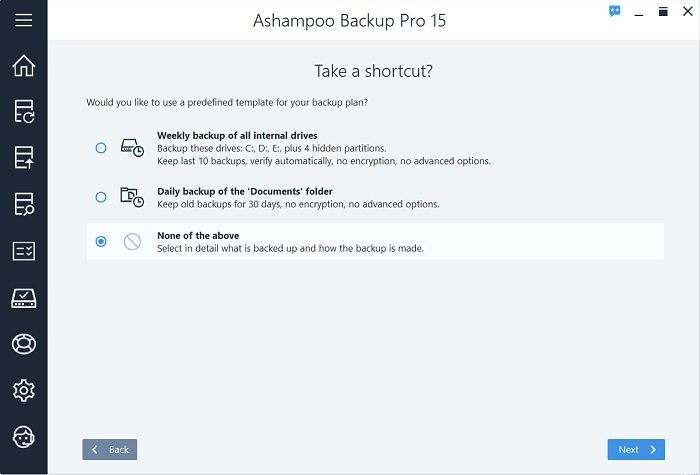 If you don't want to choose any of those, you can click on None of the above and select manually what would you like to back up in the next step. You can select to back up the entire drive or some individual files or folders. You will also be getting the choice to compress your data for backup or keep it as it is. If you choose to compress, the backup data will be stored in ZIP files.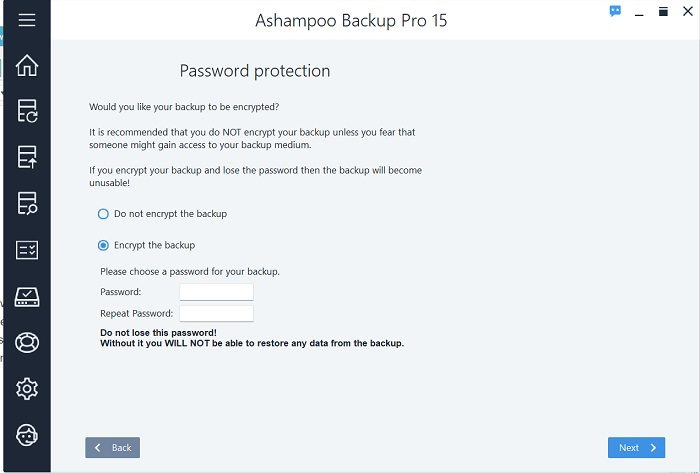 Furthermore, Ashampoo Backup Pro also lets you password protect your backup data. It is obviously safe to encrypt your data but remember that if you lose your password, you won't be able to recover the data. So put encryption only if you are sure you can keep the password safe. In the next step, you will be getting the option to schedule your backup and you can choose how frequently you want the automatic backup to be done. The program also creates a report with a summary and errors which you can get via your emails. Remember, if you have not scheduled a backup, you have to start it manually.
Once the backup is created, it will be stored in the storage medium you have selected and then you can recover it when you required it. Recovering the data is as simple as creating. So, basically, you can create a backup and restore your entire data in just a few clicks.
If we summarize the key features of the Ashampoo Backup Pro 15, it is a simple, handy, and yet powerful backup software that creates 100% reliable backups, can restore the entire operating system and can store your data in the cloud.
Well, the good news is that you can get this amazing software now. Yes, there is a giveaway and you can get a full FREE version NOW.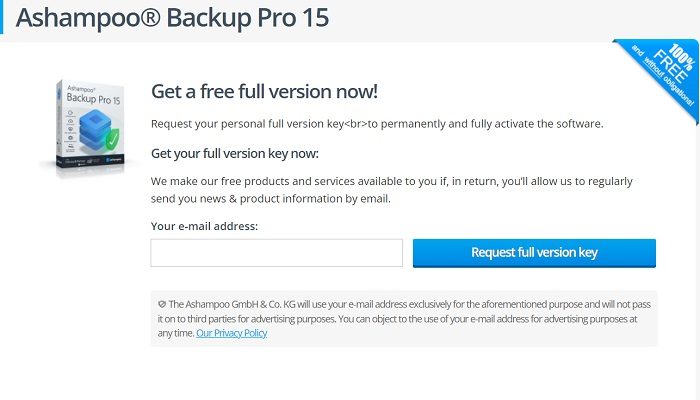 TheWindowsClub readers can download Ashampoo Backup Pro Full Free Version by clicking here and putting a request for the activation key.
How to register and install Ashampoo Backup Pro 15
Download the software from the link given above, and install the software.
During installation, you will be directed to a product registration page and prompted to supply your email address to obtain a valid license key.
Simply fill in the required information.
You will then receive a confirmation mail including your license key.
Once received, simply enter your key and proceed with the installation.
Hurry up and download your FREE COPY NOW. Anyone can click on the download link and get the free version.
Do share this exciting giveaway so that your friends too can take benefit of this offer!