You can use Apple Magic Trackpad with Control Panel on Windows PC with Boot Camp. It's a small utility that lets you use this amazing device with your Windows PC.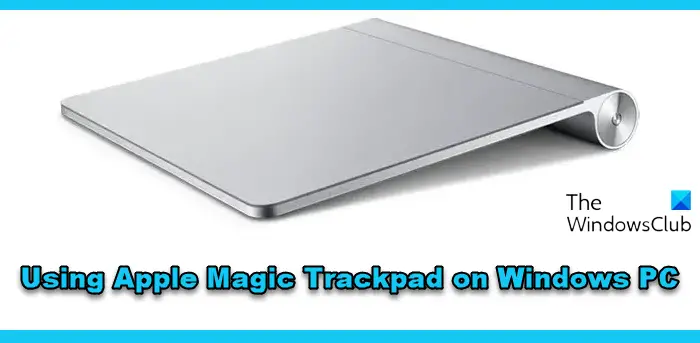 Using Apple Magic Trackpad on Windows PC
If you are running Windows 11/10, it is now easy to set up and use Magic Trackpad on Windows 11. All you need to do is pair the Magic Trackpad to your Windows 11 PC via Bluetooth.
Turn on the Magic Trackpad
Open Windows 11 Settings > Bluetooth & devices
Click Add device and select the Bluetooth option
Choose Apple Magic Trackpad and wait for it to pair.
That's all you need to do.
To use all of Magic Trackpad gestures on Your Windows 11/10 PC, you can install the open-source drivers available on Github.com.
After downloading it, extract its contents to a folder location of your choice, then open Device Manager > Action > Add drivers and browse to the folder location of the driver.
Once done, you can open Windows 11 Settings > Bluetooth & devices > Touchpad and customize the Gestures.
You are all set to use Apple Magic Trackpad on Windows 11!
If you are using Windows 8/7, you need to take these steps:
Download the update (Drivers) for 32-bit Windows operating systems or 64-bit Windows operating systems.
The files are enclosed in a .zip file. Double-click BootCamp_3.2_32-bit.exe for 32-bit Windows systems or BootCamp_3.2_64-bit.exe for 64-bit Windows systems.
A permissions dialog appears, then click Yes.
Follow the on-screen instructions to install the update.
The Multi-Touch trackpad supports different gestures depending on the operating system you use. Refer the chart given below in regard to learning about the differences.
Once you have Apple Magic Trackpad on your Windows PC, the default Mouse properties are useless now. The trackpad gestures or speed cannot be customized in Windows, and thus here the need arises for the Magic Trackpad Control Panel.
Magic Trackpad Control Panel is a wonderful tool that allows you to set the tracking speed, double-click speed, and scrolling speed of the Trackpad, and can be used to change both one-finger and two-finger gestures. Download the Apple Magic Trackpad Control Panel application and install it. It is not officially developed by Apple and is in its beta version but works like a charm in Windows.
Now extract the downloaded zip folder and run the padset-0.3.exe file (It will automatically initiate and installs, as it doesn't have any UI) and then run Trackpad Control Panel.exe file and let it installs successfully.
After successful installation, a small icon in the Taskbar notification area will appear. Right-click on the icon and select Show Customize option to view Magic Trackpad Control Panel settings.
If you choose the One Finger Gestures, then you will find options to enable/disable Tap to Click, Dragging, Drag Lock, and Secondary Click. For the secondary click, you can choose the Bottom Right Corner or Bottom Left Corner position.
In case you choose Two Finger Gestures, you will find options to enable/disable Scroll and Secondary Tab.
So, do share with us, your experience of using Apple Magic Trackpad on Microsoft Windows.