If Apex Legends won't open on PC then you have come to the right place, in this article, we will be seeing how to fix this issue and make Apex Legends start and run normally on your Windows 11/10 computer.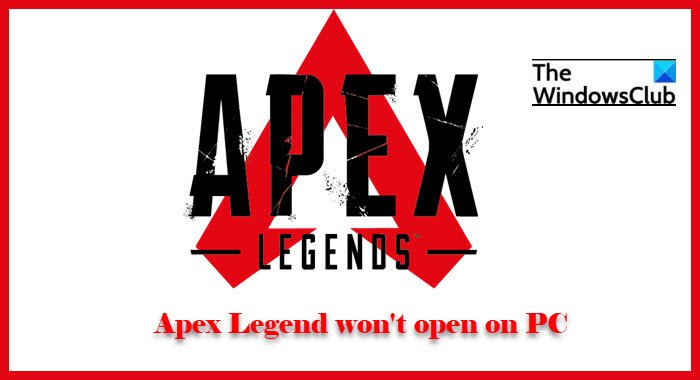 Why won't Apex Legends open on PC?
There are multiple reasons why Apex Legends won't open on your computer. It can be because of it being incompatible with your System. So, you can check the system requirements later in the article.
It can be because of the game file being corrupted, or the Firewall blocking the game. We have covered every possible cause and solution for the same in this article.
Fix Apex Legends won't open on PC
These are the things you can do to fix Apex Legends won't open on PC.
Repair the Game
Allow the Game through Firewall
Update your Graphics Driver
Disable Fullscreen Optimization
Reinstall Game and Origin
Let us talk about them in detail.
1] Repair the Game
One of the most common reasons for this peculiar behavior is a corrupted game file. Repairing a game in Origin is quite easy and you can follow the given steps to do the same.
Launch Origin.
Go to the My Game Library tab and select Apex Legend.
Right-click on Apex Legend and select Repair.
Wait for the process to complete and your game will be up and running!
2] Allow the Game through Firewall
If repairing is to no avail, maybe you are not dealing with a corrupted game file. Maybe your game is fine and it is your Firewall that's blocking it. This issue pretty common in online multiplayer games. Follow the given steps to allow.
Open "Windows Security" from the Start Menu.
Click Firewall & network protection > Allow an app through firewall.
Tick Apex Legend and allow it through both Public and Private networks.
3] Update your Graphics Driver
None of the graphic-intensive games will work on your computer if your Graphics Driver is not up-to-date. Even though, Apex Legend is not that demanding it still needs an updated Graphics Driver to run smoothly. So, update your Graphics Driver and fix the issue.
4] Disable Fullscreen Optimization
Fullscreen Optimization is a feature in Windows 10 and is there to increase gaming performance. However, this feature is yet to mature and you need to stop. According to many experts and users, disabling it can stop games from crashing. So, let us do that and see if your Apex Legend issue gets fixed.
Go to the game's location. If you don't know that, search out the game from the Start Menu and click Open file location.
Right-click on the .exe file and select Properties.
Go to the Compatibility tab, tick "Disable fullscreen optimizations", and click Apply > Ok.
Hopefully, this will fix the issue for you.
5] Reinstall Game and Origin
If all else fails, you have to reinstall to both Apex Legend and Origin. To do that, open Control Panel and click Programs and Features. There you need to look for both Apex Legend and Origin and uninstall both of them. After this, you can install both the applications from the web and resolve the issue.
System Requirements for Apex Legends
The following are the System Requirements for Apex Legends.
Operating System: Windows 7 or later
Processor: Intel Core i3-6300 3.8GHz or AMD FX-4350 4.2 GHz Quad-Core Processor(Minimum), Intel i5 3570K or equivalent (Recommended).
Memory: 6GB (Minimum), 8GB (Recommended).
Graphics: NVIDIA GeForce GT 640 or Radeon HD 7730(Minimum),  Nvidia GeForce GTX 970 or AMD Radeon R9 290(Recommended).
Storage: 22GB
So, make sure that your computer is compatible to run Apex Legends.
Read Next: