In the past few years, more and more people have been interested in working online and from any location. It calls for software that allows users to remotely connect with any device, including PC, Android, and iOS. In this post, we are talking about AnyViewer Professional remote access software.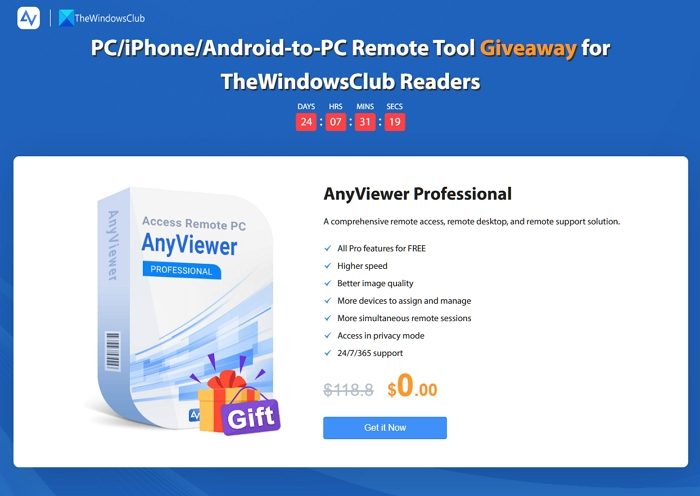 AnyViewer Professional is a complete remote access, remote desktop, and remote support solution
AnyViewer Professional is a remote desktop software application that allows users to remotely access and control another computer from the internet. The tool offers excellent performance over low-bandwidth or high-latency connections. It also uses secure protocols to encrypt the connection and protect data from unauthorized access.
Apart from the remote control, here is the list of features included with the AnyViewer Professional software:
Transfer Files
AnyViewer Professional also includes tools for transferring files between local and remote computers. Users can use the built-in file transfer tool or drag and drop files between the two computers. This makes it easy to move files between the two systems without worrying about manually transferring them via a different method, such as email or a physical storage device.
Remote Printing
You can remotely print documents and other files from the remote computer using the local printer. This can be especially helpful when the remote computer does not have a printer connected or if the user wants to print from a more convenient location.
Remote Gaming with Audio
When accessing another computer or device, you can listen to audio from the remote computer on the local computer. It also means you can play any games installed on that PC. You can play it using this software when you have a powerful PC at home with all the games. Since the software offers performance over low-bandwidth or high-latency connections, most lags will be managed during the gaming experience.
Mobile Support
The best part of using Anywhere Professional is using any device. It supports Android and iOS and allows you to access any unattended PC with high-security remote sessions with ECC end-to-end encryption. While it will be a little small to view, nothing like access to a PC without someone else's device or turning on a PC.
Other Features
Apart from these, you also get Unattended Access, Multi-Monitor Switch, iOS/Android Device SupportFile Transfer, Text Chat in Session, Shortcuts of Operations, Privacy Mode, High-Quality Image, and so on. If you buy the professional version, you can have 5 Simultaneous Sessions, 10 Assigned Devices, and 100 Managed Devices.
Overall, AnyViewer Professional is a comprehensive and reliable remote desktop software application that offers a wide range of features for remotely accessing and controlling another computer.
AnyViewer Professional Giveaway for TheWindowsClub Readers
AnyViewer has collaborated with TheWindowsClub to give all our readers one-year AnyViewer Professional use for free. It's a Christmas and New Year's gift for readers. You can follow this link and download a copy built for TheWindowsClub users.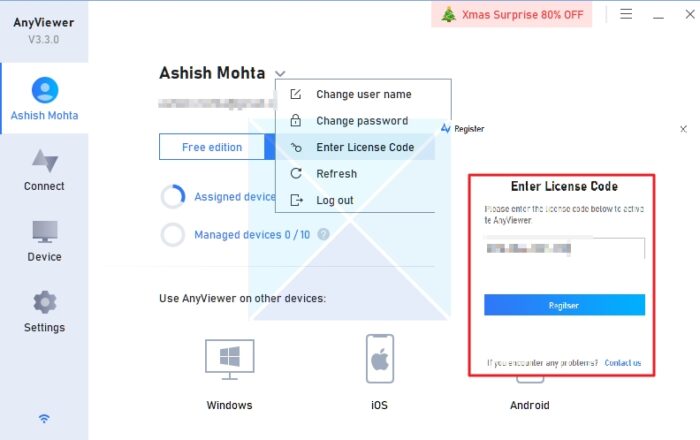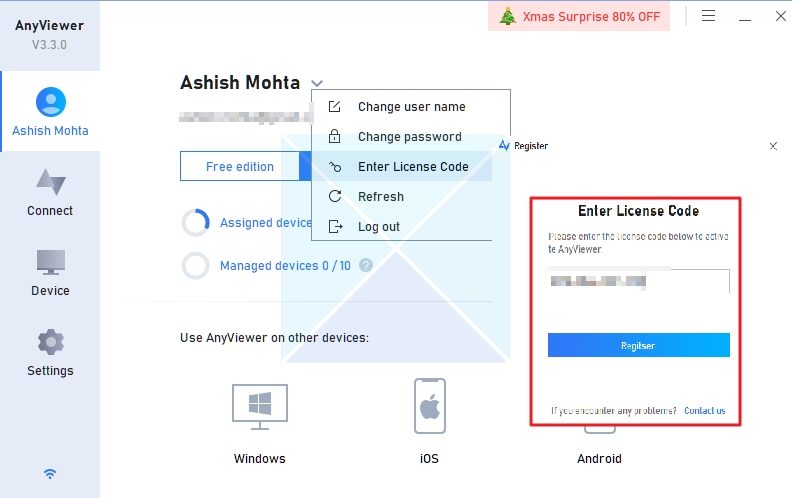 Rules for Activation:
The download includes a TXT file containing the activation code
You will need to install the software and use an email address and the code to activate your copy
Activate before January 20, 2023
It is a 1-year code that entitles you to use it for free for one year.
The code is for personal use only.
While the AnyViewer remote software can use the UDP/TCP intelligent switching mode to use the necessary port, you can ease restrictions on the UDP 30196, TCP 30192, and 30193 using the Firewall policies. It comes in handy when you have issues connecting using the software.
How to use AnyViewer Professional Remote Software?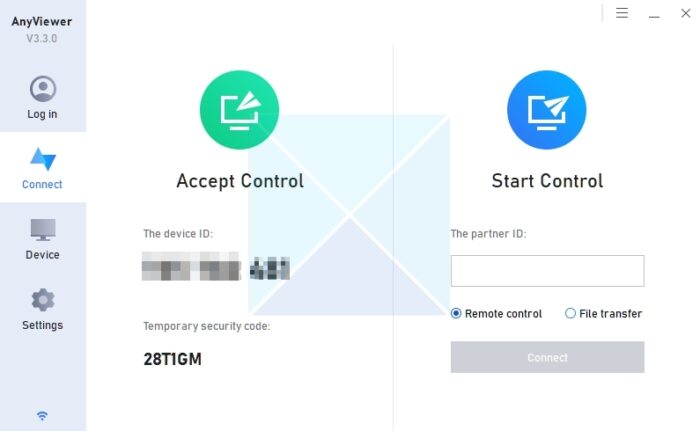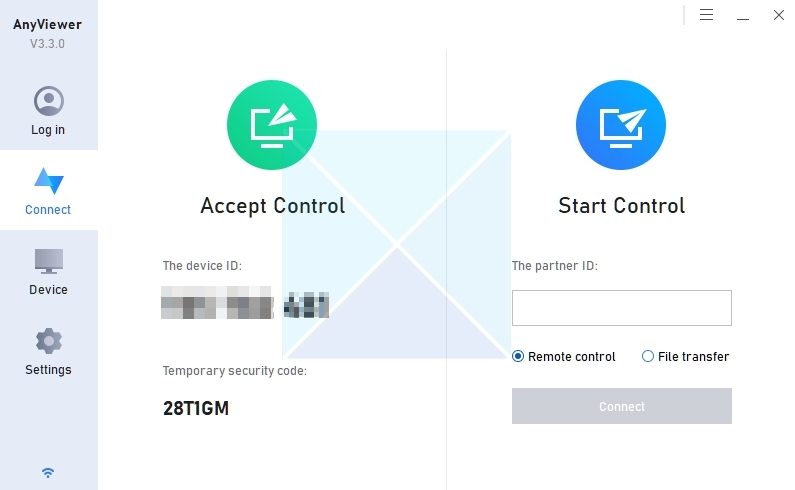 If you have used remote desktop software, you will find this familiar. You need to have the software installed on both devices. One will act as a client, while the other will be the remote control. Now that we understand the basics let's go ahead with the steps.
Launch the software, switch to the Connect section
It will display a device ID with a temporary security code.
The client device will need to share the device ID with the person who will remotely control the device.
The server-side person needs to enter the device id into the Start control text box and click on Connect.
The client-side will get a notification, and once the person approves, the remote connection will be set.
You will see the remote desktop displayed in a window on your local computer.
You can then use the mouse and keyboard on your local computer to interact with the remote computer as if you were physically sitting in front of it.
Share this post with your friends & relatives so that they too can take advantage of this wonderful offer!