Microsoft Edge is the default web browser of choice on Windows 11 and Windows 10 and is loved by some users. Now, when it comes down to using a web browser, we tend to consume a lot of media with these things, and Edge is no exception. One of the top media websites is Amazon Prime, a service designed to compete with Netflix and to give discounts to those who love to shop a lot on Amazon.
Some users have reported that Amazon Prime fails to load properly on Microsoft Edge browser. Chances are, however, you won't be able to watch this popular series via Microsoft Edge if you are a fan of this web browser. Worry not, because we can help in that regard. No way will we allow you to miss out on this impressive series that should get much better in future seasons, hopefully.
Amazon Prime won't load in Edge
If Amazon Prime video is not working or loading properly for you in Microsoft Edge, and you see an Unsupported browser message, then we suggest following the steps in this article to get things up and running:
Clear Edge browsing cache
Reset Edge browser settings
Repair Edge via Settings
Run the Microsoft Store Troubleshooter
Other suggestions.
Please go through the entire posts first and then decide which fixes you would like to try out first.
1] Clear Edge browsing cache
Clear Edge browsing cache, history, etc, and then try again and see if it helps.
2] Reset Edge browser settings

To reset the new Chromium-based Edge browser, follow these steps:
Open Microsoft Edge
Click open Settings
Navigate to Reset Settings
Click on Restore settings to their default values.
3] Repair Edge via Settings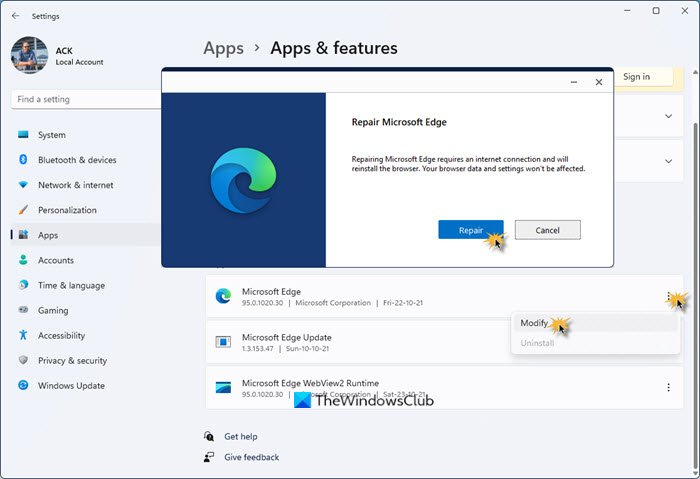 To reinstall or repair the Microsoft Edge browser on Windows 11, do the following:
Press Win+I to open Windows 11 Settings
Select App settings
On the right side, click on Apps and features
Search for Edge in the Apps list
When Microsoft Edge appears, click on the 3-dotted link
From the flyout select Modify
Finally, click on Repair to start the reinstallation of the Edge browser.
4] Run the Microsoft Store Troubleshooter
The next step is to Run the Microsoft Store troubleshooter, and we can do that firing up the Start menu, then go to Settings > Update & Security > Troubleshoot. After that, be sure to select Windows Store apps, then finally, Troubleshooter.
Sit back and wait for it to finish the job before testing if Amazon Prime app now works in Microsoft Edge.
4] Other suggestions

Our other suggestions that you could consider:
Restart your device.
Ensure that your device or web browser has the latest updates.
Pause other internet activity.
Check your internet connection.
Disable any VPN or proxy servers.
Hope something here helped you.